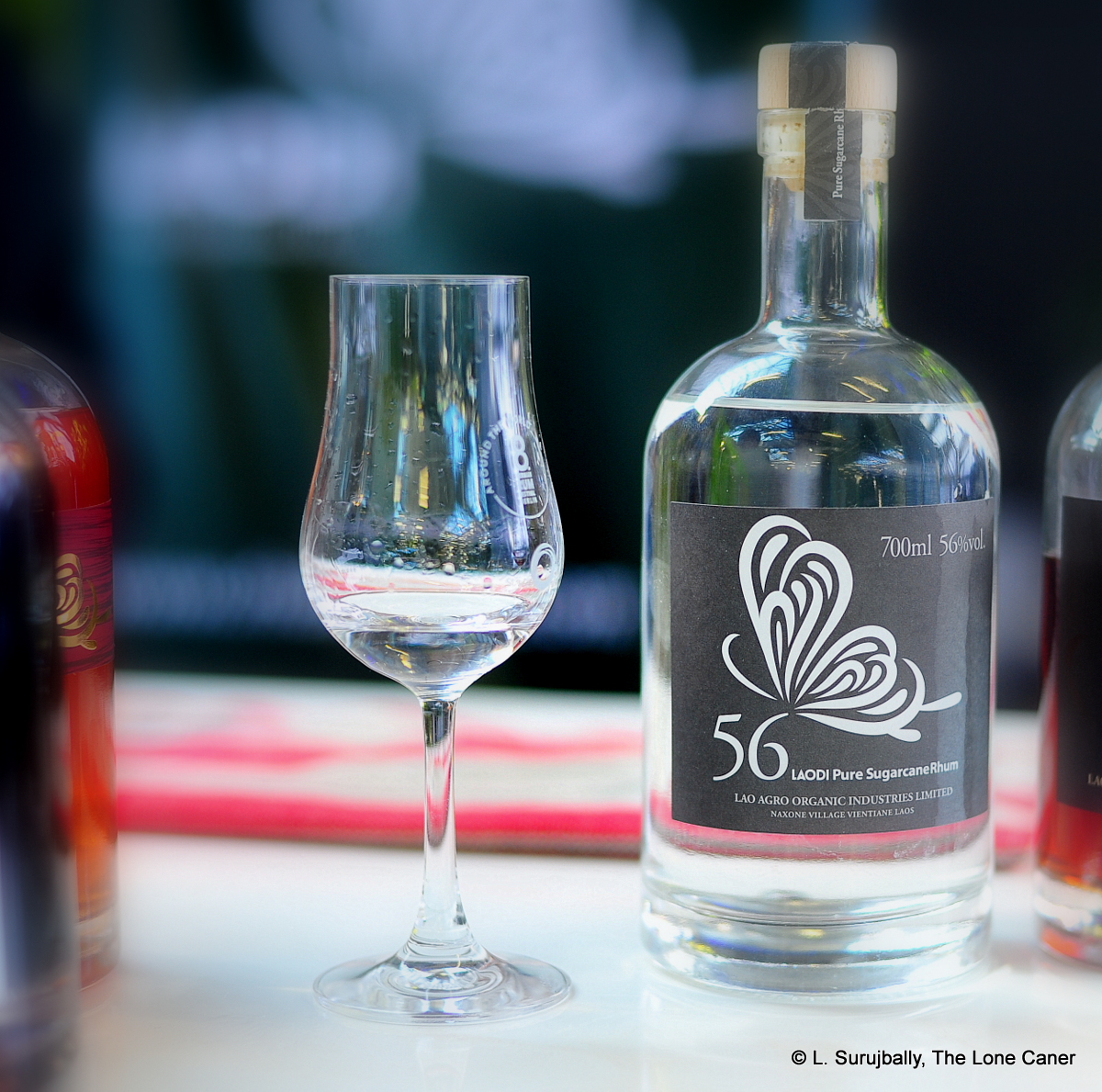 The word agricole is nowadays used indiscriminately to refer to any cane juice distillate, no matter where it is made, and by consumer and producers both. Discussions have recently popped up on FB arguing that appropriating the term under such circumstances was (and is) theft of reputation and quality, which the French Island rum makers had garnered for themselves over long decades (if not centuries) of quality rhum-making, and was therefore being ripped off by any producer not from those islands who used the term. And here comes a rum company from the Far East, Laodi, seeming to have found an admirable way of getting around that issue, by referring to their hooch as "Pure Sugar Cane Rhum," which I think is just missing the word "juice" to be completely accurate.
Laodi, whose parent company is Lao Agro Organic Industries, was formed in 2006 by Ikuzo Inoue, a then-52 year-old Japanese engineer, who, with a local Lao partner, acquired a distillery located in the village of Naxone in Laos, just north of the Thailand border — it's actually just a short drive away from the Issan Distillery (which is south of the border). The distillery previously made local spirits like lao-lao (based on fermented rice) but the new owner decided to switch to rum, utilizing sugar cane from one of two 10 hectare plots of land (one always remains fallow and they are rotated), and going determinedly with juice rather than molasses.
The cane is cut and transported to the factory where it is crushed (1 tonne cane = ~400 liters juice) and set to ferment in steel vats using dehydrated wine yeast, for between 3-4 days. The resultant wine is about 9% ABV and is then run through a vacuum distillation machine – using this apparatus reduces the boiling point of the liquid by lowering the pressure within the apparatus, supposedly leading to less degradation of the wine in a shorter timeframe; the separation of heads and tails and extraction of the heart remains the same as for traditional methods.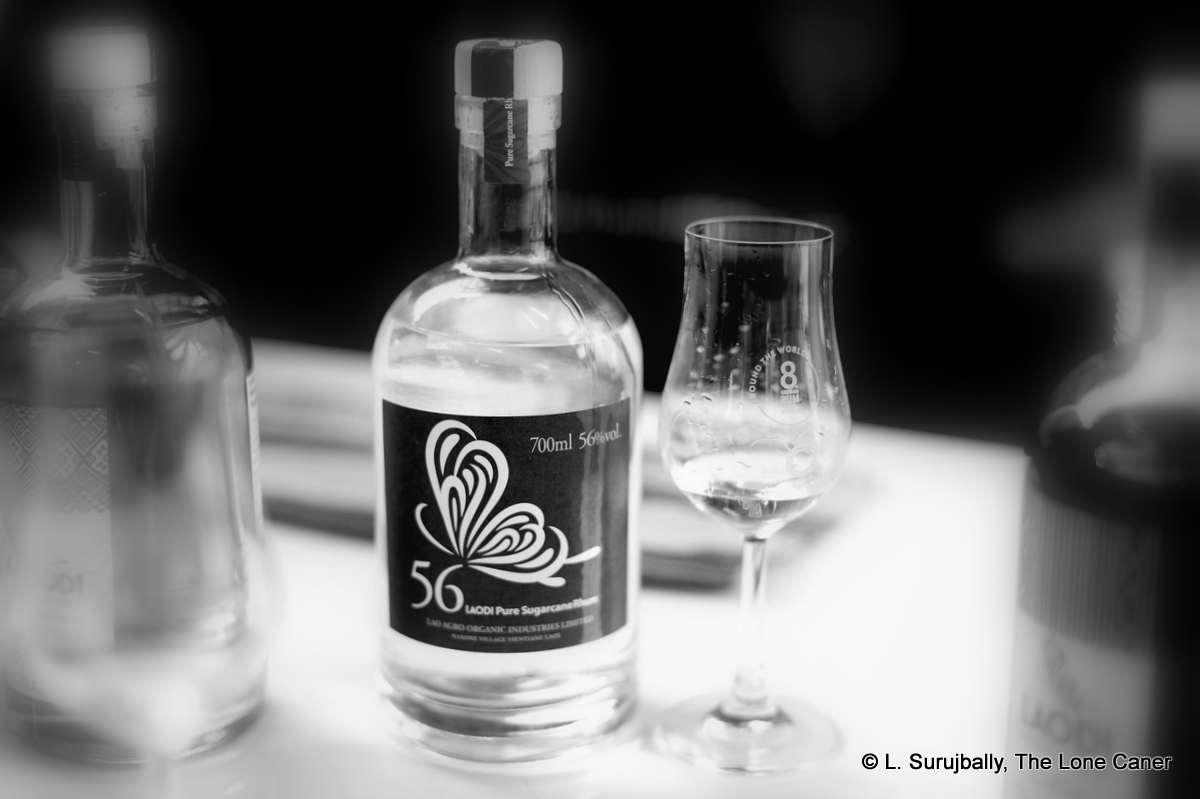 Initially the resultant spirit came out the other end at 47% and early versions of the Laodi / Vientiane rums were bottled at 42% – the white rum was rested for two years in stainless steel tanks and slowly reduced to that strength – clearly they've done some upgrading since then, as by the time one of them walked through my door and into my glass, they already were beefing it up. That rum (or rhum if you like), was the 56% Vientiane Agricole rhum I looked at two years ago, which seems to be discontinued now (or replaced by this one – note the strength which is the same, and the loss of the word "agricole"…somebody is clearly paying attention).
How does this iteration smell? Very pungent and very powerful – it's unclear whether their vacuum distillation method is bolted on to a pot or column still, but for my money, based on the profile, it's column (query to the company is pending). It smells simply massive – salty, dusty and lemon-grassy all at once, quite herbal and earthy, of musty loam, rain on hot clay bricks. This was just the opening salvo, and it was followed swiftly by other notes of acetones, polish, cinnamon, anise, sugar water, cucumber and some watermelons, papayas and white guavas. I thought I sensed some vanilla in there somewhere, but could have been wrong – overall, for that strength, it behaved remarkably well.
The taste was excellent too: it glided across the tongue with controlled force and without trying to scrape it raw. It tasted initially dry and pungent, of glue and furniture polish, linseed oil (the sort I used to oil my cricket bat with, back in the days when I dared to lift one), and also of brine and olives and coconut water, cider and vinegar, cucumbers in a mild pimento sauce, and behind it, the citrus zest. And on top of all that, there was a peculiar creaminess to the experience, like a snow cone with syrup and condensed milk drizzled over the shaved ice. This all led up to a very pleasant finish, crisp and citrus-like, redolent of more brine, cider, guavas, mangoes, nicely spicy, nicely tasty and an all round excellent close, which stuck around as long as regular guests at a Caner Afterparty.
Dredging back through my memories of the original Laodi Vientiane and what I thought of it back then, I think that even though the strength was the same, this was and is a different rhum, an evolution in the quest to raise the bar, up the game. It controls its strength well, yet loses none of the force of its ABV, and isn't trying to be bitchy or sharp or uncomfortable. We may not call it an agricole, yet its antecedents are clear – it's a cane juice rhum, strong, well made, properly delicious, with just enough edge to keep you hopping. And made in a part of the world we should seriously start to look at, in the constant search for quality artisanal rums that fly under our western radar..
(#625)(83/100)
---
Other notes
Laodi comes from the two words

—

"Lao" for the country and "Di" meaning "good"

The company also makes a

lightly-aged brown-coloured rum

(

with an interesting variation on the ageing process

),

as well as a set of "married" rums which are infused or spiced and released at lower proof

.

Rumporter magazine has

an excellent

2017

article by Damien Sagnier

on the company and its production techniques

,

which I drew on for the more technical aspects

–

the assumption is that these have not changed since then

,

of course

.

The label is a masterpiece of minimalism

,

but the counterpoint to that is that it doesn't actually provide much in the way of information

–

most of what I'm telling you comes from brochures

,

webpages and a meandering conversation at the booth at the

2019

Paris Rhumfest where I filched a hefty sample

.