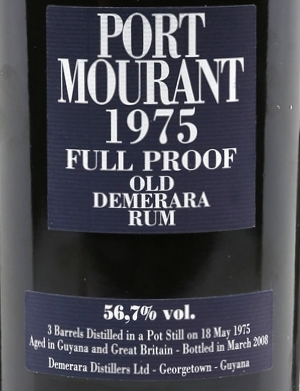 #375
Velier rums have now become so famous that new editions and collaborations disappear from the shelves fifteen minutes before they go on sale, and the "classic" editions from the Age of the Demeraras are all but impossible to find at all. Still, keeping one's twitchy ears and long nose alert does in fact get you somewhere in the end, which is why, after a long drought of the company's rums in my battered notebook (if you discount the legendary Caputo 1973), I managed to pick up this little gem and am pleased to report that it conforms to all the standards that made Velier the poster child for independent bottlers. It's one of the better Port Mourant variations out there (although not the best – that honour, for me, still belongs to the Velier PM 1974, the Norse Cask 1975, with the Batch 1 Rum Nation 1995 Rare PM running a close third), and drinking it makes me wistful, even nostalgic, about all those magical rums which are getting rarer by the day and which speak to times of excellence now gone by.
And how could I not be? I mean, just look at the bare statistics. Guyanese rum, check. Full proof, check – it's 56.7%. Massively old, double-check…the thing is 32 years old, distilled in May 1975 (a very good year) and bottled in March 2008 (my eyes are already misting over), from three barrels which gave out a measly 518 bottles. The only curious thing about it is the maturation which was done both in Guyana and Great Britain, but with no details on how long in each. And a mahogany hue which, knowing how Luca does things, I'm going to say was a result of all that king-sized ageing. All this comes together in a microclimate of old-school badass that may just be a characteristic of these geriatric products.
How did it smell? Pretty damned good. Heavy and spiced. A vein of caramel salty-sweetness ran hotly through the fierce dark of the standard PM profile, lending a blade of distinction to the whole. The first aromas were of anise and wood chips, tannins, leather, orange marmalade. The wood may have been a bit much, and obscured what came later – herbs and molasses, raisins, raw untreated honey from the comb, with a bit of brooding tar behind the whole thing. Lightness and clarity were not part of the program here, tannins and licorice were, perhaps too much, yet there's nothing here I would tell you failed in any way, and certainly nothing I would advise you to steer clear of.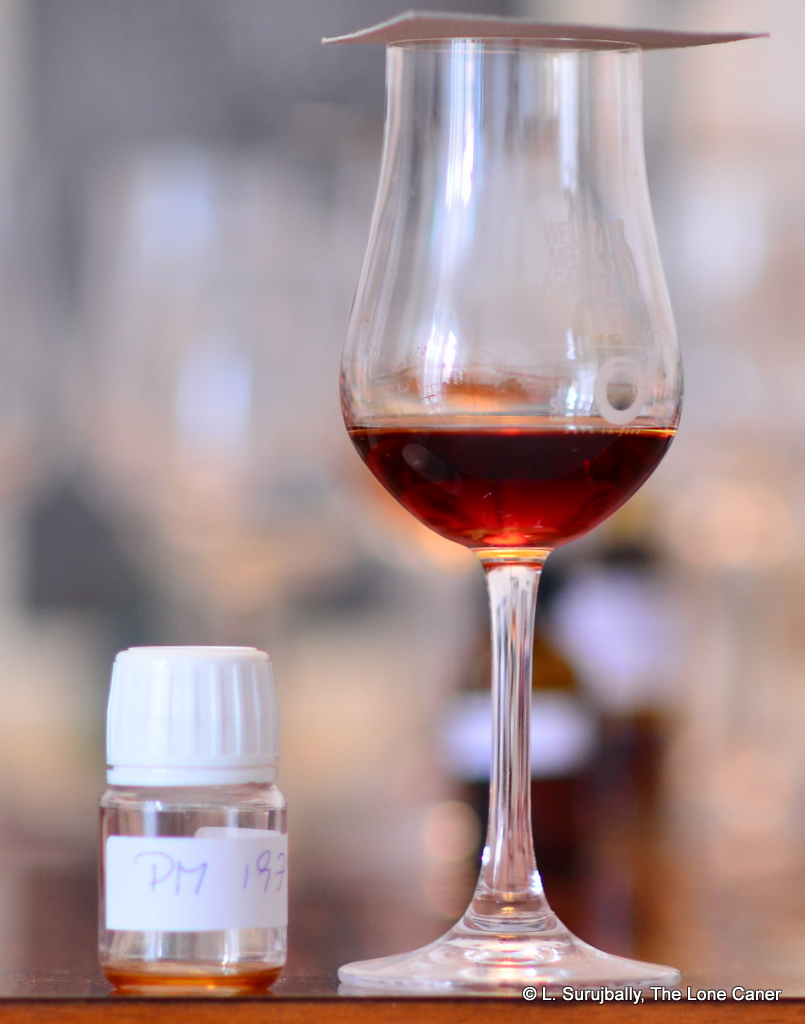 On the taste, the anise confidently rammed itself to the fore, plus a bunch of oak tannins that were fortunately kept in check (a smidgen more would have not been to the PM's advantage, I thought). There were warm, heavy tastes of brown sugar vanilla, caramel, bananas, and then a majestic procession of fruitiness stomped along by – raisins, prunes, blackberries, dark cherries, accompanied by nougat, avocado and salt, orange peel and white chocolate. All the tastes I like in my Demerara rums were on display, and with a warmth and power conveyed by the 56.7% that no 40% PM could ever hope to match, undone only – and ever so slightly – by the oaken tannins, which even carried over to the finish. Fortunately, the anise and warmer raisins and salt caramel came along for their curtain call as well, so overall, all I can say is this is a hell of a rum, long lasting, tasty and no slouch at all. Frankly, I believe that this was the rum DDL should have been aiming for with its 1980 and 1986 25 year old rums.
So, how does it rate in the pantheon of the great Demeraras from the Age? Well, I think the oak and licorice, though restrained, may be somewhat too aggressive (though not entirely dominant), and they edge out subtler, deeper flavours which can be tasted but not fully appreciated to their maximum potential – the balance is a bit off. This is not a disqualification in any sense of the word, the rum is too well made for that; and in any case, such flavours are somewhat of a defining characteristic of the still, so anyone buying a PM would already know of it – but for those who like a more coherent assembly, it's best to be aware of the matter.
Just consider the swirling maelstrom of cool, of near-awe, that surrounds this product, not just for its provenance, or its age, but for lustre it brings to the entire Age's amazing reputation. It's a rum to bring tears to the eyes, because we will not see its like again, in these times of increasing participation by the indies, and the <30 year aged output. Who would, or could, buy such a rum anyway, at the price it fetches nowadays (I saw one on retail for €2000 last week)?
At this stage in the state of the rumworld, I think we should just accept that we can no longer expect to be able to source full bottles those original monsters with which the giants of the subculture made their bones. Anyone who has one of these is holding on to it for resale or for judicious sharing among the hard core rum chums who have pictures of every Velier bottle ever made hanging on walls where the Lamborghini Countach or Pamela Anderson was once posted. You can sort of understand why. They are all a cut above the ordinary and this one is no exception. In its own way, it's great. And even if it does not ascend to the stratosphere the way I felt the 1974 did, then by God you will say its name when you taste it, and all your squaddies will doff their hats and bow twice. It's simply that kind of experience.
(89/100)