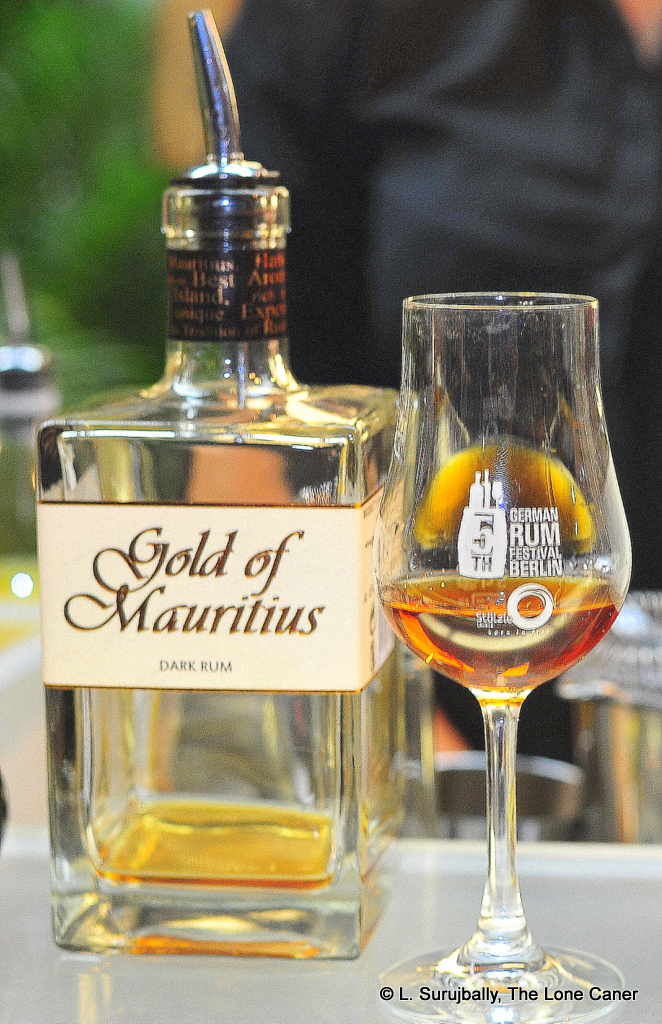 Good with dessert.
#320
You'd think that with the various encomiums the rum has gotten that it's some kind of diamond in the rough, an undiscovered masterpiece of the blender's art. "Incredibly rich…mouth watering…a cracker," enthused Drinks Enthusiast; and the comments of Master of Malt (which one should take with a pinch of salt), are almost all four- and five-star hosannas. Me, I think that although it has a nifty squared off bottle and a cool simple label, beyond that there's not much to shout about, though admittedly it has its points of originality in simplicity that must be acknowledged.
Let's get the facts out of the way first. The Gold of Mauritius is a 40% ABV darkish amber-red rum, aged around a year to fifteen months in South African port barrels which have residue of port still in them; and is a blend of rums from various small distilleries around Mauritius (the specific distillery or distilleries which comprise this one are never mentioned). Caramel colouring is added to provide consistency of hue across batches. The guy who's done the most research on this is Steve James of Rum Diaries (who also liked it more than I did), so for those who want more facts I'll point you to his excellent write-up, and move on.
Overall, the nose was interesting at first, leading in spicy before chilling out to become softer and sweeter, with a ton of coffee and vanilla notes duelling it out with ripe cherries and apricots. There was a dry hint in there, chocolate, salt caramel (it kinda nosed like a tequila for a while). It was surprisingly deep for a 40% rum, which I liked.
It's on the palate that one got the true measure of what the rum was. Here, the port influence was massive. It was warm and sweet, with an initial dark mix of molasses, sugar and smoother vanilla. It's not particularly complex, (the dark likely refers to the taste profile rather than the colour or long ageing), and it reminded me somewhat of a dialled down Young's Old Sam, perhaps less molasses-dominant. Some faint fruitiness here, a bit of tart citrus, but overall, the lasting impression was one of chocolate, coffee grounds, salted caramel ice cream, crushed almonds, molasses and vanilla: simple, straightforward, direct and not bad…but in no way unique either. Even the finish added nothing new to the experience, being short, warm and faintly dry.
Let's be honest. I thought it was rather forgettable, and felt its cousin the 3-month old 2014 Sherry Cask to be better, perhaps because the sherry there had somewhat less influence than a whole year of port. Too, I don't really see the point – the rum is not "finished" in the conventional sense of the term, but completely and fully aged with the port barrels, and that gives them an influence over the rum which masks the uniqueness of what Mauritius as a terroire should be able to showcase. In other words, while I'm a firm believer in the whole concept of geographical regions imparting distinctive tastes to rums, there's nothing here that says "Mauritius" because the port influence so dominates the flavour profile.
Overall, then it leaves me not getting a rum, but a flavoured version of a rum. And that's not to its advantage, though for those preferring simple, straightforward dessert rums, I suppose it would be right up their alley.
(77/100)
---
Other notes
As far as I was able to discover

,

the rum was made by a company called

Litchliquor

on Mauritius

.

They act as a blender and distributor under the command of master blender Frederic Bestel

.

They source rums from distilleries around the island and blend

.

age and finish these in their own facilities

.

The majority of their sales is on the island itself and in Europe where they have several partnerships with distributors

,

but also seem to be able to sell in Russia and the Far East

,

as well as Kenya

,

Canada and the UAE

.

Because of the nature of the blend from multiple

(

unnamed

)

distilleries

,

there is no way to tell what kind of stills the rum came from

,

or whether it was from cane juice or molasses distillate

.