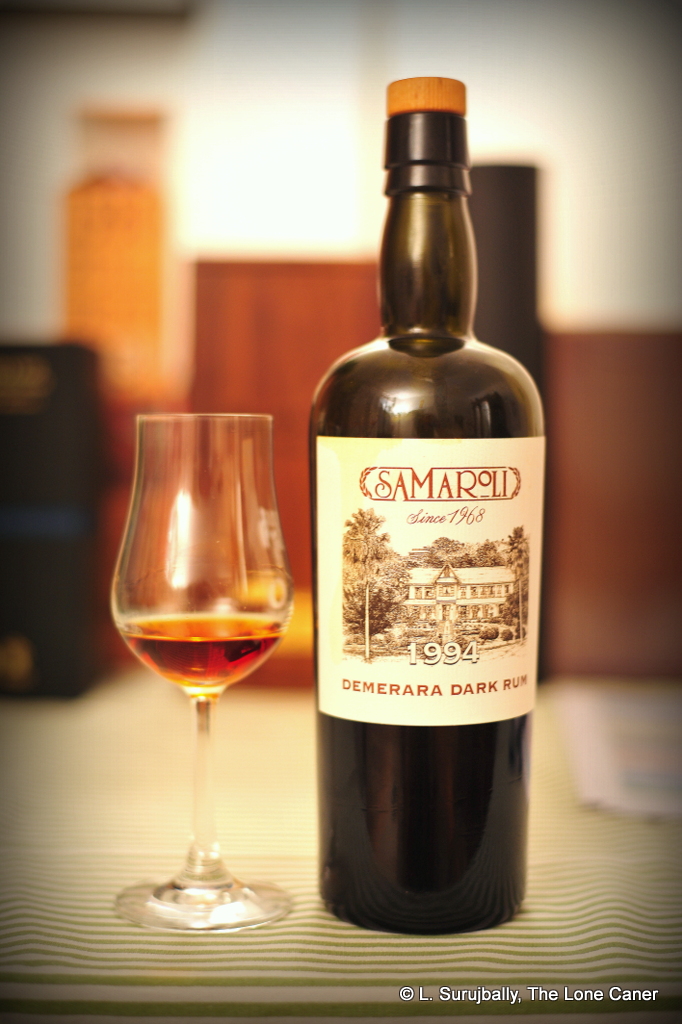 A very well blended, original melange of traditional Demerara flavours that comes up to the bar without effort, but doesn't jump over.
It is a curious matter that although Samaroli may well be the first independent bottler to dabble in the issuing of year-specific, country-specific craft rums (they began with whiskies back in 1968), somehow they never seem to quite get the respect or street cred that its inheritors like Velier, RN, CDI and others do. Few of their rums grace the review pages of the blogosphere, and yet, those that show up have all gotten pretty positive words said about them. So why the lack of recognition and raves of the sort that others receive so often?

Part of it is the expense of course; another may be inconsistency in the range (I've tried too few to make that claim with assurance – I liked their Nicaragua 1995 and am intrigued by this one, but that's hardly a huge sample set); still another is perhaps that the company is simply relegated to the status of "another one of the boys" because of their limited outturn. Not for them the thousands of Caronis or Demeraras like Velier, or the more widely disseminated people-pleasers from Rum Nation and Plantation. Samaroli inhabits the undefined space between Luca's pure cask strength bruisers and the occasionally dosed but usually very pleasant lower-proofed offerings from Rossi and Gabriel. In fact, if you think about it, of all the independent bottlers currently in vogue, it is CDI which more closely adheres to Samaroli's limited edition geographical spread.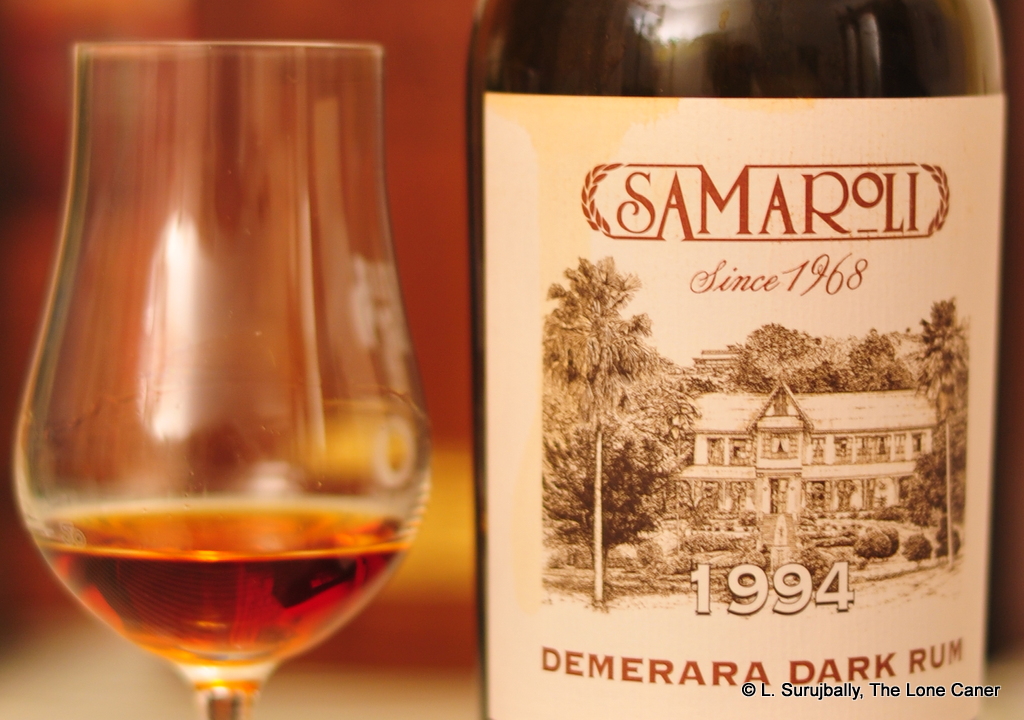 Be that as it may, that makes them neither more, or less than any of the others, simply themselves. So let's look at one or two and see how they stack up: in this review, I tried a twelve year old from Guyana, the 1994 edition "dark" rum. It was distilled in 1994, matured in Scotland (why there, I wonder?) and bottled in 2006 at a modest 45% with an outturn of 346 bottles. No information is provided as to the still or blend of stills which comprise the rum (but we can guess right away).
Now, based on the above, it's not completely certain, but I think the Port Mourant still comprises the dominant portion thereof – just nosing it made that clear. It started off dark, with instant fumes of licorice, molasses and burnt sugar, and the spicy and musky background which denotes that particular still. Almost all sharper and more acidic citrus scents were notable by their absence here, but paying some more attention teased out additional notes of tamarind, brine, clean vegetals and anise…a really nicely done traditional opening.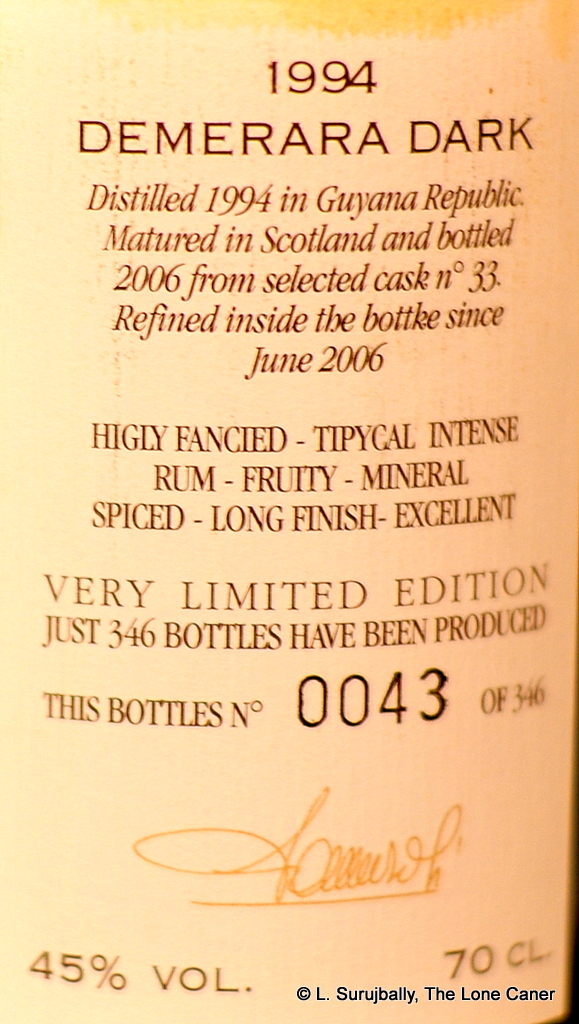 I enjoyed the taste of the mahogany coloured twelve year old as well. It presented as warm and soft to the first taste, with well controlled bite: prunes, licorice (of course), and a musky dry taste like dark earth freshly ploughed, after a hard rain. The spicier fruity notes came into their own after a few minutes, with lemon zest leading the charge, together with other vanilla and oaky elements that had missed their turn when I had smelled it the first time – it was a well put together assembly of tastes, occasionally sharp, nothing to complain about, and perhaps could have been somewhat stronger to really make those flavours sing. Closing things off, I liked the finish quite a bit as well: medium long, very solid, adroitly weaving between driness and softness, providing last hints of anise, burnt sugar, vanilla, cherries and some cinnamon.

The Samaroli 12 year old Demerara was very solid, professionally made, competently executed rum, if perhaps lacking that last filip of complexity and power to make it score higher. No matter…what there was, emerged well and was assembled without major blemish. If I score it the way I have, well, it was because I had a surfeit of PMs to use as comparators, and I assure you that the ones in contention were just as excellent.
So: Samaroli's Demerara dark rum is a good-if-perhaps-not-great rum. It adhered to all the main pointers of the style, was not adulterated in any way, and for its strength provided an excellent sipping rum that took on El Dorado's own twelve year old and ran it into the ground. DDL has gotten some bad press recently from around the fora of the cognoscenti, for the core El Dorado line which hydrometer tests suggested had been dosed with sugar. Samaroli, as others have done, showed the potential which such Demerara rums have, at any strength, and demonstrated that you don't need to mess with a winning formula if you don't want to, can issue as much or as little as you like, and still end up making a damned classy product that the public would enjoy.
(#257. 86.5/100)