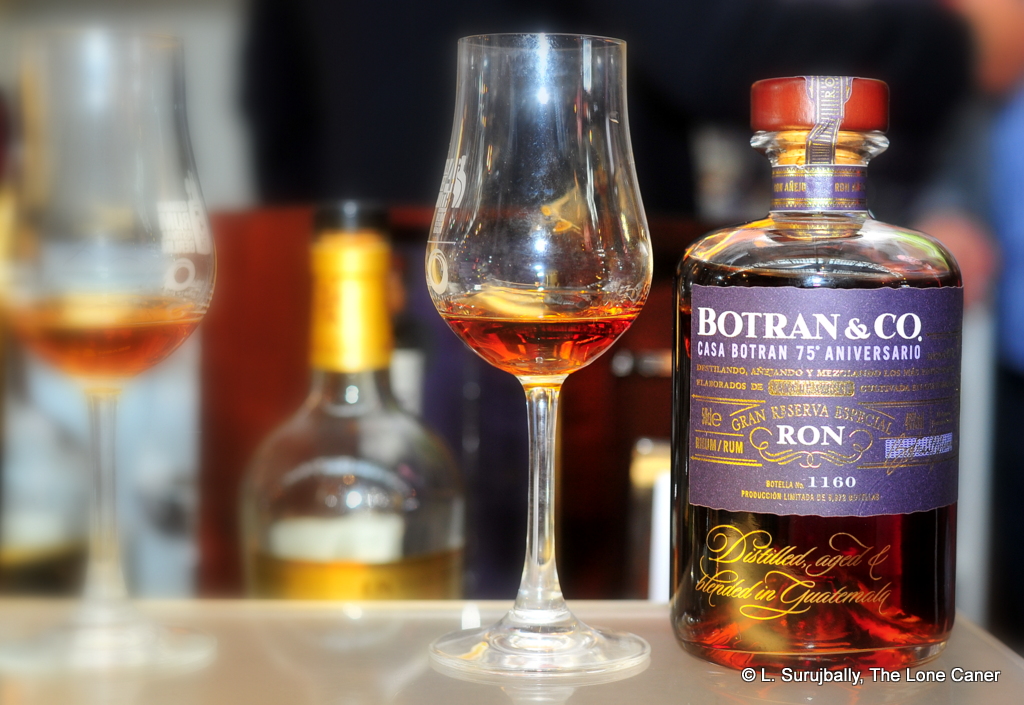 The best of the Botrans, deservedly so. But it could have been better.
#305
***
Botran's top-of-the-line Special Edition is so soft it makes a feather pillow feel like it's stuffed with discarded syringes. In comparison, the skin on a baby's bum is rough as the glass shards on the wall around the house of a banana republic's paranoid dictator. Yet it's issued at a mere 40%, and that it has more qualities than defects is to its everlasting credit and our relief, for soleras do not often get much huzzah from hardcore rum fans, who prefer to have rums with rock-hard washingboard abs, massive glutes, melon shaped biceps, and both the syringes and the shards thrown in.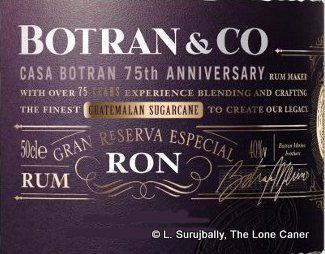 Over and above the notes on soleras and the Botran company which I covered in the 15 year, 18 year and Blanca reviews, here are the facts on this one. 9972 bottles of the rum were issued, and it it is a blend comprising rums five to thirty years old, with the average age of about ten – all aged in casks of bourbon, burned bourbon, sherry and porto, with the last six months of ageing spent in white wine casks. The 75th Anniversary reflects its issue in 2014 (one website says 2015*) to mark the birth of the company as a rum maker in 1939 when Botran was formed by los cinco hermanos.
That it is deserving of the "Special" moniker is something of an opinion. For the makers, given their heritage and amount of time they spent making it, sure; for solera lovers of the sweet light rums, check. As a reviewer who judges on taste, I'd have to say "yes" as well…but those who are thinking of shelling out €160 might pause a little (that gets the buyer a presentation quality box containing a 50cl bottle, a pipette and two additional sample bottles filled with citrus and spicy variations of the rum so they can go off and make comparisons of their own, for whatever reason). For that price, we have to ask whether a 40% solera is worth it, and that comes down to more than just the tasting notes which follow.
What was evident on the nose of the rum was some of the real complexity the previous iterations aspired to but didn't achieve: it was deep, reassuring, calm, and quiet, in no hurry to give up its secrets. Gradually, warm scents of caramel, dark chocolate and (quite a bit of) molasses sauntered out and stayed there. Over some minutes additional notes of apricots, peaches and red currants joined in, with a background of treacle, and syrup on the Little Caner's Saturday morning pancakes. There were enough breakfast spices in evidence to make me wonder why bother providing even more in the sample bottles, but they were muted and ancillary, not dominant, though some vanilla hints crept through at the end.
The taste was equally warm and full at the inception, complex enough to satisfy, but perhaps too mellow and sweet – that 40% strength did it no favours (what is it about so many rum producers that even for something so special, they obstinately refuse to go stronger?). Prunes and black grapes, bitter black chocolate, licorice, more syrup. Caramel, burnt sugar, charred wood, coffee and molasses, firm and decisive in their own way, to which eventually were added honey and nuts, maybe a flirt of citrus. The flavours do make strong individual statements, like a proverbial snooty waiter slamming a meal down in front of you, and they are good — but they do not geometrically improve (in line with the price differential) what could have been a magnificent creation of the blender's art, had they boosted the amperes a mite. That sank the finish for me, which was very warm, very smooth and which can't be faulted except to note it was too short and displayed nothing new, which blocks me from waxing ecstatic, rhapsodic and metaphoric about the thing.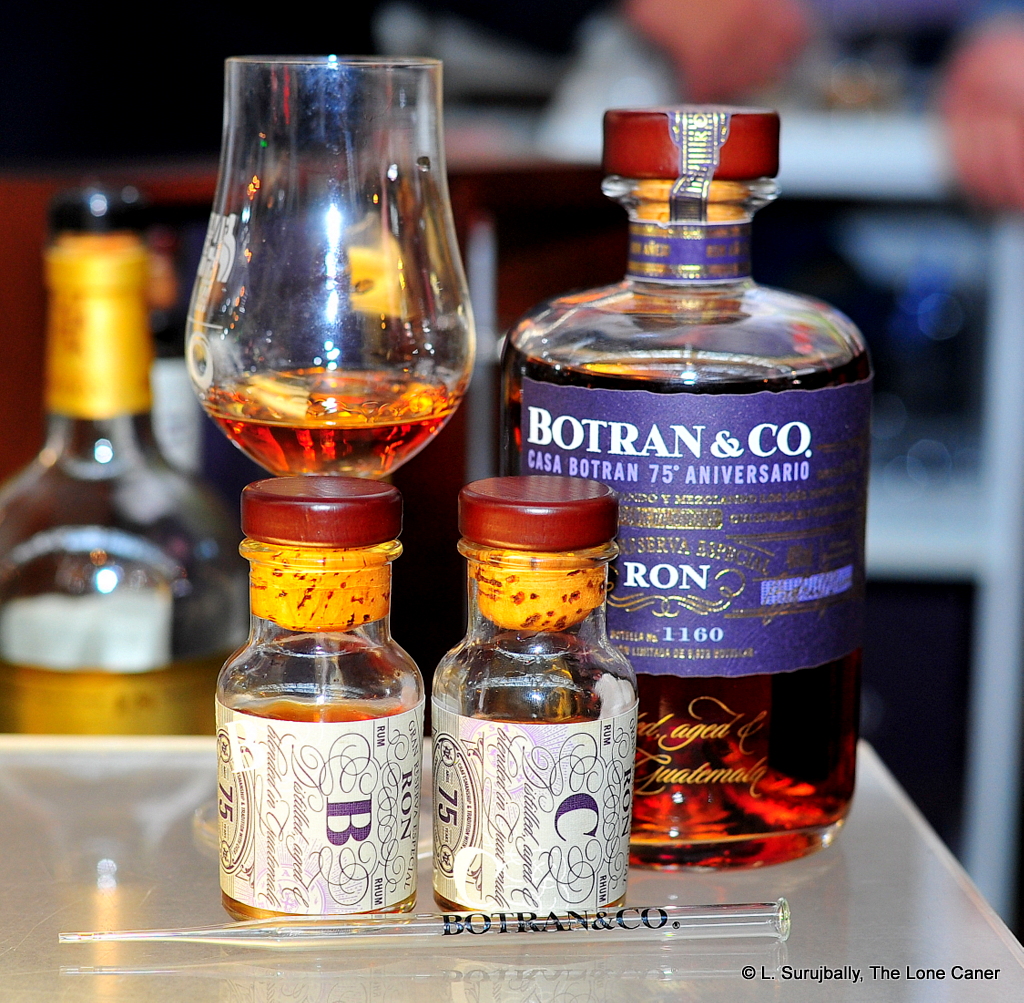 For all the scorn often heaped on soleras, which unfairly damages the rep of many others of the same type, I think Botran makes pretty decent rums. By officially eschewing additives (there's some dispute about that) and utilizing barrel selection strategies that work with port, sherry or bourbon influences, they have produced what I think are some of the best solera rums around, not excluding the Cartavio XO**. Sure they're too soft and mild for me as a whole when ranked against more intense, masterful indie bottlings, but for a 40% rum to impress me at all these days does require a little bit more than just slick marketing.
So there's is no doubt in my mind that this is one of the better soleras out there, and of the four Botrans I've tried, it is the best. You could haggle over the 15 and the 1893, which were roughly comparable, but this one is a step or two ahead of them both – and whether it is worth the price, when so many other good rums compete for your attention at less than half the cost of this package, will have to be a decision you must make on your own.
(86/100)
---
Other Notes
* The spiritsbusiness website said it was issued in September 2015, which conflicts with the 75th Anniversary dating of the company formation in 1939.
** Yes, I know I scored the Cartavio XO at 88 points. That was four years ago. Were I to try it again, it would likely come down to this one's level (and in the future both might sink yet lower as I keep trying more and more rums). My malty friends patronizingly remark this is called the "evolution" and "development" of taste, and hasten to assure me that one I day I will join them in appreciating whisky. Sure guys.