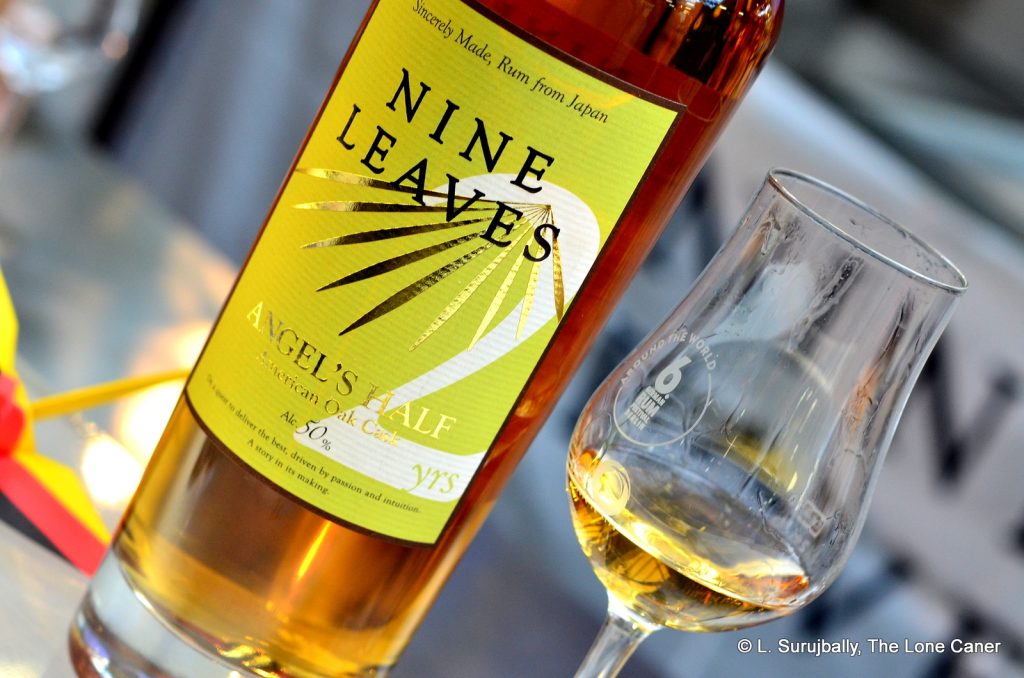 #520
Since we're talking about Nine Leaves again, let me just issue this brief review of another of the 2016 editions, the American Oak 2 year old. This was something of a departure for the company and its genially low-key one-man owner, master blender, accountant, chief salesman, procurement officer, distiller, bottler, secretary, and maybe even floor cleaner, and the departure is in that it's aged for so long.
Most of the time Yoshiharu Takeuchi (who holds all of the positions noted above plus maybe a few others) releases rums in a six month cycle for the Angel's Half expressions, and annually for the unaged "Clear" ones. This one is, however, aged for two years – it was the first "real" aged edition he made, and it was put to rest almost at the same time Nine Leaves opened for business. Why two years? Because it's the maximum a rum can be aged in Japan, he told me, before heavier taxes start to kick in, noting also that this is why for the moment older rums will not be part of the Nine Leaves' stable.
Be that as it may, the 50% 2YO pot still rum should be seen as a companion piece to the Encrypted, which came out in the same year, and was also two years old. However, the Encrypted was a two year old finished blend (of four rums), and this rum was a straight two year old without any other barrels aside from the American oak. I tried it together with the that and the Angel's Half 6-month from last week, at the same time… and somewhat to my surprise, I liked this one best.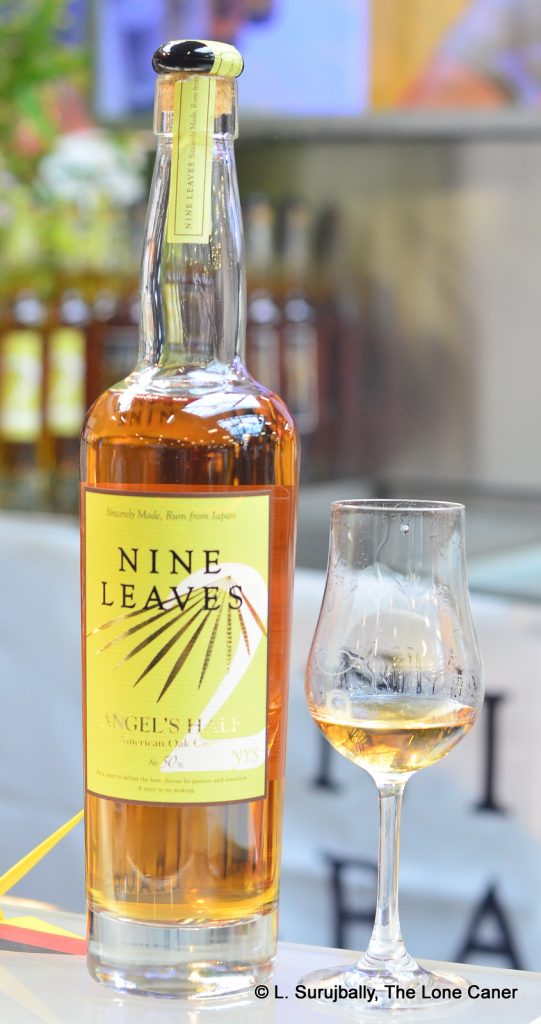 The nose rather interestingly presented hints of a funky kind of fruitiness at the beginning (like a low rent Jamaican, perhaps), while the characteristic clarity and crisp individualism of the aromas such as the other Nine Leaves rums possessed, remained. It was musky and sweet, had some zesty citrus notes, fresh apples, pears and overall had a pleasing clarity about it. Plus there were baking spices as well – nutmeg and cumin and those rounded out the profile quite well.
Palate, short version, yummy. Some sugar water, vanilla, cereals and those spices again, cider and apple juice. No brine here, no olives, more like a kind of tartness, akin to unsweetened fresh yoghurt. And a minerally iodine peat-bog taste lurked in the background, which fortunately stayed there and wasn't so aggressive as to derail the experience. It was quite smooth, with some edge and rawness, but well controlled, closing things off with a finish that was quiet, clear and relatively easy, redolent mostly of acidic fruits, apples, cider, oranges and a bit of vanilla. That's a rather brief set of tasting notes, but I assure you, the experience was well worth it.
When I posted the Angel's Half notes last week on reddit, one person asked me whether what I described was typical for Nine Leaves. Based on these three Nine Leaves rums from 2016, I'd have to say yes – but even with rums so relatively similar and from the same tree, there were points of individuality that made them distinct in their own right. Of the three, this one was my favourite – it provided reasonable complexity, clarity, enjoyment, retained its sprightly youth and vigour, while suggesting how the ageing sanded off the rough edges. For a two year old rum made on the other side of the world, this thing is quite an achievement, and demonstrates yet again that a rum doesn't have to be aged up to wazoo or come from a famed Caribbean estate to make a solid and favourable impression on anyone who tries it.
(86/100)
---
Other notes
The rum's label could use some work. It states it's an Angel's half but neither the year nor the ageing are clearly noted, which inevitably leads to some confusion. Also, the only way to tell it's different from the 6 month old is the yellow label for the 2YO, as opposed to the white one on the 6-month. I think Yoshi has corrected this in subsequent releases, though one remains perennially unsure what the release quantity is.