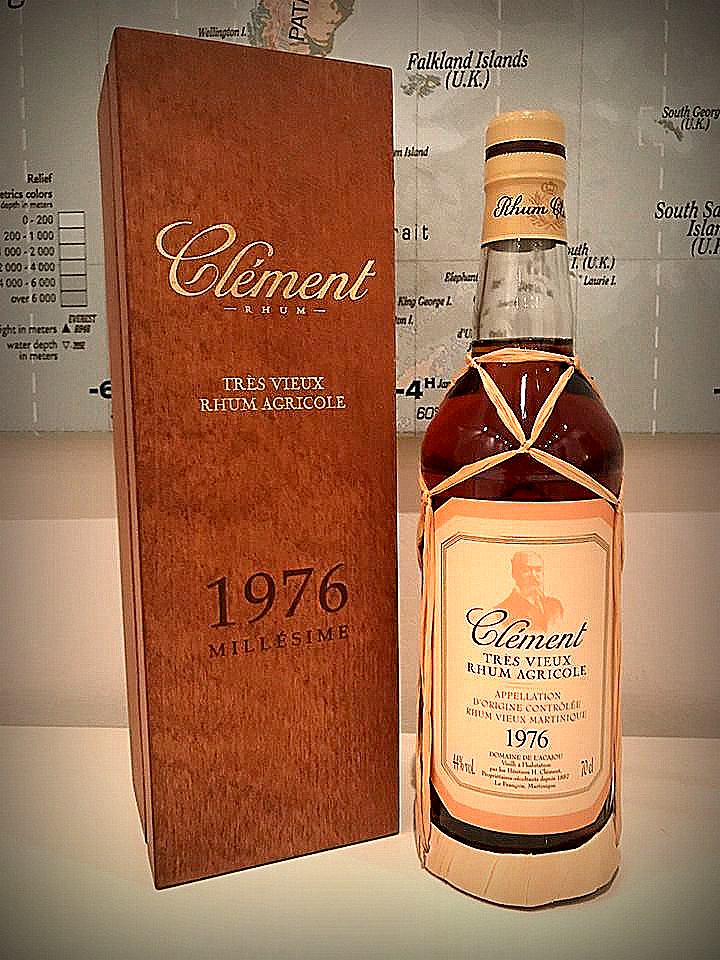 Rumaniacs Review #103 | 0676
The Clément XO was one of the first top end agricoles I ever tried, one of the first I ever wrote about, and one that over the years I kept coming back to try. It evoked memories and recollections of my youth in Guyana which alone might justify its purchase price (to me, at any rate). There's something undefinable about it, a trace of its heritage perhaps, the blend of the three rums that made it up, millesimes from what were deemed exceptional years – 1976, 1970 and 1952.
The Clément 1976 is the first of the three I'll be looking at, and its cost is now in the €400-range (more or less) – the last time I saw it was several years back in Charles de Gaulle airport, and it was out of my price range (plus, I was going in the wrong direction). It is AOC certified, aged at Clément's facilities on Martinique for 20 years, and remains available for purchase, if not review. Its claim to fame nowadays is not about its participation in the blend of the XO (this is recalled by few outside the geek squad and the agricolistas), but the fact that it's from so far back in time. It came out the same year as the AOC itself (1996), which is why it is so conspicuously noted on the bottle.
Colour – Gold
Strength – 44%
Nose – Rich, sweet and fruity – generous would describe it well. It wasn't hot or spicy (a given for its strength), just warm and quite easy. Peaches in syrup, vanilla, almonds, and bags of herbs which spoke to its cane juice origins – basil, cumin, cloves – plus a neat through-line of lemon zest. That burning sugar and faint trace of molasses I remember from the XO is alive and kicking here, even after twenty years of ageing.
Palate – If it isn't a contradiction in terms, I'm going to call it "delicately rich" because that's what ti is. It tastes of vanilla, woodsmoke, various red and yellow fleshy stoned fruits – peaches, mangoes, cherries, all ripe – plus the crisp tartness of green apples and lemon zest, and the soft salty warmth of avocados and brine. The burnt sugar remains in the background, but hardly takes part in the proceedings any longer.
Finish – Long and fragrant, combining soft ripe fruits with tarter, more acidic ones – cherries, gooseberries and peaches. There also a hint of maple syrup, cloves, almonds, toffee, salted caramel ice cream, and a merest trace of lemon.
Thoughts – The whole of the XO is greater than this part. It actually tastes of a rhum that's younger, and doesn't entirely have that rounded and mellowed feel of an ultra-aged tropical product. It's crisp and clear and complex to a fault, yet after two decades one is surprised that it isn't…well…better.
(#0676 | R-0103)(84/100)