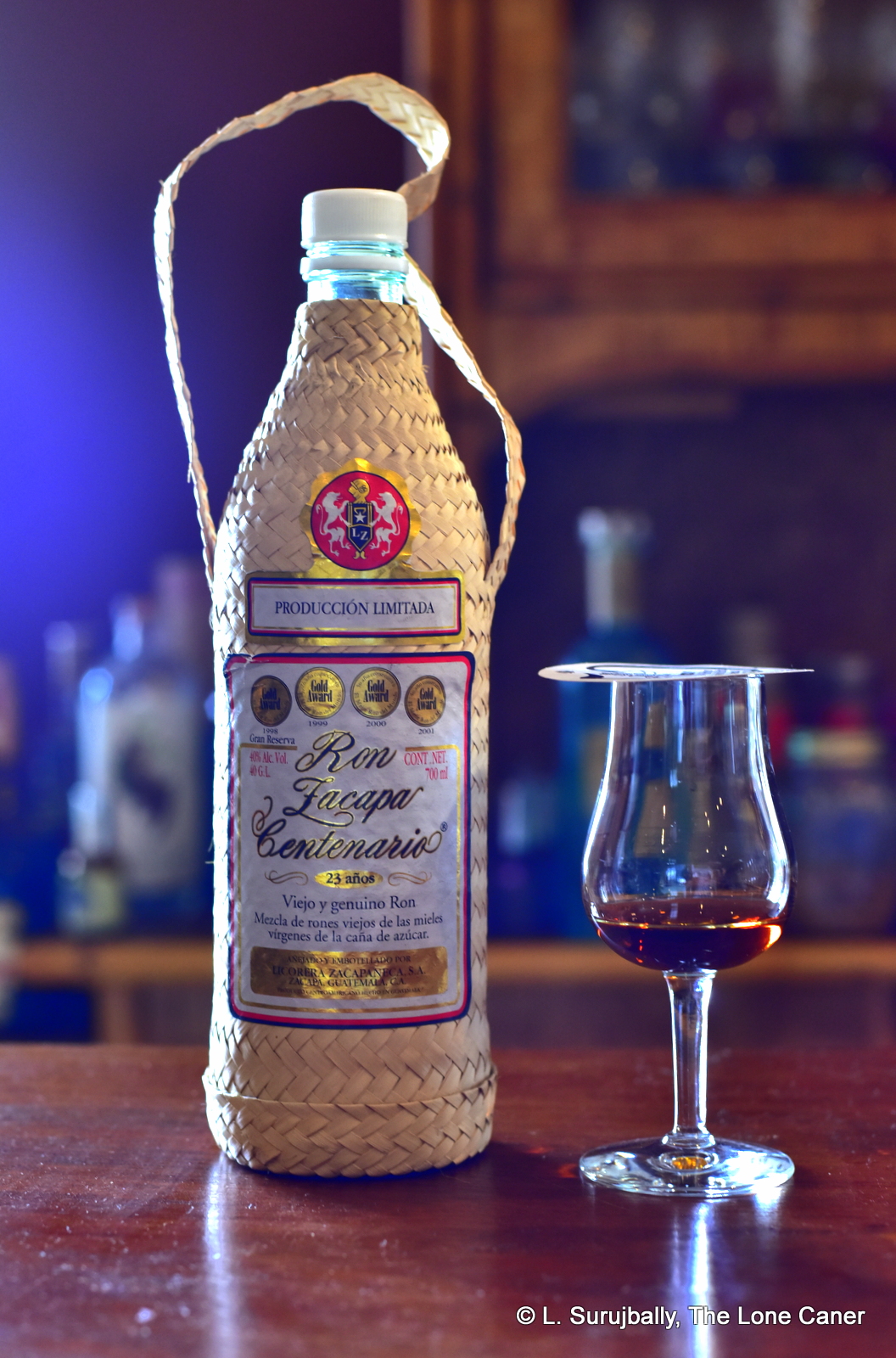 Rumaniacs Review #076 | 0506
Ron Zacapa from Guatemala, now owned by Diageo, has been a poster boy for adulteration, over-sweetness and confusing (misleading?) labels for the entire time I've been reviewing rums.  The current late-2010s edition of the Centenario 23 (first introduced in 1976 and now dropping the "Años") is still a crowd favourite…but here we have an older vintage, back when the wrapped bottle was still in vogue (Rum Nation copied it for the Millonario 15 when Zacapa discontinued it some years ago)…and if scuttlebutt is to be believed, this thing really is 23 years old, before they started solera-izing it in the current iterations. But about that I have my doubts – I respectfully submit it was always a solera, and it's just that as everyone found out about it the label had to be changed.
Colour – Amber
Strength – 40%
Nose – Quite thick and rich, redolent of brown sugar, chocolate, molasses and coffee. Not overly complex, little in the way of additional flavours, except for some toblerone, vanilla, cinnamon and honey.  Some sherry and vague fruity notes.
Palate – Soft, very easy, almost no bite at all – I'd call it unadventurous. Walnuts and raisins mixing it up with chocolate and toffee with a little alcohol.  A faint bitterness of black tea, some honey, vanilla, a few raisins, brown sugar, caramel, cinnamon….overall, not so much tamed as simply easy, no effort required. However, note that it's not as sweet as the current versions available on the market, just sweet enough to be noticeable.
Finish – Short warm and smooth, mostly caramel, a little (very little) fruit, coffee and liqueur. Gone in a heartbeat, leaving not even a smile behind.
Thoughts – I can see why it remains a crowd pleaser, but the decision to stop with this blend and go with the "modern" Zacapas now on sale was (in my opinion) a mistake. This slightly older version of the rum is marginally better, has at least some character and isn't destroyed by additives or sweet quite as badly.  Even so, it remains a rum to appeal to the many rather than the few, and all it remains for the dedicated is a pleasant after-dinner digestif as opposed to something to place on the top shelf.
(75/100)