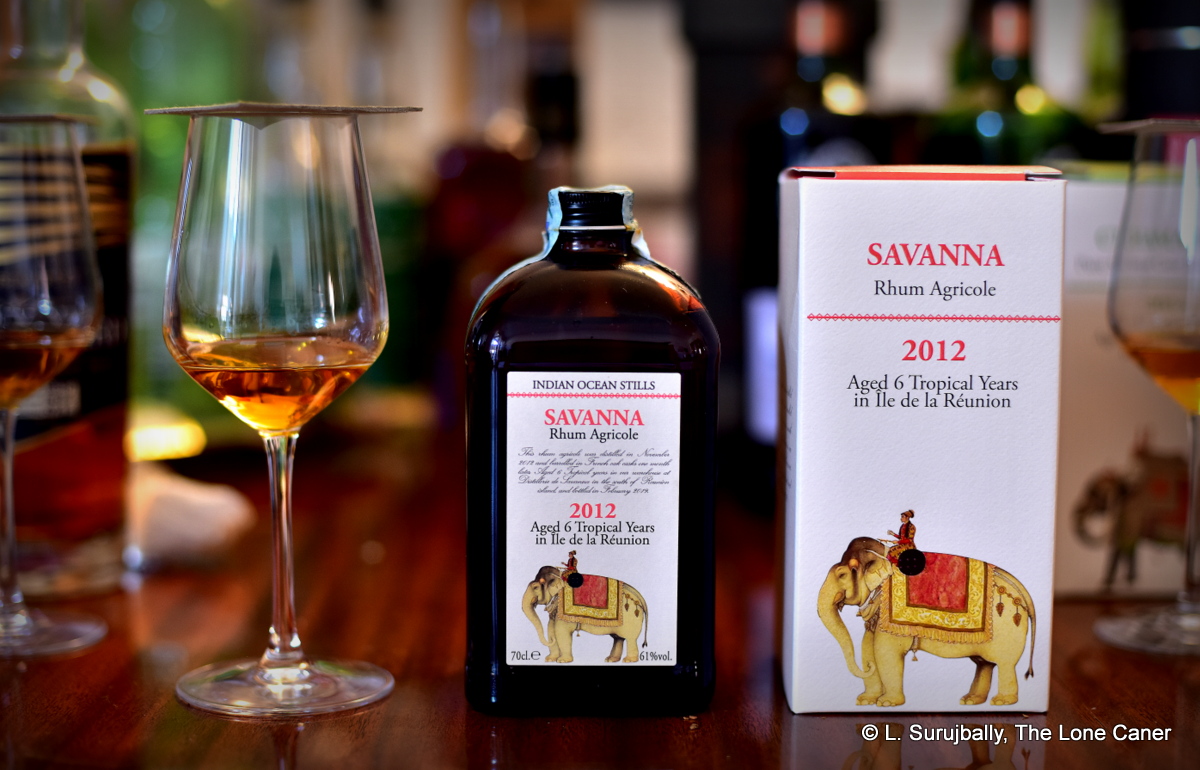 Without bombast or any kind of major marketing push, without hype or hurry, Savanna on Reunion Island in the Indian Ocean quietly built up its reputation over the last decade with the Grand Arôme series of rums deriving from their high ester still, and probably gave the new high-ester Jamaicans serious conniption fits. Yet for all its burgeoning street cred, it remains something of a relative unknown, while much more attention is lavished on the New Jamaicans and other companies around the Caribbean who are jacking up their taste levels.
Savanna has of course been making rums its own way for ages, and by releasing this little gem with them, the Genoese concern of Velier might just be the one to catapult them to the next level and greater renown outside Europe. After all, they did it for Caroini and DDL, why not here?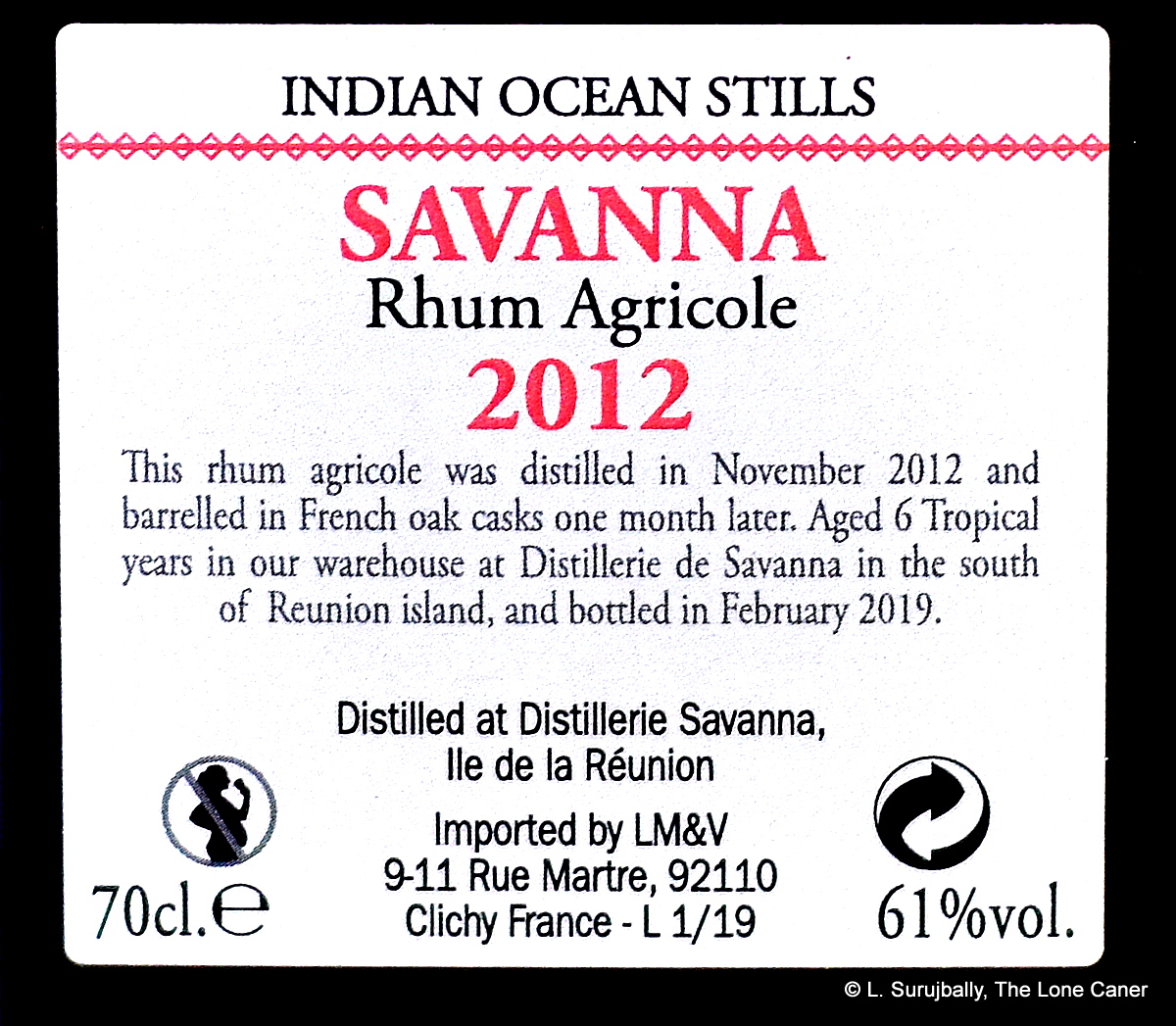 The "Indian Ocean Still" series of rums have a labelling concept somewhat different from the stark wealth of detail that usually accompanies a Velier collaboration. Personally, I find it very attractive from an artistic point of view – I love the man riding on the elephant motif of this and the companion Chamarel rum (although I must concede that my all time favourite design is the architectural-quality drawings of the various stills of the Habitation line). In any event, most of the info is on the back label (repeated in the copperplate-style narrative on the front): distilled November 2012, aged on Reunion in French oak casks, bottled February 2019. It's a column still product, but not, as far as I'm aware, of the HERR still.
It's been said on many occasions of Velier's rums, especially with the Jamaicans and Demeraras, that "the rum doesn't feel like it's X%". Perhaps nowhere is that more true than here, where the Savanna clocked in at 61% ABV, but nosed — and later tasted — like it was no more than standard strength. I mean, it started with a truly lovely, sweet, soft, warm nose. Peaches in syrup and cream melded well with sugar water, ripe yellow mangoes, red grapes,and sweet red olives. Delectable in a good way, and I particularly enjoyed the lemon and cumin background, plus the yoghurt and sour cream with dill.
The palate was also an amalgam of many good things, starting off tasting of sweet and very strong black tea with milk. It developed fruity, sweet, sour and creamy notes which all met and had a party in the middle. There was lime zest, bags of ripe, fleshy fruits, cereals, red grapes, apples, cashews – it's a smorgasbord of ongoing flavour porn, both sharp and crisp, and later one could even taste fanta and bubbly soda pop mixed in with a clean Riesling. The strength was more discernible than it had been when I smelled it, just not in a bad way, and it was really well tamped down into something eminently drinkable, finishing off with a flourish of olive oil and brine, a touch of sweetness from the fanta, and more crisp almost ripe fruits.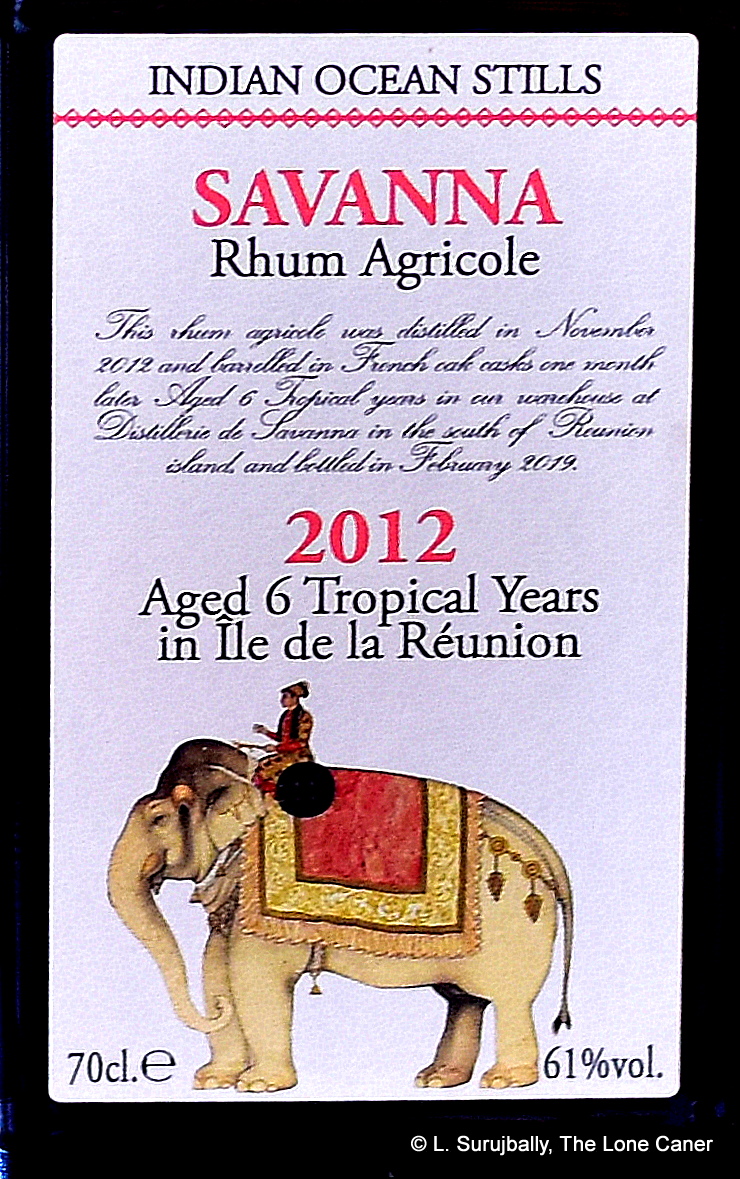 Man, this was a really good dram. It adhered to most of the tasting points of a true agricole — grassiness, crisp herbs, citrus, that kind of thing — without being slavish about it. It took a sideways turn here or there that made it quite distinct from most other agricoles I've tried. If I had to classify it, I'd say it was like a cross between the fruity silkiness of a St. James and the salt-oily notes of a Neisson.
It's instructive that although Savanna has been making high ester rums for at least the last two decades, their reputation was never as sterling or widespread as Hampden and Worthy Park who have been getting raves for their new branded rums from almost the very first moment they appeared on the stage. Perhaps that says something about the need in today's world to have a promoter in one's corner who acts as a barker for the good stuff. That could be a well known importer, it could be the use of a deep-pocketed secondary bottler with a separate rep of their own (think Rum Nation's 2018 Reunion rum as an example), or a regular FB commentator.
These forces have all now intersected, I think, and the rum is a win for everyone concerned. Savanna has greater exposure and fantastic word of mouth dating back to its seminal HERR 2006 10 year old; Velier has shown that even with the winding down of the Demeraras and Caronis they can find tasty, intriguing rums from around the world and bring them for us to taste; and I can almost guarantee that if this rum finds its way into enough hands, there will be no shortage of positive online blurbs and opinions from across the commenterati, many of whom will be happy to say that they knew it all along and are happy to be proved right.
(#685)(85/100)
---
Other notes
Habitation Velier has released a Savanna HERR Unaged

2017

white rhum

,

which is a good companion to this one

,

though it's a bit more energetic and rambunctious and displayed less refinement

…

yet perhaps more character

.

I heard a rumour that Velier intended to release three Indian Ocean rums in this

2019

series

,

and indeed

,

around

2018,

there were photos of Luca in India that surfaced briefly on FB

.

However

,

nothing seems to have come of it and never responded to my queries on the matter

.