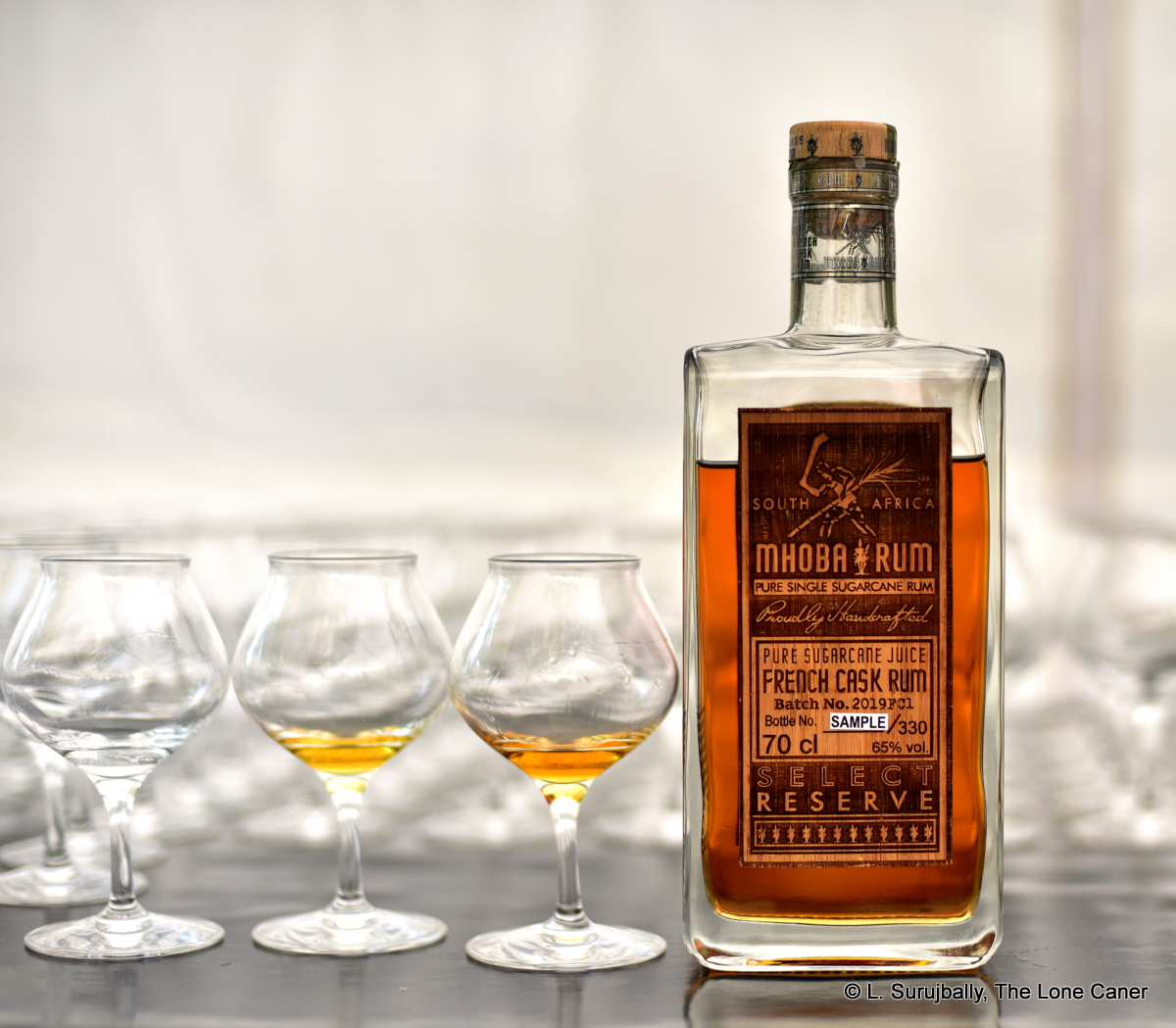 There was a lot of interest in and written about Mhoba between the UK 2018 and Paris 2019 rumfests, and when one checks out the rums they make, it's not hard to see why. It's from a unique part of the world, has been deep-dived by Steve James in a thee-part-post that could hardly be bettered (Part 1, Part 2 and Part 3 are here), has a pot still action going on, and the rums themselves are solidly distinct. So we should beware of letting them fall off our mental rum radar in between expos – because they're good, and, perhaps more important, well made, unmessed-with, cask strength, and very, very original.
Mhoba's founder Robert Greaves originally considered making a South African version of cachaca…but fortunately for us, changed his mind. He built his own small stills (many of them, each evolving from the previous iteration), played around with the technical aspects of crushing, fermenting and distilling for two years, applied for a Liquor License in South Africa, and it all finally came together in 2015. Initial samples sent to the Miami Rum Festival in 2016 resulted in more tweaking, and by 2018 he had a blend of rum aged for about a year in six scraped, scoured, seared and toasted French oak casks (the epic of how he ended up there is worth a read so head over to Rum Revelations for some background), which he presented in London that year — though the one I tried was from a six-months-older blend of the same barrels, which yielded 330 bottles and which was shown off in the Paris Rumfest in early 2019.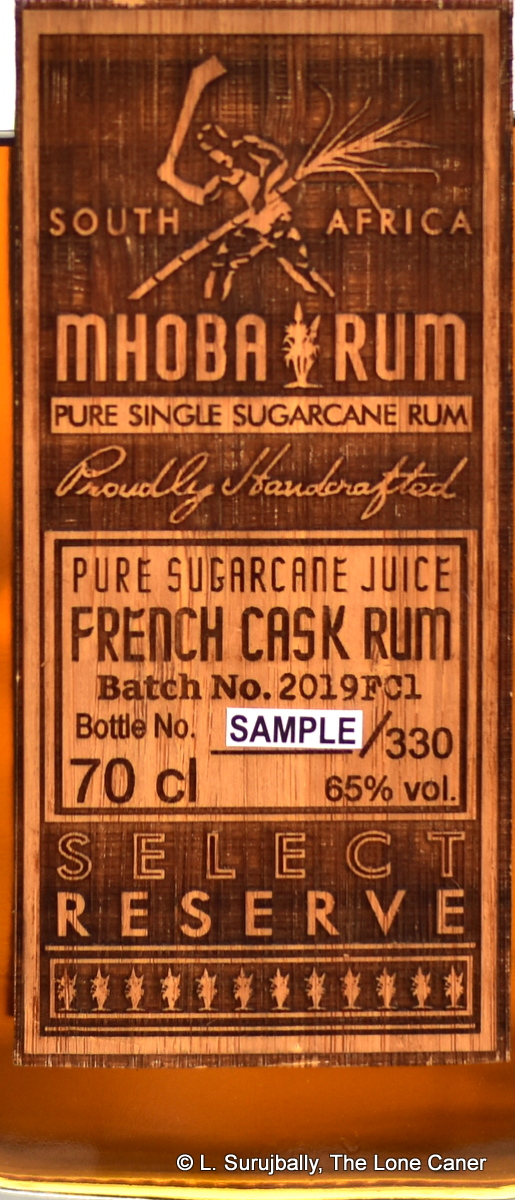 This is where good labelling helps understand what you're getting. Mine read that it was a sugar cane juice rum, single blended, the bottle outturn (330 bottles, of which this was a sample), batch 2019FC1, South African made, and 65% ABV (ouch!). Actually, the only things missing from the label were the age statement (website says just over a year) and the still of origin (it's a pot still), which I imagine subsequent labels will correct, especially as additional aged varietals begin to enter the market and a stock of different aged expressions gets built up – already, the company site lists eight different rums, so they're not wasting any time.
I liked the pungency and herbal nature of Mhoba's white rum, and remarked it compared nicely to a Neisson or a civilized clairin. The French cask was a horse of a different colour, though I can't definitively state whether this was because of the ageing, the cuts made or the tweaking of the still. One thing for sure – the casks had their say here. Just the nose made that clear – very little of the vegetal, herbal notes of the white made it through here. Indeed, what I smelled was a combination of dialled-down Jamaican funk – sharp, overripe, sour fruits, oddly shy for such a powerful rum – combined with damp cardboard, hot earth after a rain, and paint thinner. Gradually, over the half hour I spent smelling it, it released citrus zest, toffee, chocolate oranges, dill and just a hint of brine. And yet it remained curiously indistinct, hard to come to grips with and pick apart.
The palate was better, very dry, very strong, yet that vagueness persisted here too, if perhaps not as much. Sour fruits gone off were there – mangoes, apricots, peaches, cashews (the ones with the seeds outside) — plus mint, dill and rosemary, brine, ginger and lemongrass. These were the sharper aspects, balanced off by some light coffee, caramel, wine, black grapes and those dusky earth and cardboard and coffee notes, leading to a roaring sharp finish which was long and dry, closing off with hints of nuts, coffee, caramel, and a last whiff of fruitiness
I wasn't entirely sure what to make of this. The minimal ageing toned down the rawness of an unaged spirit in a way that polished off some of the rough edges, so that was good; the additional fruitiness imparted by the Cape Brandy left in the staves (even after the sanding and scraping away of a few millimeters of impregnated wood) was nice – overall, it was a solid, strong drink. This, paradoxically, was also its weakness. The strength was so great that it overpowered the subtle notes that a mere year-and-a-bit of ageing had provided, and it failed to cohere in a way that would allow the individual taste components to shine more. Here then was a rum that I felt could either use some more ageing, or some water, and indeed I did put a few drops into my drink and it became much more approachable that way.
Still, it remained something of an odd duck, hard to pigeonhole, tough to nail down precisely. It had aspects of an aged agricole, and points that reminded me of a Jamaican high-ester rum, all combined with the dampening anonymity of a column-still, high-proofed, lightly-aged filtered product from, say, Bacardi. In that lay its originality and its attraction because in a market crowded with ever more indie cask strength releases, new experiments from old houses, and ever more cheap column still plonk, anything new and well made and tasting the way it does is a welcome breath of fresh air. I may not have been entirely sold on its quality, but I won't forget it any time soon — and as the years go by I can see my shelf having more than just a few of the rums from this small South African company, because they're surely one to watch.
(#672)(83/100)