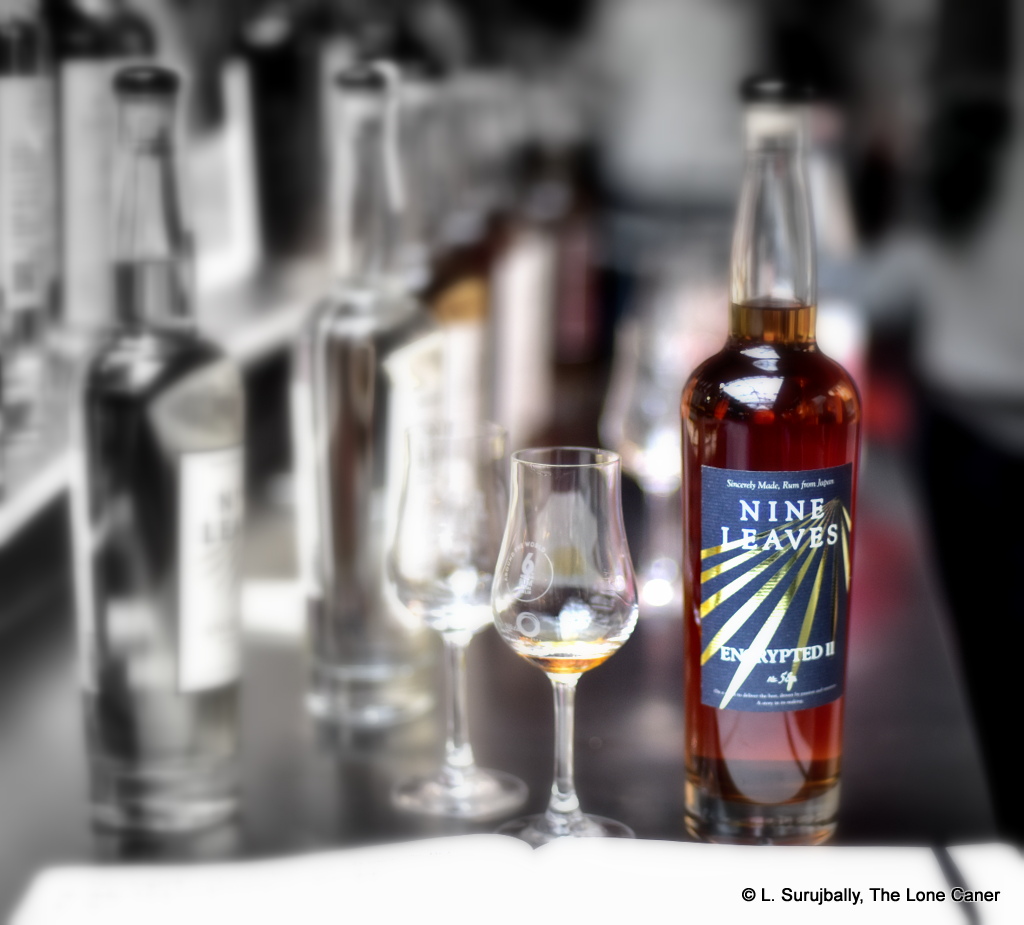 You just gotta love Yoshiharu Takeuchi, who hired a brand ambassador, travel agent, accountant, general manager, master distiller, janitor, chief cook and bottle washer, the cook, the baker and candlestick maker, and still only has a single employee in his Japanese rum-making outfit Nine Leaves – himself. And lest you think he's a dour, serious, penny-pinching cost-cutting ninja who'd prefer to be making a Yamazaki single-handedly or something, you can take it from me that he's a funny, personable, dynamic and all-round cool dude, a riot to hang out with in any bar in any country. Oh yeah, and he makes some pretty damned fine rums.
I've been writing about Nine Leaves since I first tried their various rums back in 2014: the Clear, and "Almost <<pick your season>>" French- or American-oak-aged rums (most of which were aged, at best, for six months and issued once or twice a year), and have gradually realized that due to the peculiarities of Japanese tax laws, it's simply not in their interest to make rums greater than two years of age, and so probably never will. Yoshi-san has therefore always concentrated on making minute, infinitesimal improvements to these young 'uns, until 2016 when he changed direction and put out the first Encrypted rum, riding the wave of finishes and double maturations that have almost come to define Foursquare and have been copied here and there by other distillers like DDL and English Harbour.
The Encrypted rums were subtly, quietly excellent. It surpasses my understanding that to this day they have not made much of a wave in the rumworld (unless you count Velier's 70th anniversary edition, which Yoshi jokingly calls the "Encrypted 2½"), though sales must be brisk otherwise why would Nine Leaves keep making them, right? The Encrypted II from 2017 was a blend of copper-pot-still rums slightly over two years of age: some were aged in ex-bourbon casks, some in PX Oloroso, and then blended, with a resultant strength of 58% ABV. That's it, and the results just keep getting better over time.
Consider the way it smelled. With pot still distillate and two different cask types, one would expect no less than an intriguing smorgasbord, which this provided, in spades: the pot still component was quite subdued, starting off with a little brine and olives, a light touch of nail polish remover and acetones; indeed, the vaguely herbal nature of it almost suggested an agricole wannabe than the molasses rum it actually was. Letting it open a little is key here: after several minutes the other aromas of light vanilla and caramel were joined by smells of apples, green grapes, cumin and lemon peel, and only after some time did heavier fruit like peaches in syrup begin to make their appearance, with a neat balancing act between the various components.
The real treat was how it tasted. Short version? Delicious. Much as the nose managed to make a curious combination of agricole and molasses rum work together without going too far on one side or the other, the palate took flavours that might have been jarring and found a way to make them enhance each other rather than compete: it was hot and briny, tasting of gooseberries, green grapes and unripe mangoes, then balancing that off with unsweetened cooking chocolate, licorice, nougat and bon-bons, which were in turn dusted lightly with cinnamon and almonds, before closing off in a nice long finish of nuttiness, caramel, vanilla, a hint of wine and even (I kid you not) tumeric.
It's amazing how many flavours Nine Leaves wrings out of their distillate without messing around with additives of any kind. When I see major houses doctoring their rums and their blends in order to appeal to the sweet-toothed mass market, then justify their actions (assuming they bother) by mentioning lack of resources to age distillate for long periods, the desire of their customers, the permissive legislation etc etc etc, I want to sigh and just point them in the direction of a rum like this one, aged for so short a time, not part of any family tradition or national heritage, not needing any adornment to showcase its quality. This thing is simply a solid, tasty rum, familiar enough not to piss off the Faithful, while also different enough to elicit nods of appreciation from those who're looking for a variation from the norm. Not many makers can find the balancing point between such different aspects of the production process — Nine Leaves has shown it can be done, and done well, by taking the time to get it done right.
(#616)(87/100)