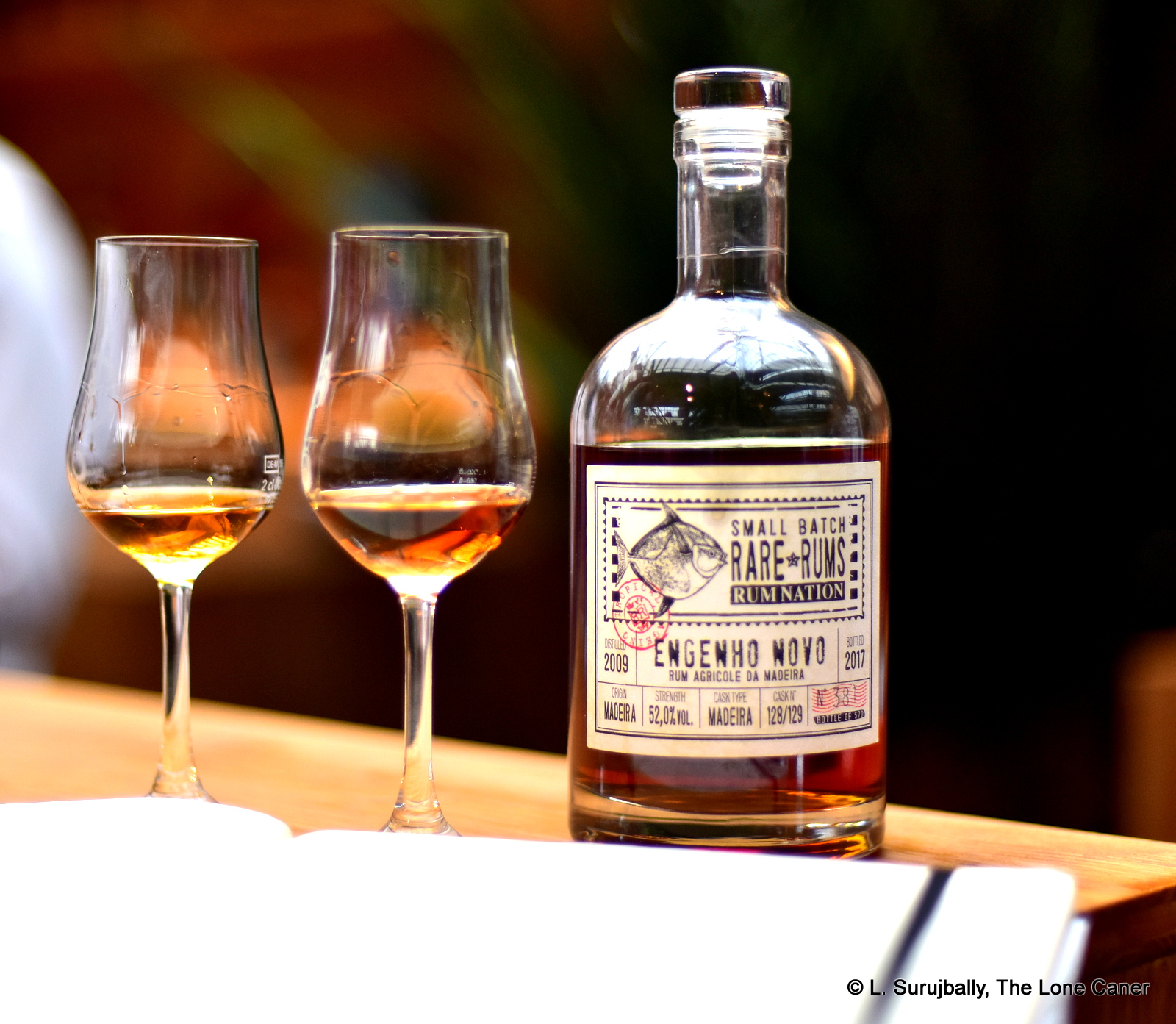 The mark of the successful long-term independent bottler in the public perception rests upon two main pillars – one is of course the quality of the rums they put out the door (and perhaps, how consistently); and the other is the level of originality they bring to the game. By that I mean how often do they stray from the mainstream of the standard pantheon and go in new directions, seek out different maturations, different ages, different barrels, different distilleries (or whole countries). It is because Velier nails both of these aspects that they are as successful as they are, though I would certainly not discount Samaroli, Compagnie des Indes or Rum Nation (among others).
Rum Nation, also from Italy, has been somewhat out of the public eye of late, but the point about originality does apply to them – think back on the Jamaican White 57% rum, for example, or the Supreme Lord series, or the 20+ year old Demeraras, or their Peruvian and Guatemalan rums, the latter of which most other indies don't often go near. In the last few years Fabio Rossi, the founder of the brand, went in yet another direction by issuing a new limited-edition series called the "Small Batch Rare Rums" … and one of them was this intriguing little number from Madeira, from a distillery called Engenho Novo – they are the boys behind the William Hinton brand of rums which have recently become more available in Europe over the last few years.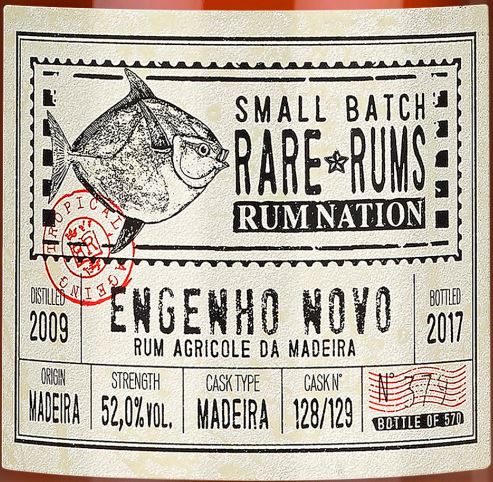 I'll provide some more background detail in the Other Notes below, but for the moment let's just read off the fact sheet for the rum which is very helpfully provided on the Rare Rums website and on the bottle label itself. This is a cane juice distillate and can therefore be classed as an agricole-style rhum; distilled 2009 and the four barrel outturn from a column still was aged in Madeira casks, providing 570 bottles in 2017, with a strength of 52%.
For those not into their lighter spirits, "Madeira" is a fortified wine made in the Portuguese islands of Madeira off the African coast, and can be either dry or sweet. Given the entire ageing period of the rum took place in such casks, I expected to see a substantial divergence from both an aged agricole or any other kind of "standard" ex-bourbon-barrel profile. In fact, swirling the dark brown rum in the glass made me wonder if some caramel hadn't been added to colour it…or whether the casks were completely dry of wine before pouring the good stuff in to age.
Still, the nose delivered, if not precisely that clear-grassy-herbal aroma characteristic of the French islands. Oh no. This was more like one of those mated with a drowsy Demerara from Port Mourant: it smelled of dark ripe cherries and coca cola, fleshy stoned fruits and red licorice, plus unsweetened cooking chocolate, hot black tea, raisins and wasn't that a bit of brine and olives down the back end? Sure it was. And very nice too.
And even at 52%, after an initial whiff of its cane juice origins — it began somewhat fresh and crisp before relaxing — the rum proceeded quite softly on the palate, and suggested a taste reminiscent of a stack of old books in a dusty library nobody now visits, the dry mustiness of barnyard hay. This was set off by the taste of a Haagen-Dasz dulce de leche ice cream (the Little Caner loves that stuff and I pinch it from his tub every chance I get), as well as brine, more olives, licorice, prunes, red wine, citrus peel, cider and the vague tartness of gooseberries and unsweetened yoghurt. It was quite rich and flavourful, a nice drink, finishing with with warm notes of cherries, raisins, a little herbal, and cider, salt caramel and sour cream.
So where does that leave us? Well, with a rather peculiar product. It is unique in its own way, giving you the odd-but-pleasant experience of tasting a well-assembled agricole-Demerara blend, or maybe a molasses-based Guadeloupe rhum. That may be a Madeiran thing – I can't tell, since I have not had enough from there to make the claim with assurance (yet). But in any event, Rum Nation doesn't make bad rums – they're too professional an outfit for that, and I've thought so ever since I ran into them in 2010 and bought that entire year's output at once. They stratify their products into the starter rums, sweeter ones (the Millonarios), high-end aged rums (the Demeraras and Jamaicans) and these higher proof Rares for the cognoscenti. This one isn't the best or most original rum they've ever made, but it does show Fabio Rossi forging ahead in his own way to expand his company's range, producing new and fascinating rums for us all to try — and it's definitely a rum to sample if you're ever bored with the regular islands' rums and want to try something different…but not too different.
(#559)(85/100)
---
Other notes
Wes

,

who

reviewed it back in January

2018,

rated it as

50%

ABV on his hydrometer

,

which equates roughly to 10g/L dosage

,

give or take

.

The sugar factory and distillery was founded in

1845

by William Hinton

;

it reached a peak production of

600

tons of cane processed per day in

1920,

but closed in

1986 (

no reasons are given on their website

,

but perhaps falling sugar prices contributed

,

or the expense of maintaining extensive sugar cane fields

).

It was restarted by Hinton's heirs in

2006

as Engenho Novo de Madeira

.