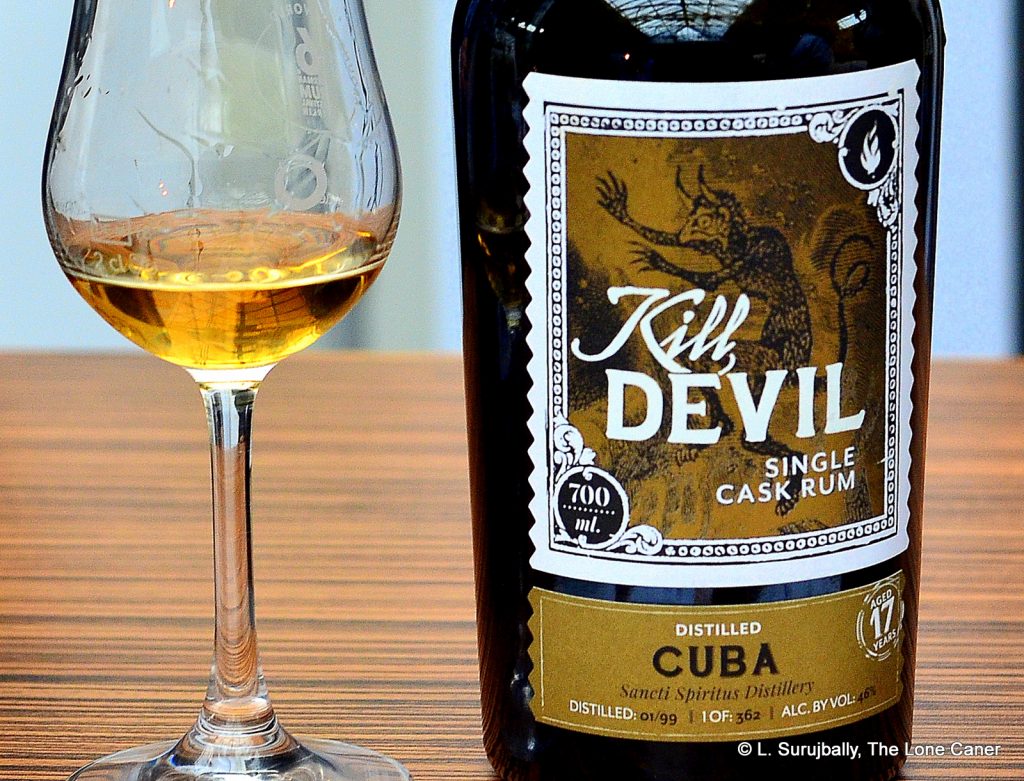 Now that Americans can bring back Cuban booze without sanction, it's likely that their rums will get a boost in sales, and if the Havana Club trademark war ever gets resolved – though I doubt it will happen any time soon – then we'll see many more on the market. However, at this period in time, over and above the big names from the island like Santiago de Cuba or Havana Club, to get seriously aged juice that's really from Cuba, we still have to look primarily at the independents for now.
One of these is Kill Devil, named — as any rummie can tell you — after the old term for rum used in its infancy in the Caribbean many centuries ago. Kill Devil is the rum brand of the whiskey blender Hunter Laing, and they've been around since 1949 when Frederick Laing founded a whisky blending outfit in Glasgow. In 2013, now run by descendants, the company created an umbrella organization called Hunter Laing & Co, which folded in all their various companies (like Edition Spirits and the Premier Bonding bottling company). As far as my research goes, the first rums they released to the market – unadulterated, usually at 46%, unfiltered – came in 2016, and they have issued releases from Barbados, Jamaica, Guadeloupe, Guyana, Fiji and this one from Cuba. One imagines that they read the tea leaves and realized there was some money to be made in rums as well as whiskies, though by coming into the market so relatively late, they're butting heads with a lot of other new entrants – good for us as consumers for sure, perhaps not quite as rosy-cheeked for them.
As for Sancti Spiritus, this is a Cuban distillery also known as Paraiso, dating from 1946 (there is some dispute here – another source says 1944) that is located almost dead center in the island. Much of what is known of their rums comes from independents like Compagnie des Indes, Cadenhead, Bristol Spirits, Secret Treasures, Samaroli, Duncan Taylor, Isla del Ron and Renegade, implying a substantial export market of bulk rum to Europe. But they also make rums of their own under the Santero brand, like the Añejo Blanco, Carta Blanca 3 YO, Palma Superior, Añejo Ambarino, Añejo Reserva, Carta Oro 5YO, Añejo 7YO and Firewater (none of which I've tried, to my detriment). And I've heard it said they supply Havana Club as well, so there's no shortage of places for anyone with an interest to get some.
Some brief stats, for the propellerheads like me: the single-cask rum here is from the above-noted distillery, coloured pale gold, distilled in 1999 and bottled in 2016, with 362 bottles released. And it has a strength of 46%, similar to rums issued by Renegade and L'Esprit and others, keeping it within reach and tolerance of the greater rum drinking audience.
That may be, but it was still quite a forceful piece of work to smell, much more so than I was expecting, and would perhaps come as a surprise to those who are used to softer, milder Bacardis as "Cuban style" exemplars. Presenting rather dry and spicy – almost hot – it seemed to steer a course somewhere between a light molasses column still rum, and the grassier and more vegetal notes of an agricole…without actually leaning towards either one. It had a mix of cherries, peaches and tart soursop, unsweetened yoghurt, vanilla, oak, cinnamon, nutmeg, and a very faint line of citrus running through the whole thing. It felt somewhat schizophrenic, to be honest – both acidic (in a good way) as well as lightly creamy – and that made it intriguing to say the least.
As it was sipped, it became somewhat less creamy than the nose had intimated – "sprightly" might be a good word as any to describe it. It was quite clean in the mouth, tasting of green grapes, apples, cider, mixed up with something of the saliva-flooding crisp tartness of red currants, or lemons just starting to go off. What made it stand out was the background notes of light flowers,caramel, vanilla, bananas, ginnips, and wet dark brown sugar, plus those spices again, mostly cinnamon. The finish was also quite elegant, and left memories of light caramel and fudge, oakiness and vanilla, with a little citrus for bite. It lacked a certain roundness and smooth planing away of rough edges, but I suggest that's a good thing – it made it its own rum rather than a milquetoast please-as-many-as-you-can commercial product you'll forget tomorrow morning.
Overall, the rum shows that even with all our bitching about pot still rums being better and yet not represented often enough, there's little that's bad about a column still spirit when done right, and the Kill Devil is a good example. Even though I don't know at what strength it came off the line, I feel that whatever complexities seventeen years of ageing imparted managed to provide an end result that was quite a nice rum (Cuban or otherwise). Which likely demonstrates that if we want to have a good column still experience from a juice aged in continental climes, there are certainly candidates for your coin out there, and as long as you come to grips with its slightly odd personality, this is one of them.
(#527)(84/100)