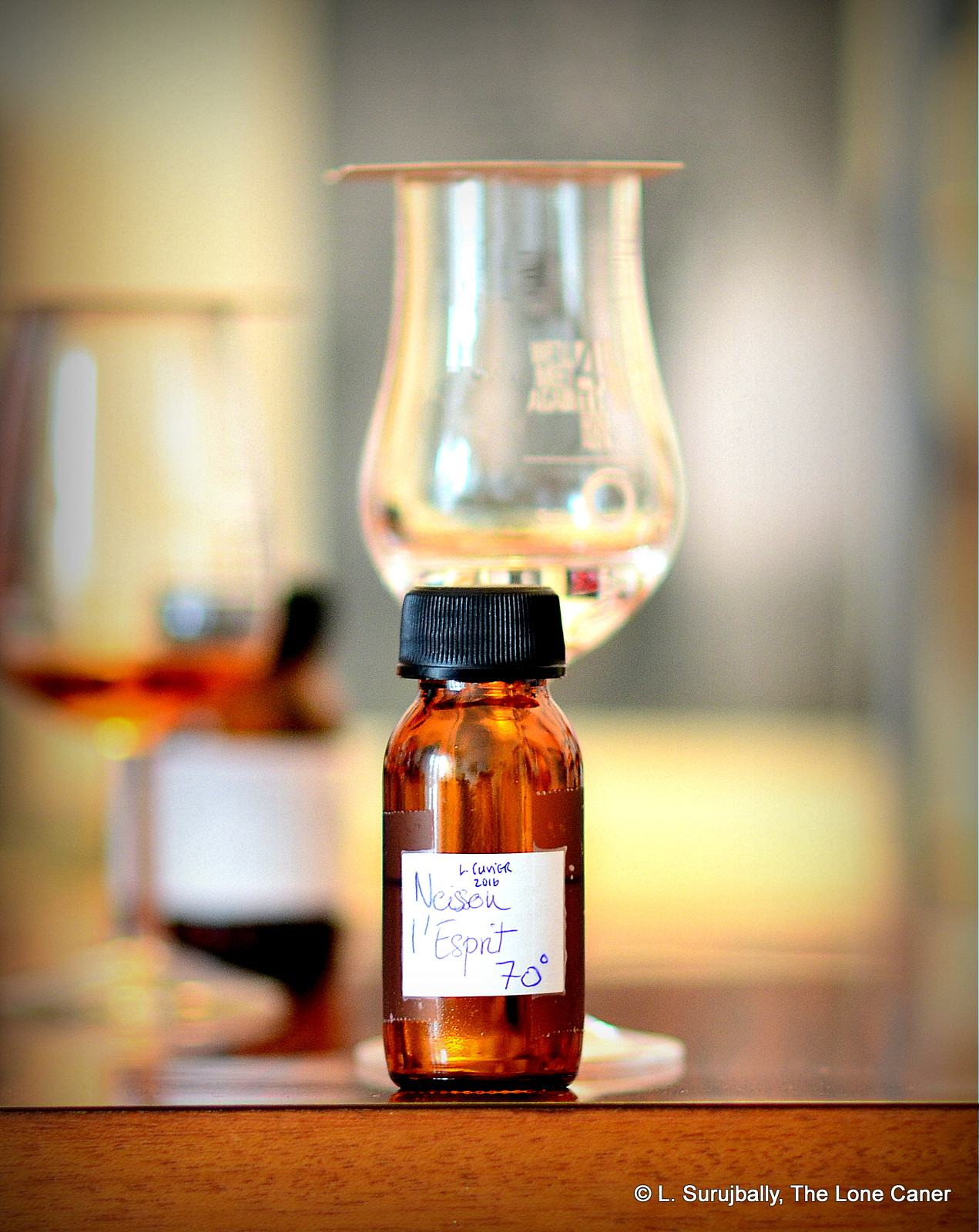 #367
In my own limited experience, Neisson has been one of the most distinctive Martinique agricole makers I've come across. There's something salty, oily, tequila-ish and musky in those of their rums I've tried, and while this might not always be to my liking, the quality of their work could never be denied. To date, I've stuck with their aged rums, but back in 2016 L'homme à la Poussette (I'm thinking his poussette should be retired soon as his kids grow up but I hope he never changes the name of his site) passed along this ferocious white rhino, perhaps to gleefully observe my glottis landing in Albania.
Now, this rum is something of a special edition, initially released in 2002 for the 70th Anniversary of the distillery, and annually without change thereafter – it is rested for six months in steel tanks after being taken off their Savalle still, but it is not aged in any way. Although the resolutely family-owned distillery is now 85 years old, the rum retains the original title, perhaps because of its popularity among the rabid cognoscenti, who enjoy its 70⁰ ABV and the 70cl square bottle Maybe some enterprising mathematician could work out how the sums of the corners and angles on the thing added up to or produced 70 — for my money, I'm more interested in whether the company releases more than 70 bottles a year or not, because for anyone who likes white lightning – whether for a cocktail or to brave by itself – this unaged rum is definitely up there with the best (or craziest).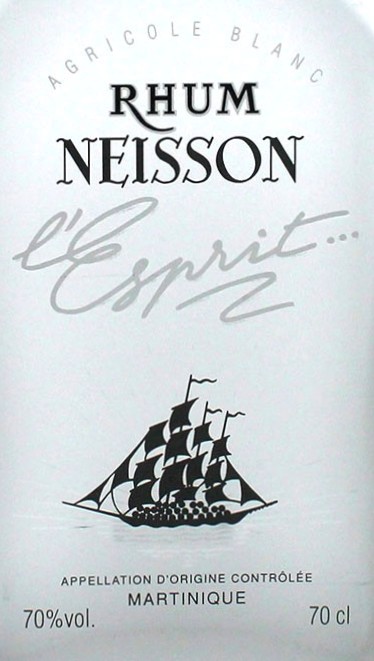 You could tell that was the case just by smelling it: clearly Neisson felt that the subtle, light milquetoasts of the independent full proofs or the clairins (who bottle at a "mere" 60% or so) needed a kick in the pants to get them to up their game and join the Big Boys. The sheer intensity of the nose left me gasping – salt, wax, paraffin and floor polish billowed out hotly without any warning, accompanied by the sly note of well-worn, well-polished leather shoes (oxfords, not brogues, of course). Nothing shy here at all, and the best thing about it – once I got past the heat – was what followed: coconut cream, almonds, olives, fruits (cherries, apricots, papaya, tart mangoes), all bedded down in a bath of sugar water and watermelon, and presenting themselves with attitude. If I was telling a story, I'd wax lyrical by saying the ground moved, trees shook, and an electric guitar solo was screaming in the background…but you kinda get the point already, right?
Oh, and that's not all – the tasting was still to come. And so, be warned – 70 degrees of badass carves a glittering blade of heat down your throat, as surgically precise and sharp as a Swiss army knife. A hot, spicy, and amazingly smooth sweet sugar water — spiked with stewed prunes, lemon zest, wet grass and gherkins in brine — roared across the palate. With its brought-forward notes of polish and wax and grassiness, I felt like it was channelling the gleeful over-the-top machismo of a clairin, yet for all that enormous conflation of clear and crisp tastes, it still felt (and I know this is difficult to believe) smoother, creamier and more tamed than lesser-proofed whites like the Rum Nation 57%, Charley's J.B. Jamaican white, the Clairin Sajous or the Klérin Nasyonal….which says a lot for how well the L'Esprit is actually made. And the finish was no slouch either, long and very warm, salt butter and cereals mixing it up with some citrus, red grapefruit, more grass and even a hint of the smooth salty oiliness of a well-made tequila.
"How the hell did they stuff so much taste into the bottle?" I asked myself in wonder. Perhaps the unwritten, unspoken codicil is "…and not muck it all up into an unfocussed mess?" Well, they did provide the profile, they didn't muck it up, I enjoyed it thoroughly, and it was only later that I realized that in a world where Ringling Brothers can fit fifteen fat clowns into a Mini, I should not have been so surprised, when it's obvious that in the rumiverse just about anything is possible. Certainly Neisson proved it here.
You know how we hear the old joke about "Rum is the coming thing….and always will be"? This kind of statement is regularly and tiresomely trumpeted by all the know-nothing online drinks magazines who have their lazy hacks attempt to pen a few words or make up a click-bait list about a subject on which they are woefully ill-equipped to speak. Still…take that statement a bit further. I honestly believe that as the stocks of old and majestic 20+ or 30+ rums run out or are priced out of existence, it will soon become the turn of unaged, unfiltered white rums to take center stage and become De Nex' Big Ting. I accept that for the most part these will be cocktail bases — but for the enterprising, for the slightly addled, for the adventurous among us, for those who are willing to step off the path and enter Mirkwood directly, the real next undiscovered country lies with these white mastodons which showcase much of the amazing talent that remains in our world, needing only the bugling of an enthusiastic drinker or an enthusiastic writer, to bring them to a wider audience.
(86/100)
---
Other notes
I should mention that Josh Miller of Inu A Kena ran the Neisson 70 through a 12-rum agricole challenge a while back. If you're not into neat drinks so much but love a cocktail, that article is worth a re-visit.