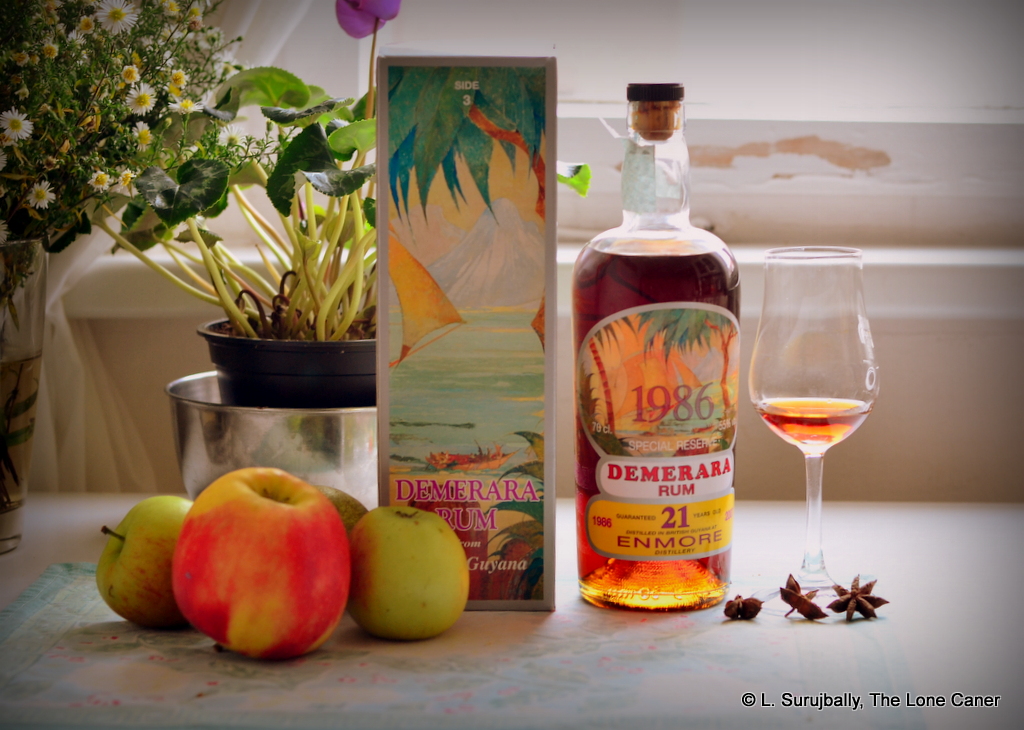 #346
One of the older independent bottlers is Silver Seal out of Italy, which has been around for longer than many other such companies; it was formed in 1979 and named "Sestante" before being renamed in 2001 after a ten year operational hiatus. It adheres to the modern ethos of regular issues, and bottles casks sourced and aged with attention to detail, from all over the world; it takes an approach more akin to Rum Nation or L'Esprit than Velier, diluting the natural strength of the cask to appeal to a broader audience….though as this Enmore demonstrates, they have no objection to issuing cask strength rums either. Like Samaroli they do primarily whiskies, with rums as a smaller percentage of their sales, but I argue that it is for rums they really should be known, since everyone and his chihuahua makes whiskies, but it takes a real man to make a good rum worthy of being called one.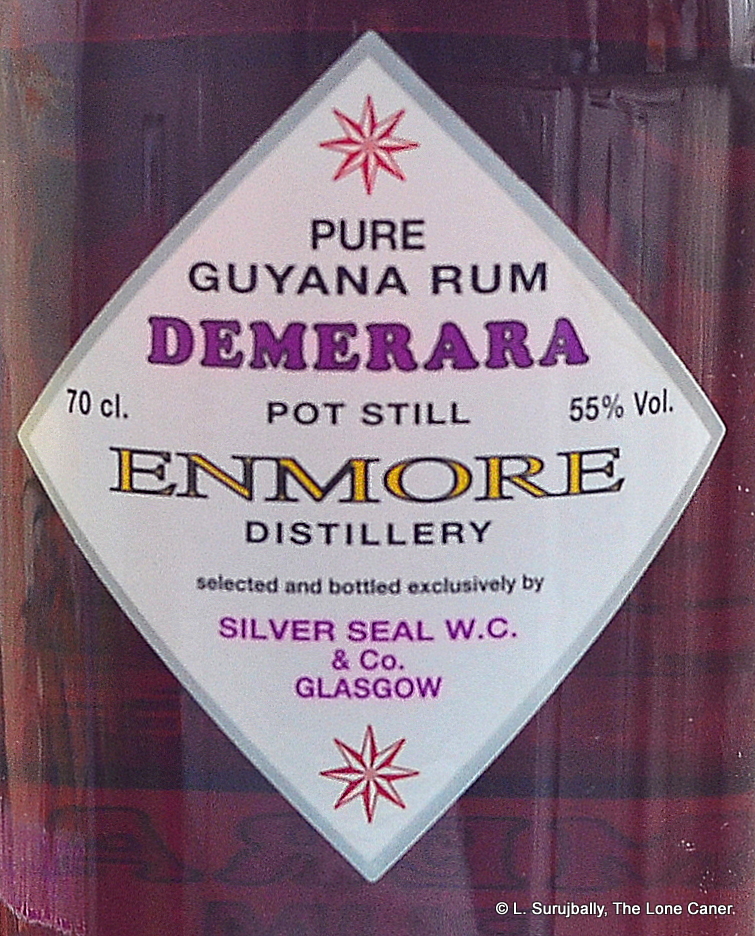 Like this one.
The Enmore we're looking at today presses all the right buttons for a Guyanese rum from the famed still, about which by now I should not need to spill any further ink. Distilled in 1986, bottled in 2007 at 55%, no filtration or dilution, and that's enough to get most aficionados drooling right away. Price is a bit much — I paid north of €300 for this bad boy, largely because getting any rums from the 1970s and 1980s these days is no easy task and when one is found it's pricey. Colour was copper-amber and after having waited eight months to crack the thing, well, you'll forgive me for being somewhat enthusiastic to get started.
Fortunately it did not disappoint. Indeed, it impressed the hell out of me by presenting a nose with three separate and distinct olfactory components, which somehow worked together instead of opposing each other. It opened up with a trumpet blast of tart red apples (almost cider-like), acetone and polish and burning rubber, and frankly, I wish I knew how they made that happen without messing it all up, so points for succeeding there. The second component was the more familiar licorice and dried fruit and black cake, lots and lots of each, which gradually melded into the first set. And then, more subtly, came the third movement of softer, easier, quieter notes of coffee, chocolate, vanilla, smoke and leather that lent authority and elegance to the more powerful statements that had come before. In fine, a great nose. I went on smelling it happily for half an hour (and on three separate occasions).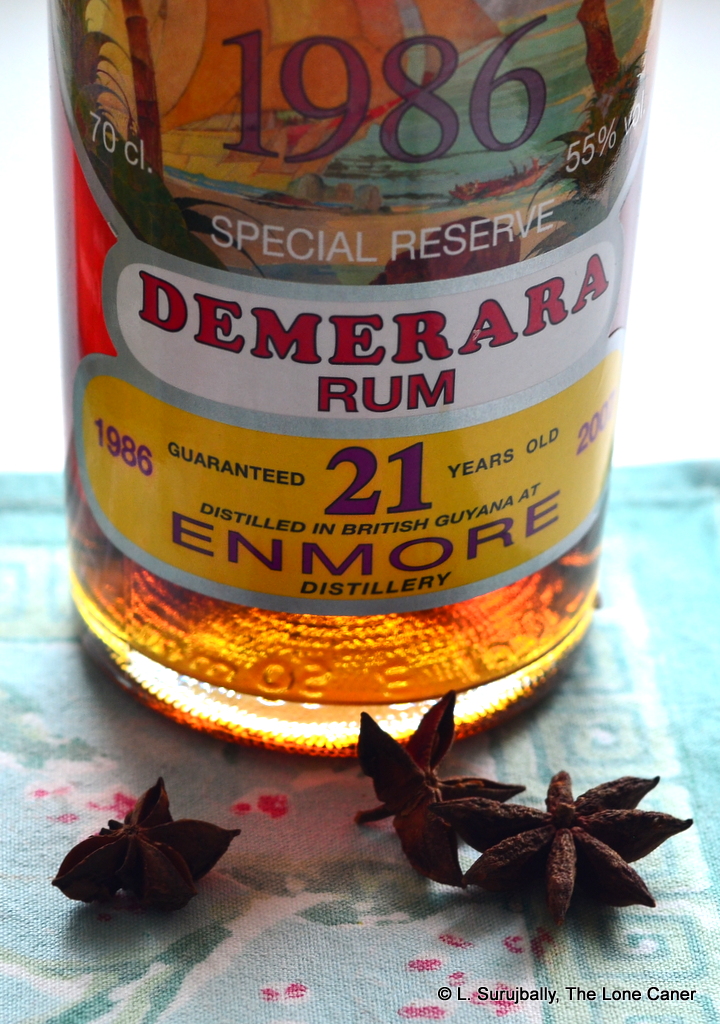 And the taste…"warm and powerfully elegant" is not a bad four-word summary. Again I was reminded how 50-60% seems to me to be just about right for rums to showcase strength and taste without either overkill or understatement. It takes real effort and skill to make a 65% elephant perform like a dancing cheetah (Velier is among the best in this regard, with the Compagnie and L'Esprit snapping lustily at its heels) but for something a bit less antagonistic like 55%, the task is commensurately easier. That worked fine here. It took the flavours of the nose and built on them.
First there were salty marshmallows and teriyaki, not as obscure or crazy as it sounds (more a way to describe a salt and sweet amalgam properly). It had the slightly bitter taste of unsweetened coffee and dark chocolate, but was also remarkably deep and creamy, though I felt here the wood had a bit too much influence and this jarred somewhat with the following notes of caramel and butterscotch. But with a bit of water the dark fruits came out and smoothened out the experience, gradually morphing into a sweeter, more relaxed profile, salty, briny, musky and with a flirt of cereals and raisins. Overall it was a lot like the Compagnie's Enmore 1988 27 year old, so much so that the differences were minor (for the record I liked that one more…it had somewhat better depth, complexity and balance). Things were wrapped up nicely with a finish of heated warmth, reasonably smooth and long, which summed up what had come before and was primarily licorice, raisins, vanilla, brine and burnt sugar. All in all, an impressive achievement.
Independent bottlers aren't producers in the accepted sense of the word, since they don't actually produce anything. What they do is chose the base product, and then transform it. Some, after careful consideration and exacting decision-making, buy the finished rum by the individual barrel from a broker and put a label on, while others take the time to age their own barrels of raw rum stock bought young. I'm not entirely sure which camp Silver Seal falls into, but I can tell you this – whatever they did to put this rum out the door is absolutely worth it. It's one of the better Enmores I've tried and if you do empty your wallet to buy one, I don't think you'll be disappointed either.
(89.5/100)
---
Other notes
Allow me a digression to snark for a moment

:

the company both elicits my admiration for their bottlings and my annoyance for the crap labelling of their Demeraras in about equal measure

.

It's all about that ridiculous British Guyana moniker they keep slapping on

,

which is about as irritating as reading

"

Guyanan

"

rum on a Cadenhead bottle

.

All right

,

so that's petty of me

,

but please

,

just get it right folks

,

is all I'm asking

.

Guyana has been independent since

1966

and by now everyone should know it's no longer "British" anything

,

and when it comes from there

,

it's a "Guyanese" rum

.

The pot still notation on the label suggests it is actually a Versailles Single Wooden Pot still rum

,

not the red Enmore coffey still

.

The Versailles was the

"

still emeritus in residence

"

at the Enmore distillery until around

1994,

and there are many supposed

"

Enmore

"

rums which are in fact from this pot still

.

Silver Seal did not confirm this with me

,

but I base this on other rums of similar taste profiles and similar labelling

.