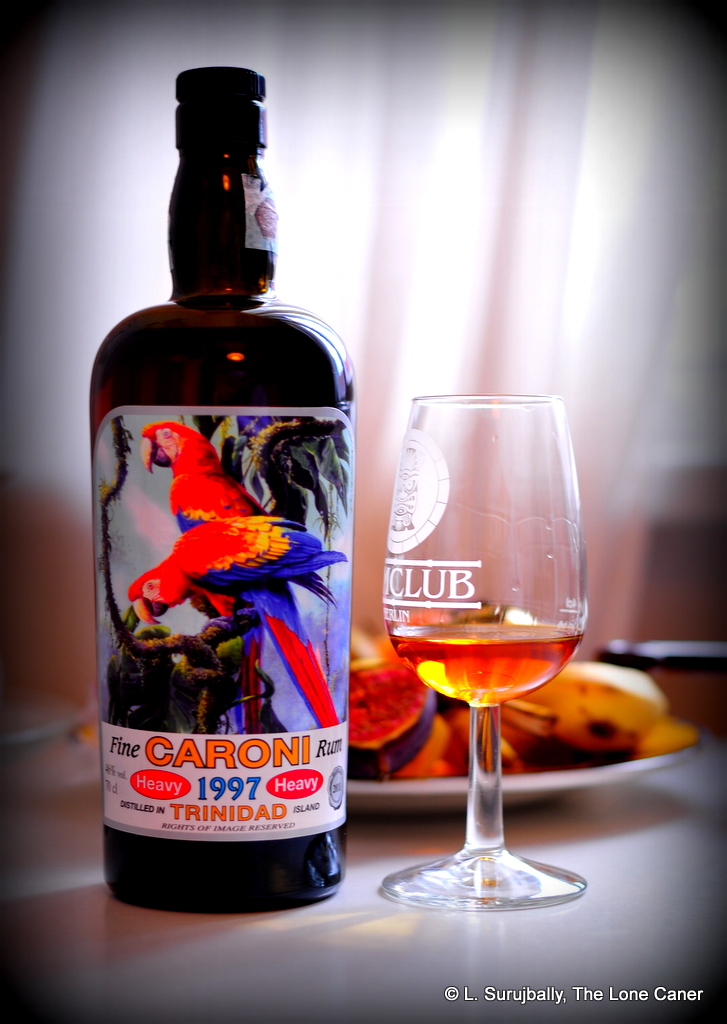 A surprising, dry, sharp and flavourful rum, yet somewhat missing of the high bar set by the Caronis made by other Italians. It's got too many conflicting components, good in themselves, failing to cohere.
Readily available, cheaper and often excellent "everyone has one in his bar" rums dot the North American reviewing landscape, and every blogger usually begins his or her writing with such standards (European bloggers like Cyril, Marco and Henrik do not, for other reasons). Just like all film lovers eventually come to Ozu, sooner or later all us web scriveners move towards the craft bottlers, and with good reason. These makers take a select set of barrels from a particular country, a favoured distillery — even a specific still — and then lovingly tend the result without the problems of mass producing massive amounts of rum for an export market. These are almost always – and probably always will be – somewhat niche products, created for the rabid, not the mainstream, and alas, they tend to be pricey, if available at all. I think it's a crime that more of this craft stuff doesn't come over the water…even Renegade Rums are a vanishing breed over the pond. Add to that that this is a Caroni, and that says all that needs to be said as to why I bought it (for €80).
Depending on how you order the words on the label, this rum is called "Silver Seal Fine Caroni Heavy Rum 1997" with an additional moniker "Wildlife series No. 2" which relates to the label illustration of "Red, Blue and Yellow Macaws" by Harro Maas (several other Silver Seal rums have such designs). Given that it was marked as being bottled in 2011 on the label, then it is a 14 year old rum, even if it is not stated outright as being such; and like many other independent bottlers, they diluted the rum with distilled water down to 46%. Black tipped cork on a standard barroom bottle, which held a golden-brown rum inside.
As I noted before with the Bristol Spirits and Barangai Caronis, there were certain things I expected from the rum, and here I found some of them returning like well-regarded, familiar friends on holiday, others not. The nose started off somewhat lightly, with cherries and white flowers, but after just a few minutes the heavier flavours began to marshall their attack: tar, leather and smoke began, with estery wax and rubber notes of squishing wellies charging in later. It was hot and spicy throughout – somewhat surprising for a rum of such relatively modest proofage. And yet, as I stuck with it (and re-tasted later), the sweet flowers returned, accompanied by aromatic soap, citrus and – get this! – bubble gum. A bit light, overall, and very rich in complexity and flavour.
No milquetoast rum this, it displayed real heft and weight to the taste. Salty, briny and spicy, with tar, jute rice bags and heavy burnt sugar notes present, without the rum ever actually becoming sweet. Oak and smoke abounded, plus black dripping engine oil from a leak under your car, cooking on the asphalt on a really hot day. Alas, these notes on the palate did not reach the high standard set by the initial scent. Adding some water didn't quite rescue it, but did allow other flavours of vanilla and green olives to emerge. The rather lacklustre finish of salted peanuts, butter and caramelized sugar was more of a question mark than an exclamation point on a unique rum which didn't come together properly – I think too many interesting and complex flavours were at work (and querulously interfering with each other) for me to really love it. The nose was great, the palate pretty good and the finish just…meh. In a way it was a kinda crazy amalgam of taste impressions, not all of it succeeding as it should.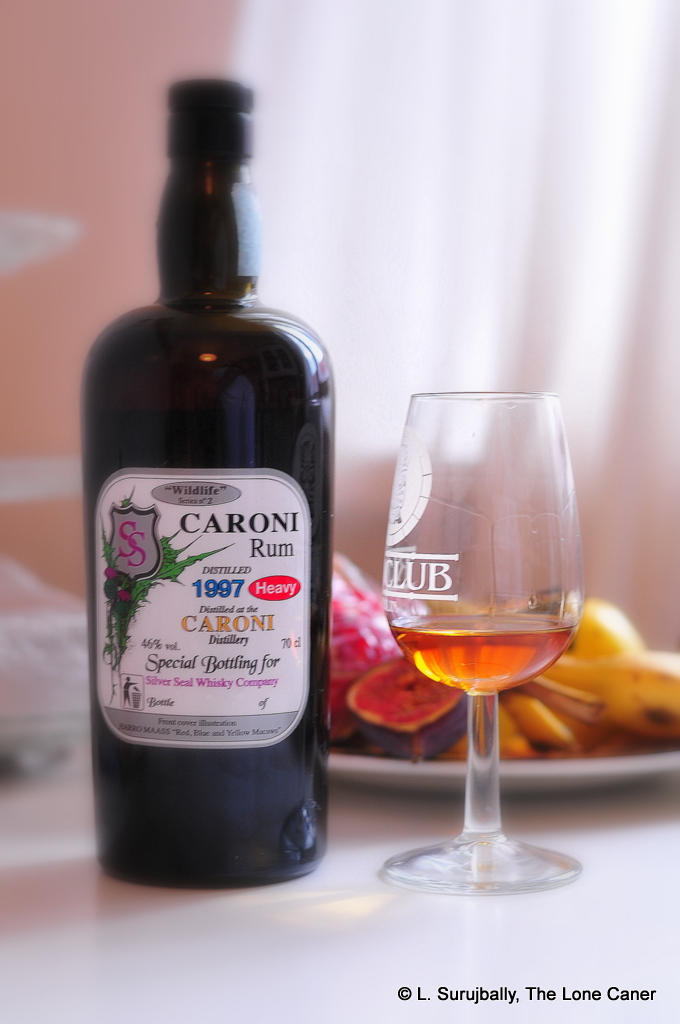 Silver Seal is a bottler much in the vein of Velier, Rum Nation and others, if perhaps older (they were formed in 1979 and named "Sestante" before being renamed in 2001 after a ten year operational hiatus): like them, it bottles casks sourced and aged with attention to detail, from all over the world; like them, it is based in Italy; unlike Velier it does dampen down the natural exuberance of the cask, perhaps to appeal to a broader audience. Its website gives equal, if not more prominence, to whisky (drat!), which I have to admit may not be all bad – love of the product does not blind me to the fact that flogging rums in the shops of the world can be an uphill slog, so if their whisky sales allow them to continue producing rums, well, that's all good.
Summing up, I enjoyed the rum, just not as much as other Caronis I went through in series that day. This one is a shade too dry and salty – and maybe harsh – in comparison to those. Oh, it's a country mile ahead of cheaper and more available Trini rums, and there's no denying its complexity (and the taste which single malt Islay lovers will really drool over) — so points for its technique there.
But you see, when people want to know about a particular rum, they're after something quite specific. They never ask questions like, "Is the bouquet transcendent?" Or "is the palate sublime?" Or "is this a rum to share with friends, to show my personal sophistication?"
What they do want to know is, "Is it any good?" That's what they always ask. And what they really mean by that, is "Is it good for the price?"
So for what I paid, I can't tell you with a straight face that the Silver Seal Caroni 1997 is extraordinarily remarkable, an undiscovered masterpiece, a da Vinci among rums. But I can make the case that for the money you spend, you'll have a fascinating and intriguing time…as long as you accept that the overall profile is less that of a well balanced rum than that of a smorgasbord of great individual bits and pieces, that somehow fail to communicate with the mothership.
(#194. 86/100)
---
Addendum (August 2015)
This included, I've looked at eight Caronis, most sourced in 2014. They are: