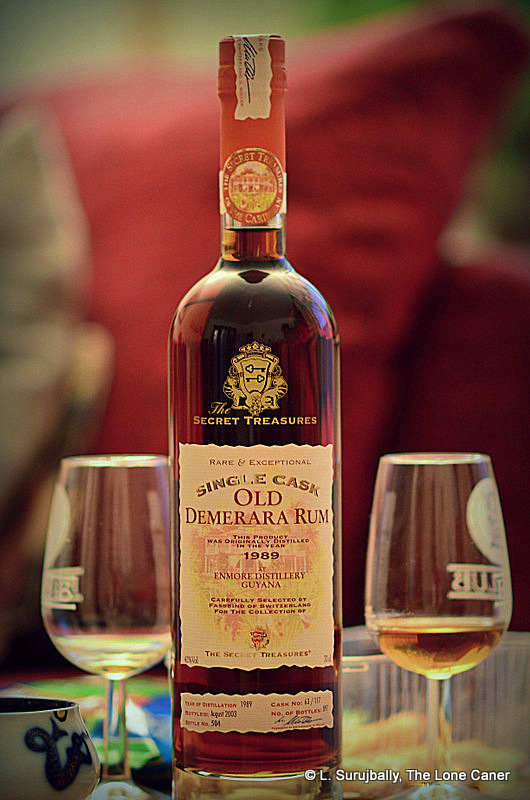 I had to go to Germany to pick up this rum, and the greatest surprise for me was the fact that it's a Swiss concern that makes it. Swiss? I can hear you say…what the hell are the cantons doing making what is culturally seen as a tropical (Caribbean, let's be honest) tipple? Fassbind AG is taking a leaf out of the book of those dour Scots of Cadenhead and Bruichladdich et al, and have taken rum deriving from the Enmore distillery in Guyana, and bottled it after slumbering for fourteen years down there in Mudland.
This rum reinforces my belief that my personal tastes run primarily to Guyanese rums (with perhaps Panamanians running a close second). I honestly believe that this is one of the best rums of its price to be found (I paid under €40 for it at the awesome shop Rum Depot in Berlin, where some five hundred rums – the joint sells nothing else – cried out for my attention). It is, in my estimation, just short of exceptional.
Ensconced in a tall, cork-tipped, neatly etched, fascinatingly labelled bottle that may actually be originally meant for wine, this 42% single cask offering of dark brown hue made an uanpologetic grab for command of my senses immediately upon opening. To my surprise, I noted the same feinty, deep winey and red-grape notes that so characterized the Rum Nation Demerara 23 and Jamaica 25 rums (and which so, to my mind, ruin the Legendario by being too excessive): but as with those, I must mention how this scent should not dissuade you from forging ahead. Once the rum settled down, it developed into a rich melange of liquorice, rock candy and cinnamon, and was soft and deep and sweet to the nose, with no sting or nastiness that I could discern.

And if it was lovely on the nose, the arrival delivered: it had an oily full-bodied palate, presenting the thick strong legs of a Guyanese bushman used to drugging two quake o' hassar out of the backdam every morning. Heated — yet not over-sharp — the first tastes were of honey and red grapes, peaches and fleshy fruits, which then billowed out into a well rounded profile that further developed into an excellent sipping rum, strong, deep and delicious. Even at the tail end, the finish didn't falter: like Usain Bolt relaxedly cruising past the finish line on a good day, the rum exited with a long-lasting, heated and dusty-dry leatheriness redolent of old and well-loved family libraries. Good rum, this. I had four glasses one after the other, gave some to my nominally teetotaller mother to try, and she was so enraptured with it that I had to physically wrest the thing away after her fifth shot.
The Enmore sourced rum was distilled (by DDL) in their famous wooden Coffey still in 1989, and bottled in 2003 – subsequently, I believe all the wooden stills were moved to Diamond estate. 117 casks came out of the run, the 63rd of which delivered 897 bottles…this is the 504th. From what little research I have been able to do, it is clear that all ageing took place in Guyana, after which the bottles were shipped to Switzerland for labelling and further distribution to the shop that is probably not near you. I suspect from the richness of the rum and its dynamism on the palate, that this is not chill filtered, nor does it have any inclusions to alter the makeup.
Fassbind SA (SA stands for Société Anonyme, the equivalent to PLC – the wesbite is at www.Fassbind.ch) has been in the spirits business since 1846 when when Gottfried I. Fassbind founded the "Alte Urschwyzer"distillery in Oberarth to make eau de vie (a schnapps). He was a descendant of Dutch coopers who had emigrated to Switzerland in the 13th century and thus laid the foundation for what is now Switzerland's oldest distillery. They make grappa, schnapps and other spirits and from what I gather, they branched out into rums in the early 2000s. Rums are carefully sourced, aged at the origin distillery, and then shipped to Switzerland for dilution with Swiss spring water to drinking strength (no other inclusions). In that way they conform to the principles of limited edition rums of other bottlers like Berry & Sons and Rudd, Bristol Spirits, Cadenhead, Bruichladdich's Renegade line, or Cognac Ferrand's Plantation Rums.
I can't remember who it was that rather snarkily remarked "In a century of war and strife, Italy produced Galileo, Michelangelo, da Vinci and the Sistine Chapel; five hundred years of peace, and the Swiss invented the cuckoo clock." I sort of take exception to that. I like things that work, that are precisely and exactingly put together, that do what they are built to do with a minimum of friggin' around. That's why I own manual, mechanical cameras, and have an equally mechanical Swiss watch (and no, I don't have a cuckoo clock, you can stop your snickering there in the peanut gallery, fella). Fassbind, very much like other boutique rum makers, have a good handle on how to produce a phenomenally good limited edition rum. With this fascinating study in simplicity and complexity, they've delivered a good product at a price anyone can afford and should try at least once…always assuming they can find it.
(#117)(85/100)