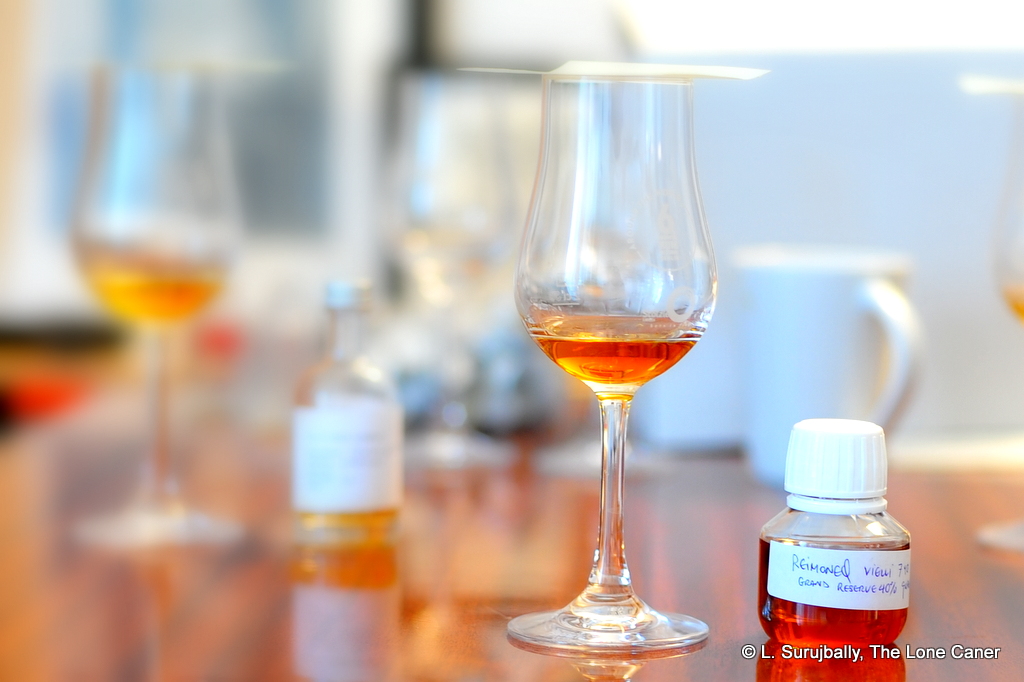 Reimonenq out of Guadeloupe is not a producer whose rhums I've tried much of, and so the initial attack of this Grande Reserve — nuts, nougat, toblerone, vanilla ice cream and sweet white chocolate — took me somewhat off balance. The Vielli was a rhum aged 7 years, so I expected a bit of agricole-ness mixed up with more traditional aged olfactory components, not something like that, not right off. But there they were, clogging up my nose. And that wasn't all – the dourness of the opening was followed by stuff that was a lot more sprightly – dried apricots, pineapples, strawberry bubble gum, acidic green apples, mint, thyme and Fanta. I mean, it started out relatively solid but became – or at least seemed to become – progressively more lighthearted, chirpy, progressively younger, as time went by. Not in age but in feeling.
Even the texture and taste of it on the tongue channeled some of that dichotomy, the musky and the crisp, balancing between an aged rhum and a more youthful expression. Sweet bubble gum and flowers, dill, hot black tea, no shortage of various citrus fruits (orange, lemon, red grapefruit), green grapes, brine, red olives. There was even sweetness, marmalade on toasted bread vanilla, a touch of brown sugar, acetones and nail polish, if you could believe it, with a faint whiff of exotic kitchen spices wafting gently behind it all and morphing at last into an aromatic but dry finish, redolent of brine, spices, nail polish and sharp fruits that seemed to only grudgingly dissipate.
I looked at my glass in some bemusement, checked the labelling. I got all that from 40%? From this? Wow.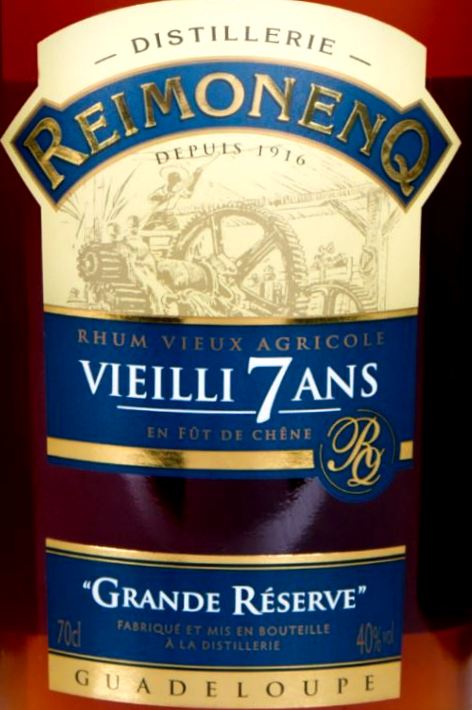 I was really and pleasantly surprised by how well it presented, to be honest. For a standard strength rhum, I expected less, but its complexity and changing character eventually won me over. Looking at others' reviews of rhums in Reimonenq's range I see similar flip flops of opinion running through them all. Some like one or two, some like that one more than that other one, there are those that are too dry, too sweet, too fruity (with a huge swing of opinion), and the little literature available is a mess of ups and downs.
Except the Caribbean Journal, which was perhaps overcome with a fit of hyper-enthusiastic vapours when it spoke glowingly of Reimonenq's 6YO Grande Reserve, and said they made "rum for rum drinkers" (as opposed to mere "special rums" for the proles, apparently), and opined that such a category "…isn't for everyone, [is] filled with rums of unique character, of sometimes too much strength, of uncanny personality." Uh-huh. Right. Sure you aren't working for their marketing department, buddy?
Still, you'd think that anything endorsed so positively – and in the main, reviews of their rhums are more upbeat than negative – should have a rather large footprint, but you'd be wrong – not many reviewers have bothered to try any, except the mastodon of the scene, Serge Valentin (here, here and here to start), and the man who channels his ethos, Marius Elder of Single Cask Rum. And of course, there's a few opinions on Rum Ratings, which are too few to make any comments about, but demonstrate the peculiar anonymity of the brand by their sheer paucity and are useful in their own way.
That's rather odd, because Distillerie Reimonenq has been around since 1916 when it was founded by Joseph and Fernand Reimonenq in the commune of Sainte-Rose on Guadeloupe (the west "wing", or Basse Terre) and as far as I know, continued under their ownership ever since. Moreover, they have a wide range of column-still rhums (all cane juice based) that span many ages and many strengths and aren't half bad. Indeed, Reimonenq supplies indie bottlers from time to time, most notably Rum Nation, so why isn't it better known and shown off with pride on social media more often? I don't know the answer to that. I do know I'll be picking a few more of these to look at, and that right quick, as it's clear I've been ignoring them for too long already.
(#775)(84/100)