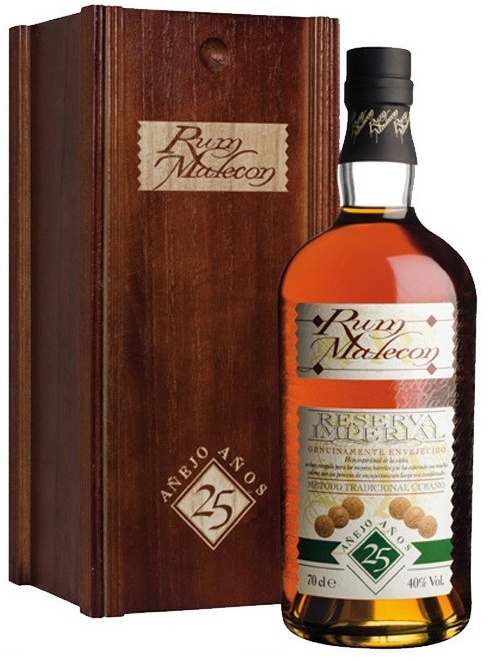 We've been here before. We've tried a rum with this name, researched its background, been baffled by its opaqueness, made our displeasure known, then yawned and shook our heads and moved on. And still the issues that that one raised, remain. The Malecon Reserva Imperial 25 year old suffers from many of the same defects of its 1979 cousin, most of which have to do with disclosure and some of which have to do with its nature. It astounds me that in this day and age we still have to put up with this kind of crap.
The little we know from wikirum (this is slightly more than four years ago when I wrote about the Malecon 1979) is that the Don Jose distillery in Panama is the producer – this is the same Varela Hermanos gents who make the popular and well known Abuelo brand. Malecon's actual ownership as a company or a brand is as hard to track down as before – all the website contact information points to distributors, not owners and their own press information section stops in 2016 and they apparently never participated in any events past 2017, which, coincidentally, is when I first tried their stuff. Their FB page (there's only one, for the German market) is a bit more active but mostly represents marketing blah, not one of engagement with customers and fans. I read somewhere that the owner is an Italian who likes Cuban style rum and worked with Don Pancho to come up with this range of rums, which is as good or as useless as any other story without corroboration. (Honestly, with Panama rums these days, I hardly care any more – it's gotten that bad).
Anyway, profile-wise, there is really very little to shout about with respect to how it tastes. I can save you some trouble – unadventurous, simple, easy are the adjectives which come to mind. The nose is quiet and soft: chocolate milk, anise, caramel, some creaminess of ice cream, vanilla, nougat. There is very little fruitiness to balance this off with some tart flavours – a whiff of citrus peel maybe, a grape or two, not much more and maybe a touch of black tea.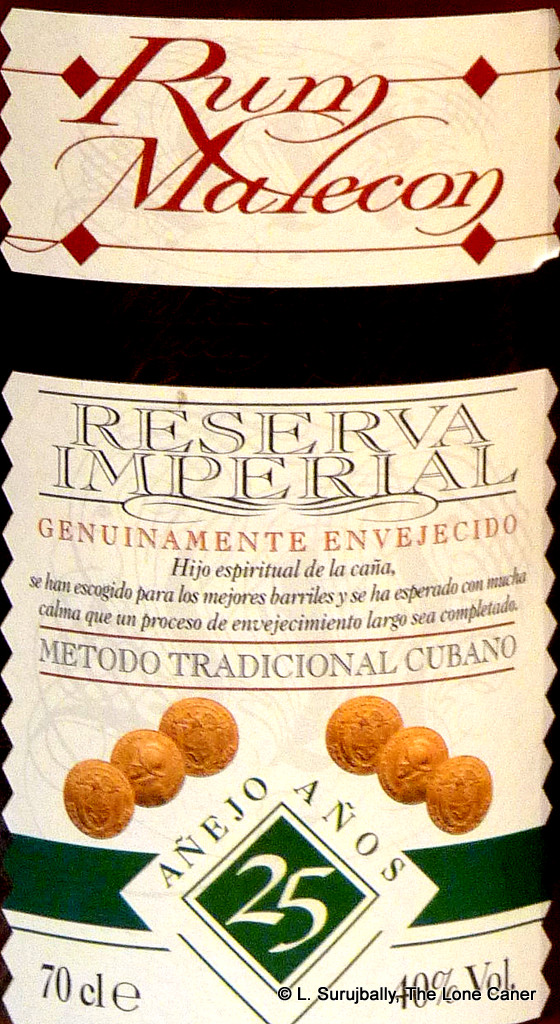 The palate is similarly soft and similarly straightforward. It's got more chocolate milk and and perhaps a touch of coffee grounds. A smidgen, barely a smidgen of oak and citrus, a sly taste of tangerines; it's not very sweet (which is a plus) and sports some brine and Turkish olives and a touch of slight bitterness, which I'm going be generous and say is an oak influence that saves it from being just blah. Finish is okay I guess. Gone too quickly of course, no surprise at 40% ABV and leaving at best the sense of some black tea with too much condensed milk in it, that doesn't entirely hide the fact that it's too bitter.
Many will like a rum like this. Tipplers of soft favourites like the Abuelo 7, RN Panama 18 YO, El Dorado 12 YO, the Santa Teresa 1796 or the Diplomatico line would have no issues here at all. Overall, though, from my perspective, aside from bigger Panamanian brands with some actual muscle behind their products (think Abuelo or Origenes), there's little coming out of the country that either surprises or interests me and this is just another one of them. They're straightforward rums of little pizzazz (this may be by intent), and while the Malecon 25 is a decent Panamanian, there's little to distinguish it from a distillate a decade younger.
But, for a rum for which a premium is set because of the supposed ageing of 25 years, that's not a thing people should be saying about it, because it creates negative expectations for both the brand and the whole country and makes real rum lovers look elsewhere. Let's hope that in the years to come, this small nation's rums and their industrial-sized producers can up the ante, make better and more transparent juice and so address the changing tastes of the global audiences better. Then they could reclaim some of their reputation, which rums and companies like this one have treated with such cavalier disdain, and so carelessly.
(#795)(77/100)
---
Other notes
Lest you think I'm being unfair

,

others were similarly dismissive

:

WhiskyFun's Serge

said "isn't much happening here" though he liked it better than other Malecons

,

and scored it

78;

while his partner in rum

,

Angus

(

another rum lover who just doesn't know he is

),

didn't think it was good from a technical side

either

,

and rated it

64.

Brian over on /r/reddit gave it a

harshly middling score of

53/100,

which is just about how I rank it as well

(

on my own scale

).

Alex over at Master Quill

,

the source of the sample I was trying

,

rated it

82

and also commented on the resemblance to an Abuelo

.

The best info relating to the brand is probably

RumShopBoy's review of the range from mid

2020,

and I recommend it highly

(

his points score for the 25YO was

55/100).

There are two enclosures

,

one with a wooden box

,

one with a cardboard one

.

The rum is the same in both cases as far as I am aware

.

I was sent a sample from the wooden-box bottle

,

which was released first

,

back in

2016

or so before they switched to cheaper cardboard a few years later

.

Treat the age statement with caution

,

as it is unverifiable

.

Any company this hard to track down doesn't make provision of the benefit of the doubt an easy task

.