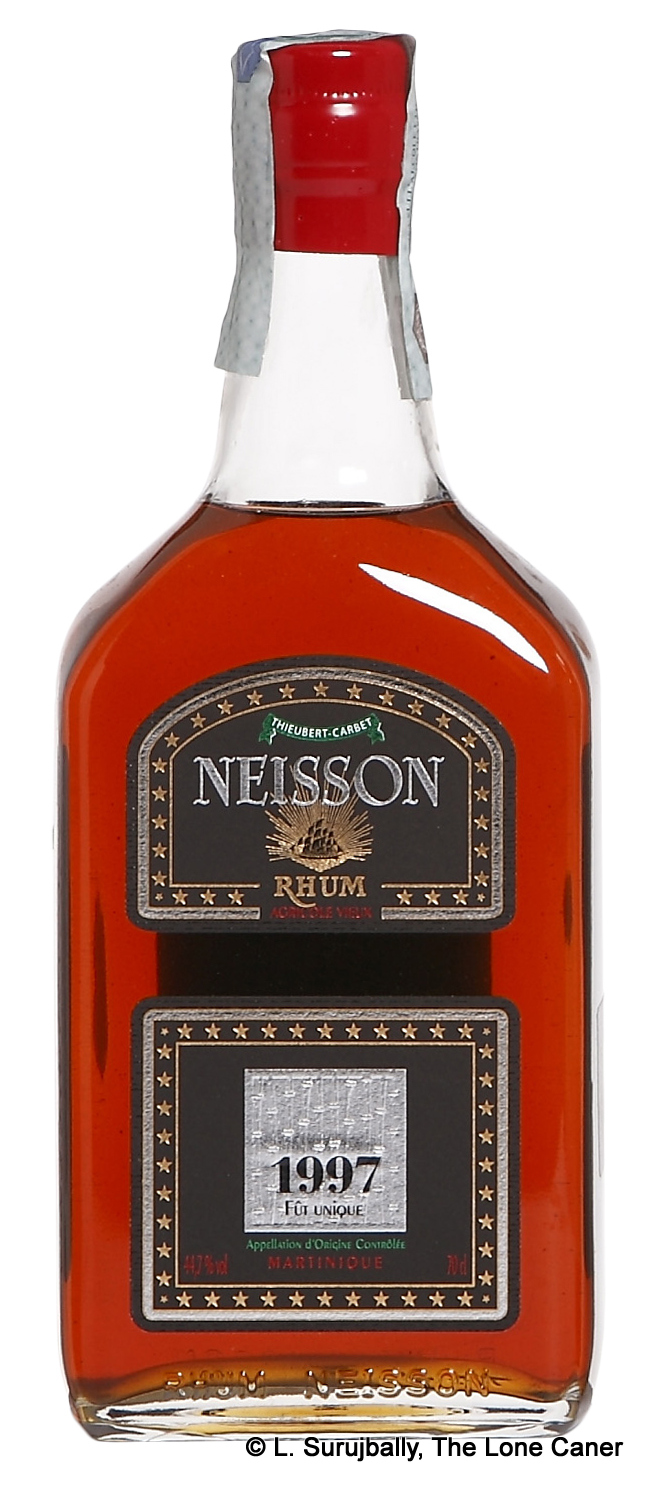 Rumaniacs Review #072 | 0486
The Neisson rhums just keep on staying at a high level of quality, no matter what the year. This is not one of the best of the 1990s editions but it's no slouch either and if you get it – assuming you can because my google-fu isn't doing very well locating it – you will likely be quite pleased. This rhum was rested in steel tanks for a year (it was actually distilled in 1996, reports Serge) – and then put to age in 1997, hence the dating on it. Oh and for the rabid among you – this was part of a joint bottling with Velier, so Luca's fingerprints are somewhere on the bottle as well.
Colour – Amber
Strength – 44.7%
Nose – Starts out very agricole-like before taking what for Neisson is something a detour. Crisp and punchy nose redolent of caramel, nougat, pears, white guavas, watermelon. There's a thread of licorice throughout, some citrus, and also raisins, flambeed bananas and some leather and smoke. Quite interesting. Raises the bar for expectations of what comes later
Palate – Interesting combination of flavours, perhaps a little underwhelming given the high hopes the nose (and other siblings in the Neisson lineup) engendered. Ginger ale and Dr. Pepper; nougat, white chocolate, almonds and pralines and crumbled oatmeal cookies (yeah…odd, right?). Again licorice makes and appearance, plus some citrus and cumin and caramel, but the distinctiveness of Neissson, that briny, olive-y, tequila-like background, is just absent. Nor is there much of the true agricole here – the grassiness and clarity are somewhat missing.
Finish – Reasonably long-lived. Hints of salted caramel ice cream, veggie samosas, sweet soya sauce, licorice, oranges gone off. Strange and intriguing and somewhat tasty, just not something that hits all the high notes for me.
Thoughts – Not sure if this rhum was an experiment of some sort, or not. A lot of things went right with it, I should hasten to add, it was fun to drink and to sample. Although the tastes were occasionally odd, they still existed firmly within the ambit of the Neisson family overall, and in any case I'm reluctant to mark down distinctiveness just because it fails to integrate and come together into a better synthesis. Whatever the case and whatever your tastes, it's just a little off-base for a Neisson, that's all, but it's still a rhum that if offered, shouldn't be turned down.
(84.5/100)
---
WhiskyFun reviewed this rhum a few months back in a

multi-rum session

,

here

….

he scored this one at

88.

Future Rumaniacs reviews of the Neisson line

,

when others get around to them

,

will be posted here

.

Also

,

Laurent

"

The Man with a Stroller

",

gave it a French language

,

unscored review

(

part two his four-part Neisson roundup

,

see Parts

[1][2][3][4]),

which is well worth a read

.