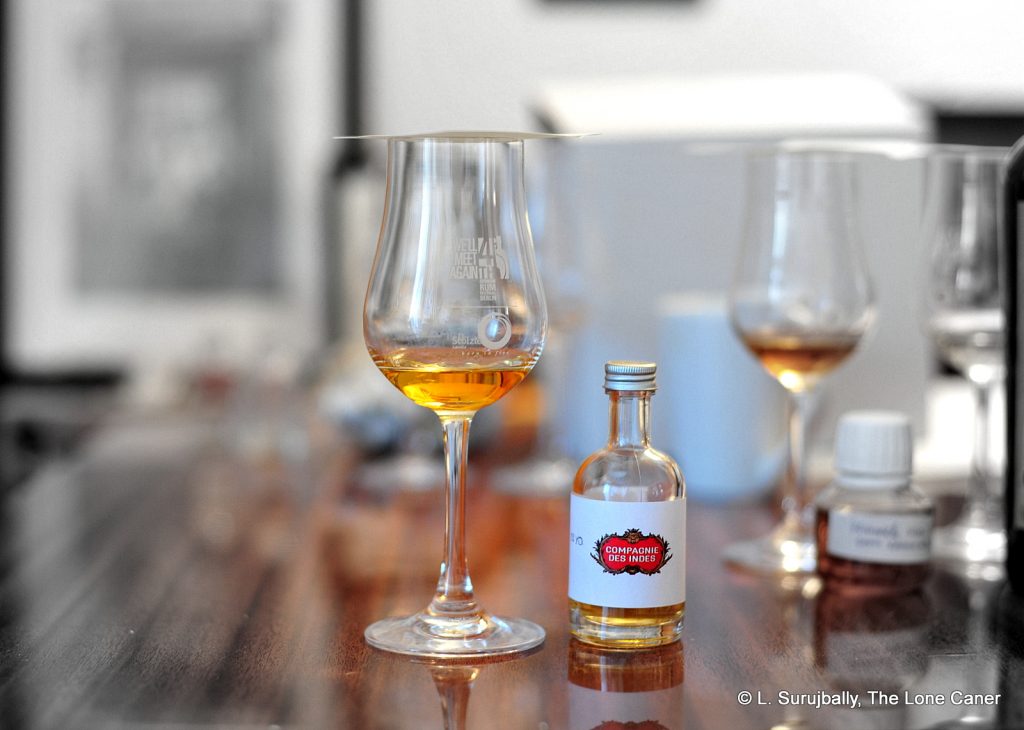 ---
There all sorts of fascinating things about this rum, whose age and rarity and limited outturn makes it almost impossible to find (and as for actually getting a full bottle? I dreams me dreams, kid). It's aged more than thirty years. It was issued for the Hong Kong market. And it's from Hampden, certainly one of the most interesting companies making rums in Jamaica today. Compagnie des Indes is one of those rare indie outfits that seems to be able to smell these oddly compelling forgotten casks squirrelled away in dusty warehouses someplace, and the only regret is that we can never seem to lay paws on them before they're all gone (unless, perhaps, you're Danish).
You'd be hard pressed to do a search on this baby and find anything about it, so let me fill in some blanks that I got after emailing Florent Beuchet, the boss over the Compagnie des Indes, that French independent I've been following with great interest and affection for some years. It was of pot-still origin, distilled December 1983 and bottled in November 2017, so a whisker under 34 years old (when was the last time we saw something like that?). It was continentally aged, one barrel, and its origin came as a result of Florent meeting one of the biggest importers of Burgundy wines in Hong Kong, striking up a conversation and then partnering for this very unique release. In fact, it was special enough that the Compagnie eschewed the standard bottles and went with fancy decanters instead, exactly 250 of them (of which a mere 12 are being sold in Europe through a shop in Paris called L'Univerre Paris, the rest in Hong Kong) — each was apparently filled by hand and wax-sealed by Florent himself before being put into a handsome French Oak wooden box to await a lucky buyer.
For me, it's a neck and neck race on any given day, whether I like Hampden better than Worthy Park or the other way round, and how Monymusk, Long Pond and New Yarmouth vintages fit into the pantheon (I like to think Appleton exists in a sort of gentler parallel universe than these). Most of the time Hampden has a slight edge in my estimation (though not always), and a rum like this shows why.
Consider how it smells. There's enough funk and raw estery aromas to gladden the heart of any Jamaican rum lover, and it's warm bordering on hot, initially redolent of dark rotting fruits, raw tobacco, cigarette tar, petrol, pencil shavings and a sort of damp earthy mustiness. It deserves some patience and time, and once it opens up the softer and more delicate smells start to become more noticeable – dill, a fine line of mint/thyme, and fruity notes of apples, grapes, raisins, bananas and overripe pineapple. And it doesn't stop there, because after an hour or two I notice overripe oranges, olives, a light brininess, grass, and lightly seasoned vegetable soup — plus deep caramel and molasses and toffee providing a remarkably stable undercurrent. It's been a long time since I have tried something so crowded and complex, yet none of these aromas seemed to be excessive – the balance among them all was phenomenal
It provides quite a kick to the palate as well, and very little of the assembly failed in any way, or was diminished over time. It was bottled at 54.1%, and presents a solid series of characteristic Jamaican flavours, being oily, salty, acidic and rough – all at the same time. The crisp and fruity ester-notes do what they always do when left to stand for some hours – become sharp and blade like. But they're also giving off tastes of damp earth, mustiness, and are just a tad bitter, leavened by white pepper, burnt sugar, caramel and bags of fruits (apples, raisins, unripe mangoes, pears and pineapples). Oh and gherkins in vinegar, some tannins and unsweetened chocolate — not enough to spoil it, but sufficient to take the lead and dominate the softer balancing flavours of vanilla, flowers, and caramel. It's very distinct and delicious, edging a little over the top, like the Cambridge or TECC from Long Pond was; and it will, I think be appreciated for precisely those reasons. It ended with a flourish, it must be said, really well – long, dry, aromatic, sweet, earthy, with light oil, petrol and rubber notes, plus thyme, and apples. The taste and finish last for hours, it's that lingering, and I was and remain quite impressed with the way that nearly 34 years of continental ageing didn't ruin the thing with excessive oakiness.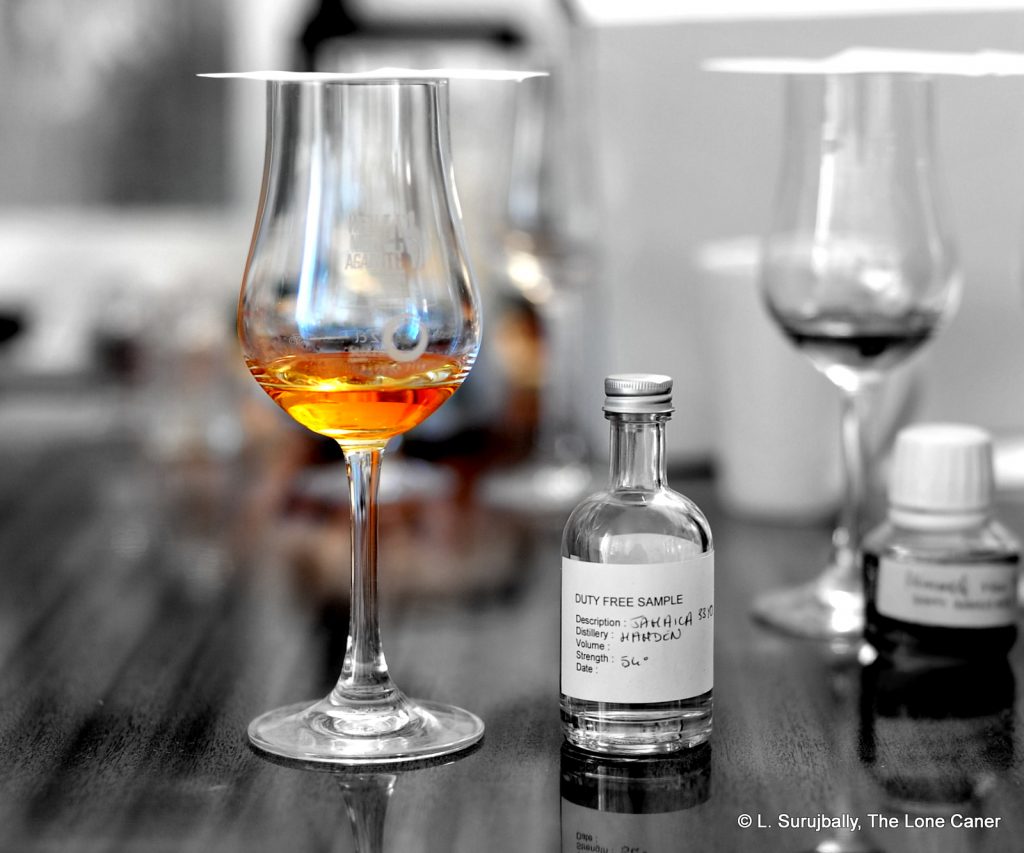 Strictly speaking, I think it's unfair to categorize or compare independents' single barrel rums the same way we would something that Christelle Harris or Zan Kong make, something tropically aged that their own hands had touched, blended and made in large batches instead of a couple hundred bottles. Because aside from being made for different audiences, stuff like this is very limited, and exactingly chosen based on the talents and preferences of that single buyer in selecting his casks. In that lies the appeal of the single cask bottling.
Still, with the proliferation of the independents and the rise of special limited edition rums over the last twenty years — and the near annual releases of new rums from all the familiar regions by old and new companies — we're in danger of losing some of that sense of wonder we once felt as we rediscovered those fascinating rums from the 1970s and 1980s that Velier, Samaroli, Moon Imports, Rum Nation, G&M, A.D. Rattray and others were putting out the door. We see bottlings aged ten years, or in their teens, or (heaven forbid) even twenties and take that as a given. But occasionally, just occasionally we get hit by something unexpected. Like the Velier NRJ rums. Like a small Fijian gem from TCRL, or an amazing rum from Antigua Distillery. And like this one, three decades of sweet fire, fury and funk trapped in a bottle, which emphatically demonstrates, like those others do, how some magic still exists in 2018, and can still, with some luck, be found.
(#578)(89/100)
---
Other notes:
This sample was provided by Compagnie des Indes on my specific request

.

When I first heard about this rum

,

I knew its rarity and restricted market would preclude my ever getting any and so for the first time I broke my reviewing protocol and contacted Florent Beuchet and asked if he had some knocking about I could try

.

He did

,

and sent it to me

.

The reader is asked to keep this in mind when assessing the tone and value of the review

.

I think it describes my feeling about the rum's overall worth

,

and I hope you agree

,

but at least you know its source and can come to a conclusion of your own

.