L'Esprit, if you recall, is that little independent bottler in Brittany which is run by Tristan Prodhomme, and has the peculiar distinction of usually issuing the same rums in two iterations – a diluted, more numerous version at a lower proof for the general market, and another more limited one at cask strength (from the same barrel(s) for those who prefer a rum with some fangs. They don't range too far afield and stick with the regular rums of the pantheon – from Jamaica, Guyana, Trinidad, Barbados, Guadeloupe, Panama and so on, with an occasional divergence to Nicaragua and Belize and Haiti.
In the sense that L'Esprit is an independent bottler, they conform to most of the markers of the European indie scene – they regularly buy a few barrels from Scheer, issue a limited bottle set, and have an annual outturn. They're not out to reinvent the wheel, just to sell good quality hooch. What (to me) distinguishes them is the quality of what they push out the door, and even with the young rums, like this 8 Year Old Jamaican from Worthy Park, the quality of what they selected is self evident.
Speaking of Worthy Park: it is located in the parish of St. Catherine, and, like other Jamaican estates, is having something of a renaissance as the wave of tropically-aged, estate-made rums gathers steam – leaving aside Habitation Velier's rums, they themselves have made quite a few interesting ones of their own (I have detailed files…). Much like Hampden, they pride themselves on cool ester counts and their Forsythe's double retort pot still delivers in spades when it comes to good rums. Like other Caribbean rum companies, they sell bulk rum abroad (mostly to Scheer), which is something of a double edged sword – other companies capitalize on the WP name and take the value-added revenue for themselves, but on the flip side, it allows WP to have a revenue stream, and introduces a far wider public to the qualities of their rums in a world where distribution arrangements can be a pain for a local company to negotiate.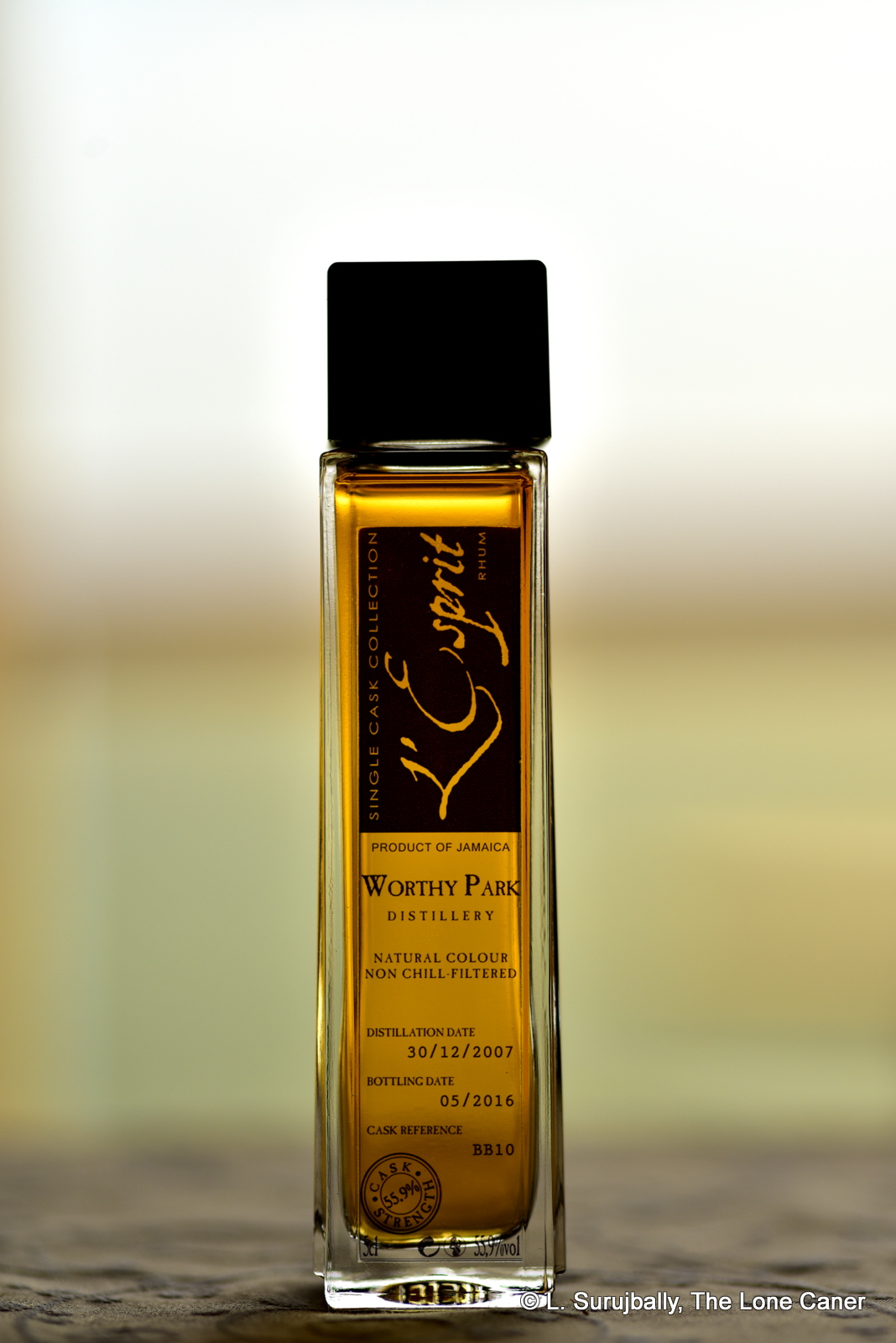 So, given how many Jamaicans are on the scene these days, how does this young, continentally aged 55.9% golden rum fare? Not too shabbily. It's strong but very approachable, even on the nose, which doesn't waste any time getting started but announces its ester-rich aromas immediately and with authority: acetone, nail polish and some rubber plus a smell of righteous funk (spoiling fruits, rotten bananas, that kind of thing). Its relative youth is apparent in the uncouth sharpness of the initial aromas, but once one sticks with it, it settles into its own special groove, calms itself down and does a neat little balancing act between sharper scents of citrus, cider, apples, hard yellow mangoes and green grapes, and softer ones of bananas, cumin, vanilla, marshmallows and cloves.
The palate was rich as well, no surprises, though again, it started out quite sharp, almost jagged, spicy and hot. The rum developed from sharp to soft much as the nose did, with many of the same flavours – brine, furniture polish, herbs, brine and olives to start with, green grapes, apple cider, aromatic tobacco and unsweetened dark chocolate, which gradually relaxed into a fruity cornucopia of overripe bananas and mangoes and apricots and guavas and pineapples, all bound up with vanilla, sugar water, a little caramel (very light), crackers, fanta and sprite. As for the finish, that was very good, very long, very fruity, very soft…the slow meandering of a river that started out as a torrent of raging white water but was now serenely pushing out to sea without haste.
Overall, I was quite surprised at how much there was going on here. For a rum this youthful and aged in Europe to boot, I expected more savagery and less control, fewer softened edges and more from the sharper side of the barrel. Yet the oak remained in the background the whole while, the fruitiness and funk danced across the senses, and while the complexity and balance were both very well handled, it's the development of the rum over two hours that held my attention. It started off like a boss and then just…well, it just chilled and showed you a good time. In that it exceeded the Mezan WP 2005 which was older, while falling short of the exceptional Compagnie des Indes Jamaica WP 2007, which was younger.
Of the Jamaican rums now gaining greater appreciation, I must confess to my own liking for Hampdens – they've consistently scored higher (when taken in aggregate) than Appleton or Monymusk or Worthy Park, of which I have not had that many. That this single rum could make me both discover and re-evaluate that unconscious preference, and encourage me to buy more from the estate – whether independently made or from WP itself, tropically aged or continental – is to the credit of both Tristan who released it, and Worthy Park who made it. It's a quietly amazing rum that's really a blast to try.
(#557)(86/100)
---
Other notes
A really good intro to Worthy Park comes from the pen of

Steve James

,

here

,

as well as the

Cocktail Wonk

,

here

.

Most of the Worthy Park rums that have garnered attention of late have been the Habitation Velier expressions there are also Worthy Park's own rums which were issued in

2017

to really positive feedback

.

Transcontinental Rum Line

,

Mezan

,

Rum Nation

,

Bacardi

(

Single Cane brand

),

and some other smaller indies from around Europe have bottled rums from there as well

.

L'Esprit's presentation cases of small square 100ml bottles can't be beat

.

I've seldom seen any minis so sleekly attractive

.