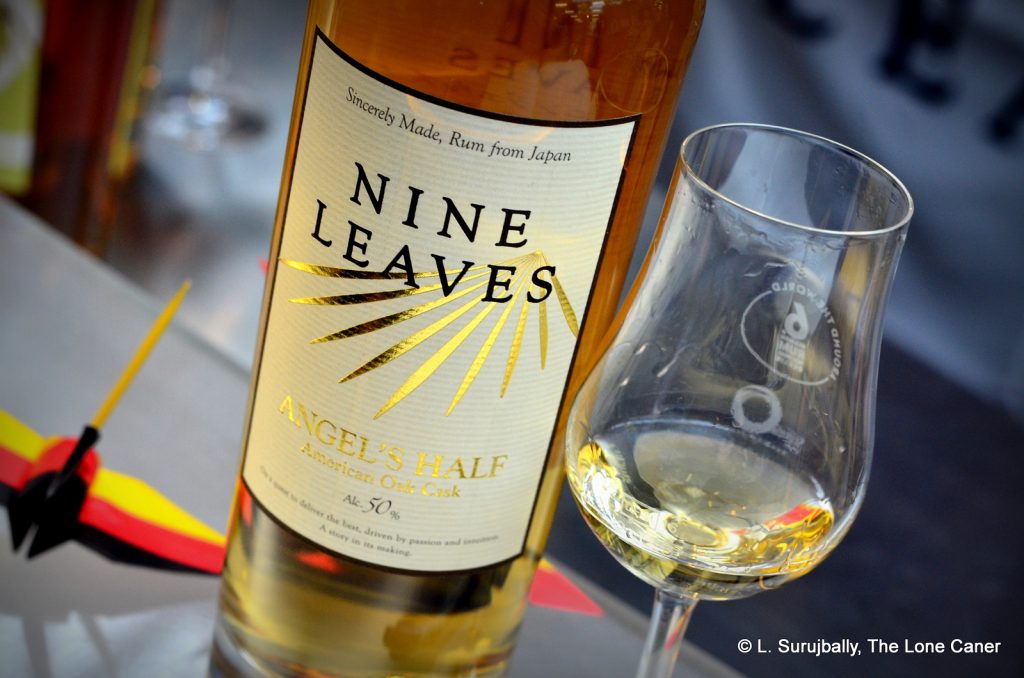 Ever since Yoshiharu Takeuchi began his one-man Japanese rum-making outfit called Nine Leaves, I've kept a weather eye on his work, and think his two-year-old rums and the Encrypted – both the original and the one issued for Velier's 70th Anniversary in 2017 – have been remarkably good rums for juice under five (and in some cases under one) years old.
Arguably the aspects of Mr. Takeuchi's work that have brought him to the attention of a greater audience in the Americas — though he's been well known, and moving around, in the European festival circuit since 2014 — is the release of the Encrypted as noted above, and his current attendance at the Miami Rum Renaissance in 2018…from where Juan Marcos Chavez Paz, a correspondent of mine and a member of the Consumers Jury for the last couple of years, sent me a note yesterday expressing his amazed admiration for the quality of what Nine Leaves does with such short ageing periods.
Aside from the occasional two-year-old, Nine Leaves' bread and butter is the regular outturns of rums which he puts to rest for a mere six months before bottling, in either American oak or Limousin casks. He calls them "Angel's Half", which I think is a understated and humorous play on the strength, the ageing and the pilferage of the angels. What this brief stint in the barrels accomplishes is to preserve much of the unaged fire of a white spirit, while also getting the benefit of what Martin Cate would call "light ageing." However, since these are coming out twice a year, it's a tough task to try and get them all…the distillery opened in 2013 and while it may not seem to be a problem to get a "mere" twenty or so expressions, trust me, it is.
The rum under discussion today is the light yellow Nine Leaves 'Angel's Half' (American oak aged) pot still rum issued in 2016 – not messed around with, bottled at a robust, throat-clearing 50% and as with all the rums from the company I've tried so far, it's a solid, tasty piece of work for something aged less than a year.
And that's the part at which I kind of marvel. I honestly don't know how he stuffs as much into these rums as he does. The nose, for example, gave an initial sensation of a wet stone and minerals (!!), salt, sweet peas (I'm not making this up, honest), before relaxing with the weird stuff and presenting something a tad more traditional – sherry, brine, an olive or two, watermelon, pears and a light kind of sweetness that's quite pleasing. And quite assertive, but without actually crossing over into rough.
The palate was deceptive, because although the dominating flavour at first sip was swank and a freshly sliced watery pear, it evolved subtly over time, in spite of what appeared to be a certain light delicacy behind which reticent flavours hid and never wanted to emerge. Wait a while and take your time, as I did – since, once it opened up, crisp, solid tastes were to be found. Brine, olives, gherkins, cucumbers to start, mellowing out into light fruits, a bit of lemon zest, nutmeg (very faint), guavas and just a suggestion of creaminess I could not nail down more precisely. Surprisingly, the finish was rather short for something bottled at 50%, and was quite dry, somewhat less than nose and palate suggested could be found. Some watery fruits, a bit of brine, the sweet line of citrus and spice, and that was that.
Thinking about the rum as I jotted down my notes, I think the key to the experience is in understanding its rather unstudied and deliberate eschewing of off-the-wall complexity. That's not its intention, because there's not that much going on here, no kaleidoscopic taste-attack to the senses as defined by some of the unaged white rums I've written about; in a way it's a tamed version of those, with more than enough subtlety imparted by the time spent in the barrel to elevate it (now that I consider the matter, in a way it reminded me of the unaged Kōloa Kaua'i Hawaiian Rum I tried back in 2012). In other words, it's two steps above merely "simple"; it's clear and crisp and has the notes it plays, and plays those exceedingly well. I quite enjoyed it.
Conversations like the one I had with Juan makes me glad I invest the time into doing company biographies that provide background for the aficionados, because it's clear that the interest is there and it's really just the rums that aren't always available. Fortunately Yoshi-san is not slowing down and keeps the quality of his juice very high (Velier would hardly have asked him to contribute to the 70th Anniversary collection otherwise). The chance that one day boredom will set in and I stop trying Nine Leaves' "sincerely made rums" is small indeed, especially when there's a range of young stuff like this to be savoured. Here's a company that will hopefully gain even greater recognition, acclaim and plaudits in the years to come than those they have already earned.
(#519)(83.5/100)
---
Other notes
Unsure whether this one is the Spring or Autumn release

,

since the label doesn't mention it

.

Since I tried it in October

,

I'm going to suggest it's Spring

.