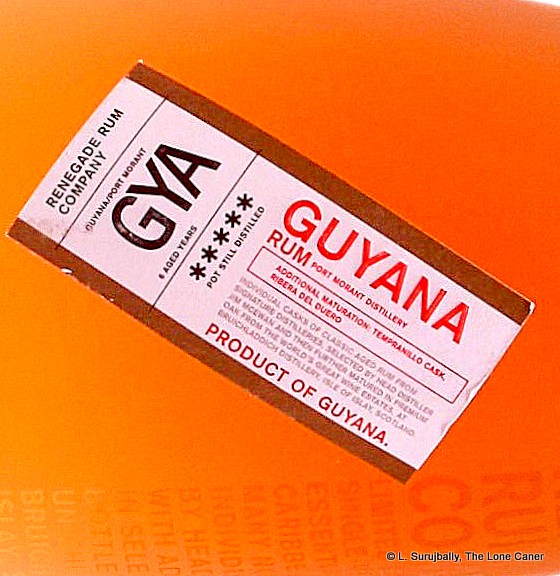 #382
Renegade rums continue to hold a peculiar sort of fascination for me, because they were the first rums made by any outfit other than the big island producers or major corporations with which I came into contact. They made it into Canada just as I was starting my rum scribbles, and were the only ones I saw for many years. Given our current familiarity with unadulterated rums made by independents, and adding to that something of a nostalgia factor, perhaps this Port Mourant succeeds better than it should, but I guess by the end of this review you can decide for yourself.
The bio of the company that got posted earlier this week provides most of the details of Renegade itself, so I won't rehash them here. This rum adheres to all the usual markers of the range: distilled in 2003, bottled in 2009 at the standard 46%, sourced from casks of juice from DDL's Port Mourant wooden still (which raises certain expectations, naturally enough), and there's that finish in Temperanillo casks for a few months (for the curious, Temperanillo is a rather full bodied red wine made from blue-black grapes in Spain). Also, and this is important, what we have here is not a single cask bottling, but many casks married together as part of Renegade's production philosophy, and that's is why the outturn is 6,650 bottles, and why, just maybe, you might still be able to get one with some judicious rumhounding.
And I think that would be a good thing, because this was a rum that channeled the spirit of the Port Mourant profile without entirely bowing to it, and provided an interesting twist on a well-known rum marque. That's no idle fancy of mine either: when I nosed it for the first time I was looking for some of those deep woody, fruity and anise notes – none appeared. In fact the first aromas were of glue, rubber, brine, lemon-pepper…and beef stock (no, really). Then came the olives, gherkins in vinegar and more brine, leather and smoke, coffee grounds, some vague caramels, pencil shavings, vanilla, oak…but where was the fruity stuff? I mean, it was good, it was intriguing, it had character, but it did depart from the norm, too, and not everyone will like that.
The taste of the pale-yellow rum was also quite engaging: it was clear and clean, quite dry, and seemed stronger than it actually was (perhaps because it was so relatively young, or because it presented as 'light' – again, not what one would normally associate with a PM). Initial tastes were of fruit – white guavas, green apples, anjou pears and papaya, plus a tiny twist of lemon – before other background flavours emerged, mostly leather, smoke, pencil shavings, musty hay, cardboard and vanilla. With water some more fruit crept out, nothing specific (maybe a grape or two), and the impression I was left with was more brandy than rum. Frankly, this did not resemble a Port Mourant at all. A note should also be made of a sort of minerally, ashy thing going on throughout, faint but noticeable and thankfully it was too feeble to derail the overall experience. The finish, though oddly short, was excellent – warm, easy, with citrus and raisins, some very weak molasses, and (finally!!) a flirt of licorice.
The profile as described above is exactly why I've always scratched my head about Renegade. I believed then (and now) that their finishing philosophy was hit-or-miss and sometimes detracted from what I felt would be an exceptional rum if left to its own devices. I imagine Mr. Reynier would disagree since this departure from the norm was exactly what he was after, and indeed, there were aspects of the overall experience here that proved his point – this rum may have originated from a set of PM barrels as modified by Temperanillo finishing, but what went into the bottles at the other end was a fascinating synthesis that might be difficult to define or even identify as a PM rum. Which is both a rum geek's attraction and a newbie's despite.
On balance, I liked it a lot for its originality and daring, perhaps not so much for the final assembly and integration — a little more ageing might have done well, maybe a little less tinkering. Still, the wine finish, however polarizing, was worn with panache and verve, and if the rum ran headlong into the wall in its desire to show off new ways to present old workhorses, well, y'know, I can respect that – especially since the rum as tasted wasn't half bad to me. It may have lacked the dark brooding Port Mourant cask-strength menace to which Velier accustomed us, it may be a rum made by and for whisky makers…but I honestly believe that it was too well made to ignore entirely. Then and now.
(84.5/100)
---
Other notes
Alex over at Master Quill, who hails from somewhat more of a whisky background than I do, knowing my liking for the brand, very kindly sent me the sample, which in turn he did not like as much as I did. His review is definitely worth a look.