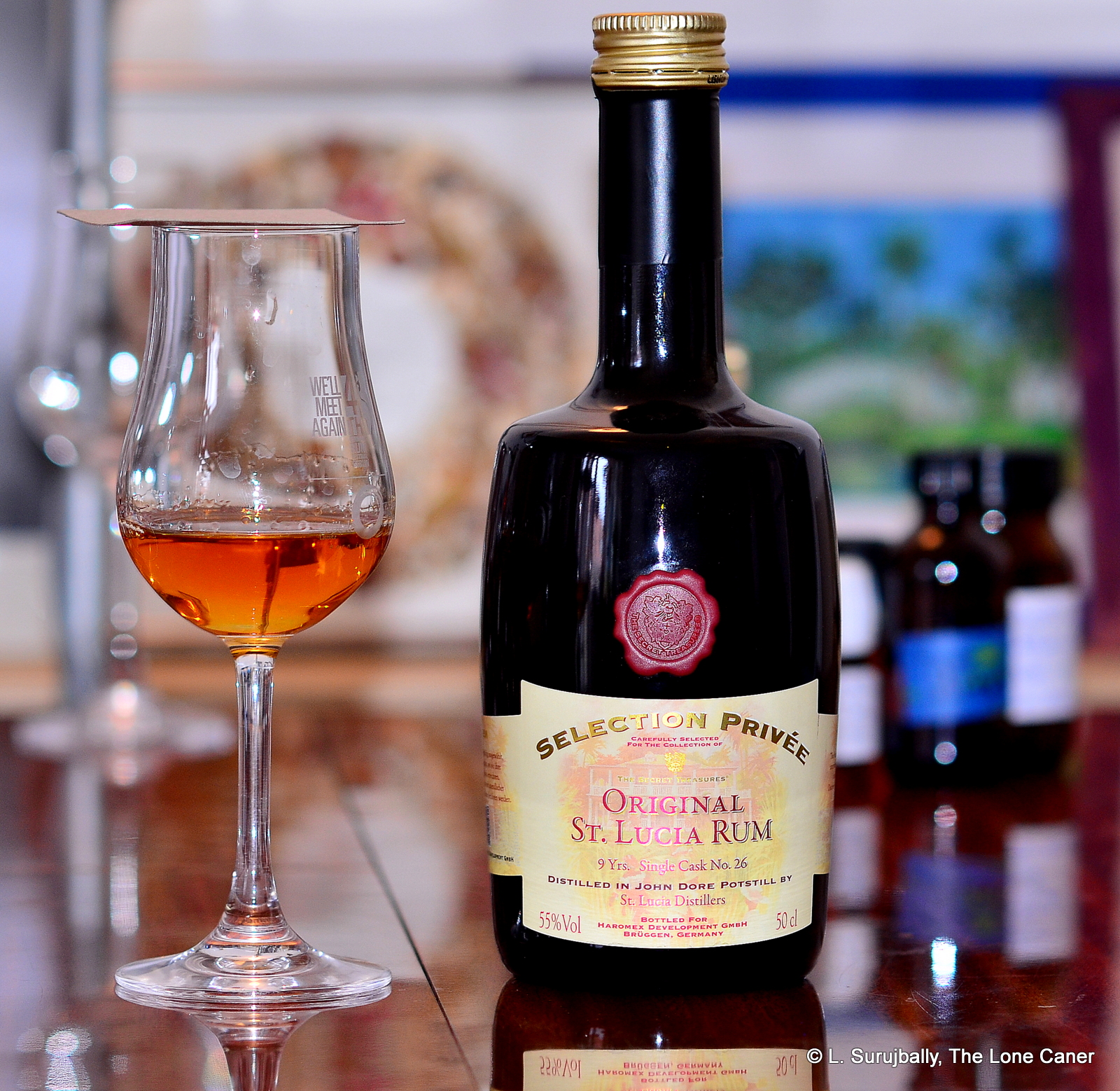 #374
Two bottles of Secret Treasures St. Lucian rum came my way in early 2017, entirely unexpected and unannounced, and both were fascinating variations on a theme. Did I say thanks to Eddie K? I think so, but let's just tip the trilby to the man one more time, because even next to its very sound brother, this baby from a John Dore pot still is no slouch either, and not much has been written about either one, and it's entirely possible that they are among the most under-the-radar value-for-money indie rums around.
Since there's not much more to say about the basic details of the originating bottler already noted in the Vendome Pot Still essay, here's the additional background relevant to this rum: it is from St. Lucia Distillers, made on their John Dore pot still, aged nine years (same as its sibling) in ex-bourbon barrels, issued at 55% and gold in colour. The outturn is not noted anywhere, and the Haromex website only speaks about "carefully selected barrels" so I have no idea how many bottles are out there (though coming from a single cask, around 300 bottles isn't out to lunch); or even where the ageing process took place — from the profile I'd hazard a guess that it was done in St. Lucia. I also believe it's from the same batch as the others in this series, so consider 2005 as the distillation date as reasonable.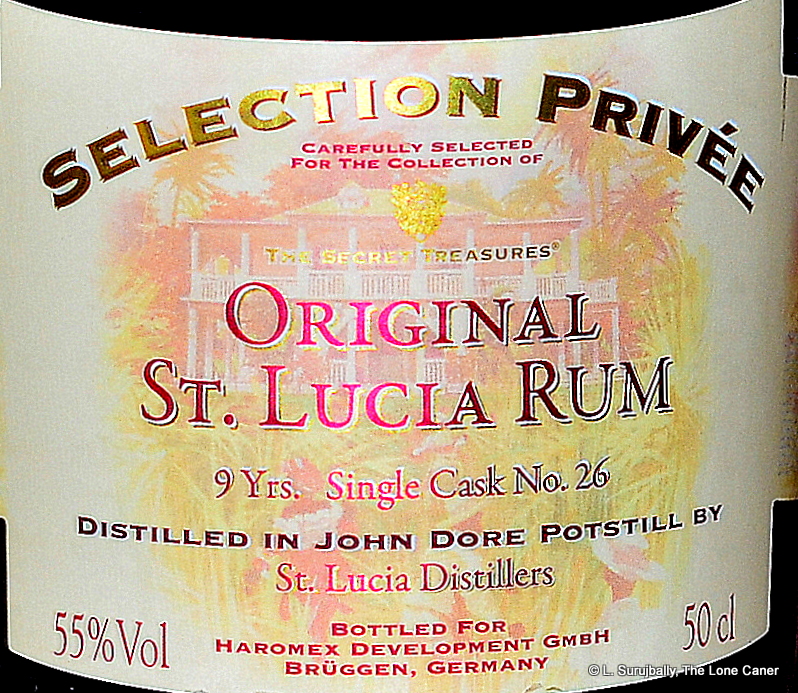 That out of the way, what did it smell like. Different from the Vendome, for sure. The nose was all low key fruitiness, medium sweet. You could sense something of old furniture lovingly polished and floors well waxed, mingling delicately with a little oak and brine, but the gradually emergent breakfast spices, sugarcane sap, cinnamon, peaches, cherry and pineapple carried the day. Overall, it's a firm yet not overbearing, skirting delicacy by a whisker, and noticeably heavier than the Vendome (the comparisons are inevitable, of course, as they were tried in tandem). As the rum opened up, there was also caramel and nougat and some tangerines, with muskiness and cardboard and dry breakfast cereal, coming together in a very good balance.
The palate was curiously indeterminate when initially tasted, before it settled down. Yes there was coffee and chocolate with a little caramel drizzle, but the fruits seem reticent and initially took a back seat to muskier, heavier notes. It was good, just not entirely distinctive. It also tasted a little winey, possessing the qualities of a zinfandel or maybe even a dry (but not oversweet) Tokaji. It's only after waiting ten minutes that the fruits came out full force and became the dominant note – pineapples again, cherries, ripe peaches in syrup, papaya and licorice with vanilla and whipped cream tidying up the loose ends. The finish summarized all of the preceding, being easy and warm, quite smooth, with chocolate, nougat, cloves and a hint of saltiness and citrus closing up the shop.
On balance, while I could tell them apart, figuring out which is better is a lost cause. The Vendome pot still rum from last week was an excellent product by itself, with the crispness dialled down and a solid complexity married to individuality and balance in a way one can't help but appreciate. Its twin from the John Dore still evinced a somewhat cleaner, more fruity profile, with additional notes of coffee and cocoa forming a tasty synthesis that I enjoyed just as much. This was why I spent a couple of days with the two glasses (regularly recharged of course – I sacrifice my liver for the art), going back and forth from one to the other, but truth to tell, for all their individuality and heft, I can't chose between them in terms of overall quality and don't really want to.
So I'm giving them both the same score, and no matter which one you end up with, if St. Lucian rums are your thing, or good quality unmessed-with fullproof rums of any kind turn your crank, you won't feel shortchanged by either one. This rum and its brother are a useful counterweight to the more distinctive Jamaicans, Bajans, Guyanese or Trinis. And they remind us all that there's another type of profile – somewhat unsung, occasionally overlooked — that's also a part of the already excellent British West Indian rum canon.
(86/100)
For an in-depth discussion of the production process and the stills, Marco Freyr has done his usual superb work in his own review of the rum, which he scored at 91.