Single word summary – superlative.
#325
Compagnie des Indes burst in the scene in late 2014, which may be a rather melodramatic turn of phrase, but quite apt. The first of their line that I tried was the Cuban 1998 15 year old, which enthused me about the company immensely, and as the years moved on I've sampled up and down the range, from the less than stellar blends, to an Indonesian and a Fijian, and to more standard Jamaicans (with more coming). In all that time they have rarely made a bad rum, and if they eschew the tropical ageing regime and wild inventiveness that characterizes Velier's Caribbean rums, that doesn't mean they aren't in their own way widening the path that Velier built and coming up with some amazing products of their own.
Nowhere is that more evident than in this magnificent 27 year old Guyanese rum, issued at a tonsil-wobbling 52.7% – it is without a doubt the most Velier-like rum never issued by Velier, and given the difference in owner's philosophy behind it, a stunning achievement by any standard, a wonderful rum, and one of the best from Enmore I've ever had. One can only shed a tear and rend one's beard and ask despairingly of the rum gods why the Danes were so clever and so fortunate as to have this 224-bottle outturn made especially for them, because that's the only place you're going to get one.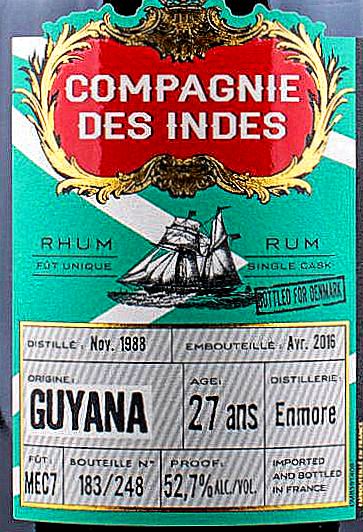 Right off the bat, I was impressed when I poured the copper-brown rum into the glass. I mean, wow! It was redolent from ten paces, deep and rich and dark and evincing all the hallmarks of a great Demerara rum: initial – and one could almost say boilerplate – aromas of cinnamon, vanilla, brown sugar, caramel and coffee started things off, boiling fiercely out of the glass and around the small room like it was practicing aromatherapy without a license. And then other flavours, firm and distinct and freely distributed as exclamation points in a Ludlum thriller, came out to back up the brass band – some licorice, petrol, wax, furniture polish, acetone, all well controlled (sometimes they get ahead of themselves in an aged Enmore or Port Mourant rum, but here they were in perfect harmony)
And the palate, man, just delicious. Not soft or gentle, not something tamed and easy-going for the unadventurous, but really hefty and strong, making its point with force but without ever crossing over the line into savage. When you drink this, you know you're drinking a rum, y'know? because no attempt was made to dial things down. The waxy, car-engine notes subsided, allowing olives, brine and black pepper to begin the attack on the tongue, which displayed a medium body in texture. More licorice and cinnamon followed, and yes, there was the vanilla, the toffee, plus more coffee, red grapes, peaches, a squeeze of lemon rind. And at the end there as some dry in there, a sly sherry influence, winey and sweet and salty at the same time, very nicely integrated into the proceedings. Even the finish didn't disappoint, being just on the hot side, long lasting to a fault, presenting closing tastes of coffee, nougat, more fruits, and a last series of nutmeg and cinnamon and anise notes.
This is a really well made, enormously satisfying rum from Guyana and does credit to the Enmore estate. Luca might champion in-situ tropical ageing, Fabio a sort of amalgam of both tropical and European, while Florent goes the European-only-ageing route…but how can you argue with the results when after twenty seven years you get something like this? It was the coolest thing to come out of wood since, I don't know…a flute, a bar stool, a boat…stuff like that.
Anyway, closing up the shop, I have to admit that there's just something about Florent and his rums I appreciate. The other members of my pantheon (Luca, Fabio, Sylvano) are from other planes of existence. Fabio is a cheerful instrument of cosmic convergence, while Luca is a visitor to our plane from a superior universe that only exists in the imagination, with Sylvano being one of the benevolent old Star Trek Preservers that have moved on. But Florent? He's a mortal straining for excellence with the tools he has…which he uses to sometimes achieve the extraordinary. Here, I think he made it. He really did.
(91/100)
---
Other notes
Cask MEC27

The company bio makes mention of why the Danes got the cask strength rums and the rest of the world didn't

,

but in the

2016

release season

,

CDI did start issuing cask strength rums for other than Denmark

.

Aged November

1988 –

April

2016

I tag it as an Enmore wooden coffey still but the truth is that in

1988

the Versailles single wooden pot still was in residence at the Enmore estate as well

,

and the name of the estate and the still often get mixed up if the barrel is not labelled right

.

Here

,

the taste profile suggests it is indeed the Enmore column still

.