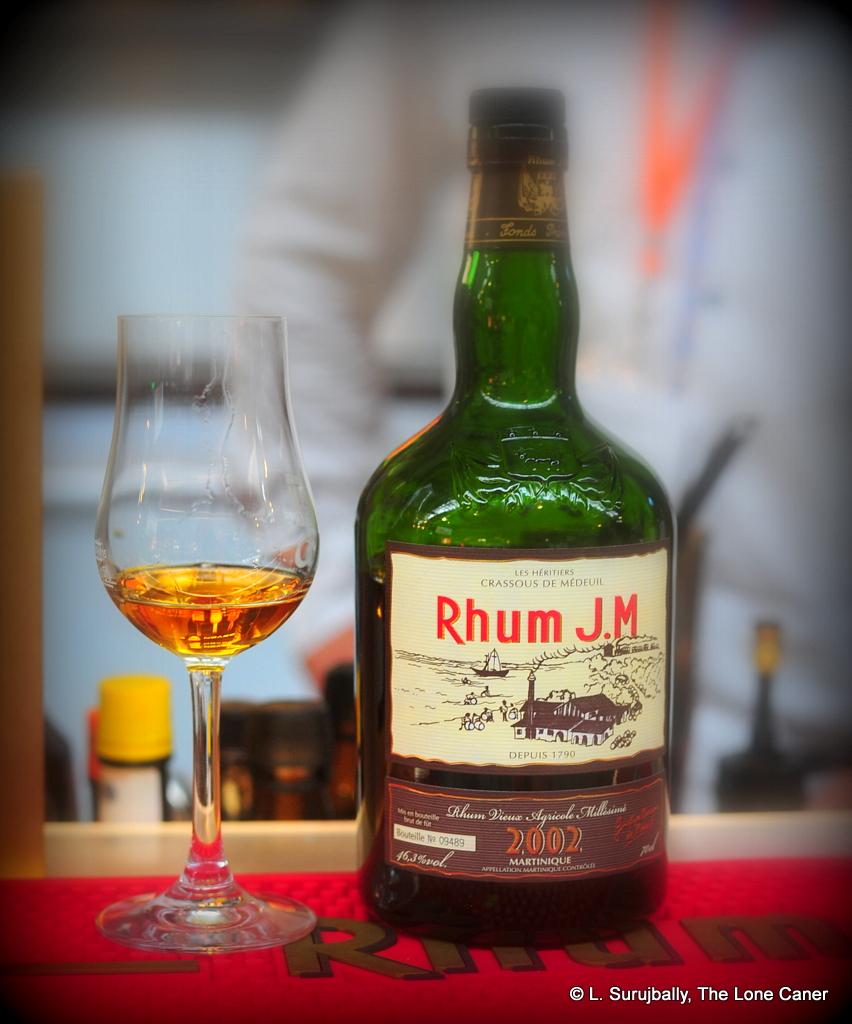 A wonderfully sippable AOC agricole from J.M. in Martinique
The unquantifiable quality of the J.M. 1995 Très Vieux 15 Year Old has stayed with me ever since I first tried it.  Some aspects of the rhum did not entirely succeed, but I could never entirely rid my memory of its overall worth, and so deliberately sought out others from the stable of the company to see if the experience was a unique one.  And I am happy to report that the Millesime 2002 10 year old is a sterling product in its own way, and perhaps slightly exceeds the 1995…though with such a small difference in scores, you could just as easily say they are both excellent in their own ways and let it go at that.  
For all the enthusiasm of the above paragraph, it should be noted that sampled side by side, the two rhums are actually quite distinct products, each good in their own way, but not to be confused with one another.  Consider first the aromas hailing from this 46.3% orange gold rhum – they presented as quite fruity and aromatic, quite rounded and mellow, not always a characteristic of agricoles. As it opened up over the minute, flavours of cherries, red grapes, herbals, dill, sugar cane and grass rose gently out of it….and, if you can believe it, a sort of weird and persistent bubble-gum and Fanta melange that took me somewhat unawares, though not unpleasant by any means.
On the palate the texture was phenomenal, smooth and warm and assertive all at once.  There was little of the aridity of the 1995: it presented a sort of restrained spiciness to the senses; some vanilla and tannins were discernible, but very well controlled and held way back so as not to unduly influence what was a very well balanced drink. 46.3% was a good strength here, and allowed firm traditional vegetal and grassy notes to take their place, before gradually being replaced – but not overwhelmed – by citrus zest (that was the Fanta doing a bait-and-switch, maybe), mint, cucumbers, watermelon, papaya and rich, ripe white pears.  And then there was more…rye bread, salt butter, very delicate notes of coffee and chocolate…just yummy. It was an enormously well assembled rhum, luscious to taste and with walked a fine line between Jack Sprat and his wife…one could say it was like the last thing Goldilocks tried, being just right.  Some of the dry profile I had previously sensed on the 1995 was evident on the finish, but again, nothing overwhelming – it was warm and aromatic with light tangerines, spearmint gum, more ripe cherries and those delectable grapes I had noted before.  All in all, just a great sipping agricole, with similarities to the Karukera 2004, la Favorite Cuvée Privilège and maybe, if I stretched, even Damoiseau's products.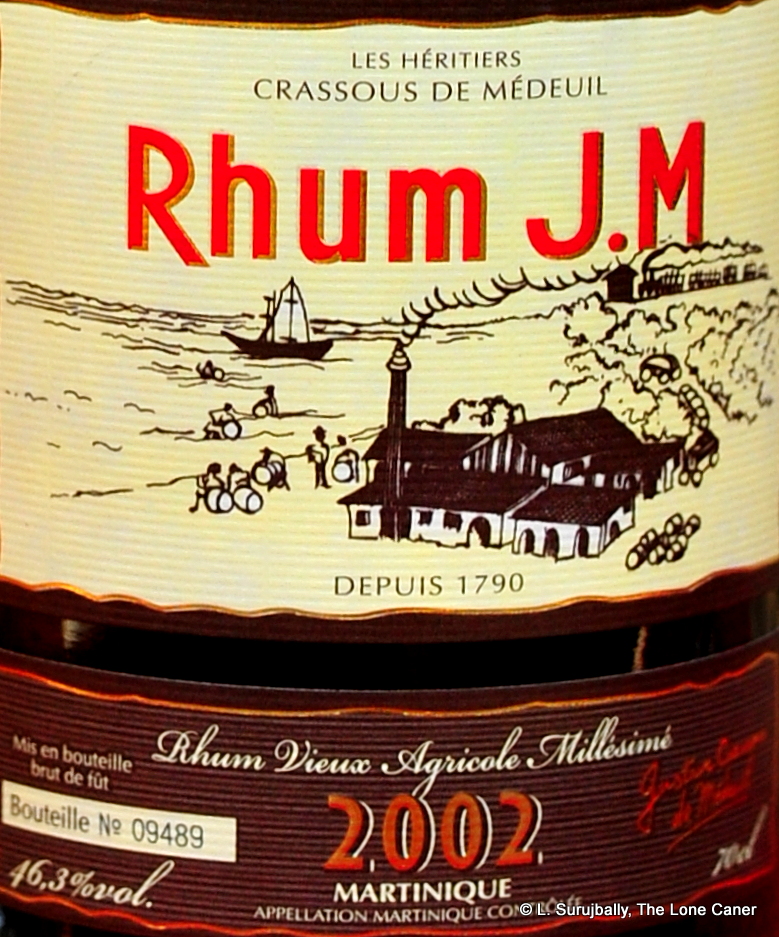 J.M. is located in northern Martinique at the foot of Mount Pele, and I've written a company summary in my review of the 1995, if you're interested.  One fact that came to my attention afterwards was that JM char the inside of their barrels by setting fire to some high proof rum distillate, and then scraping the char off, which may have something to do with the fruity character of the aged rhums they put out.  The rhum itself was distilled on a creole copper pot still to 72% before being set to age and then diluted to "drinking strength."  I wonder what would happen if they ever decided to take a chance and leave it cask strength.
Most people I speak to about agricoles, especially those who have tried just a few (or none), comment in a way that suggests they are considered pretty much all the same — grassy, herbal, watery, a trifle sweet maybe, and (horrors!) more expensive. A lot of this is true, but after having tried the marvellous variety of rhums from Martinique and Guadeloupe, the sharp industrial chrome of the whites versus softer aged products, I can say with some assurance that there is an equally dazzling variety within cane juice rhums as there is in the molasses based products. And this is one reason why in the last year I've really tried to write about as many of them as I could lay hands on. Trying the JM 2002 with its complex, layered and warm profile makes me glad the adventure still has some kinks in the road, and that I began it in the first place.
(#272 / 86.5/100)
---
Other
Aged in ex-bourbon oak, not French oak (Limousin)