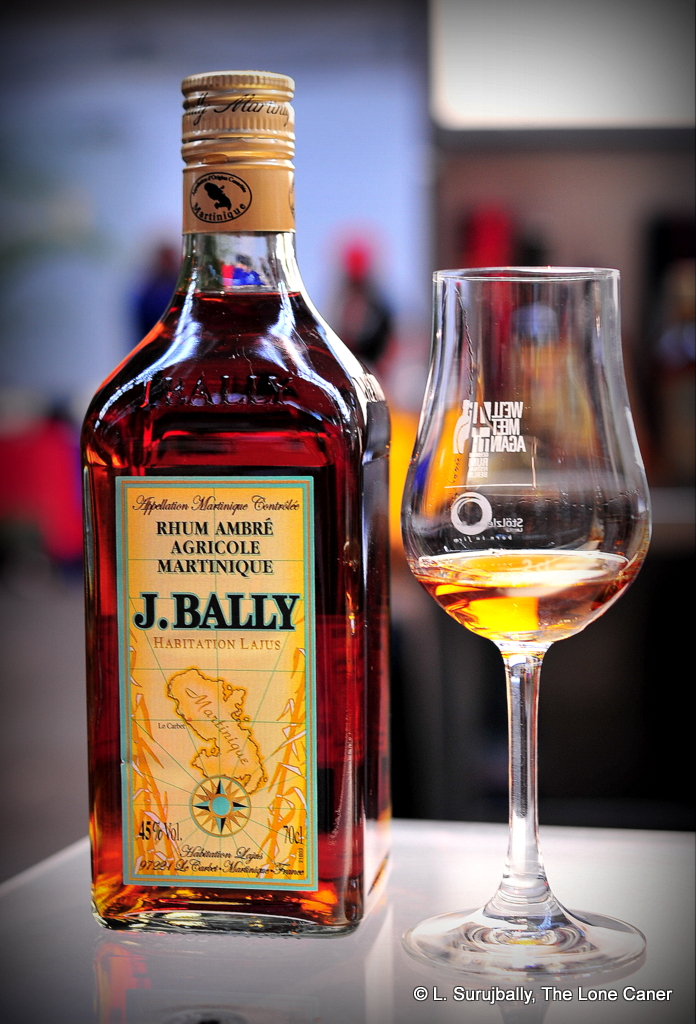 Young, rambunctious, uncoordinated, somewhat raw, and a riot in a mix of any kind. Even neat it has a funky, raw charm all its own. In that, it's an agricole all the way through.

(#208. 83/100)
***
The J Bally Ambrè Agricole is a young rhum that is still finding its legs, and places its origins in an estate on Martinique that stretches back to 1670, when the Lajus sugar plantation was founded. It was one of those rhums from a company that has long had its place in the roll call of honour of the French West Indies – HSE, Trois Rivieres, Damoiseau, La Favourite, Courcelles, JM, La Mauny, Neisson are some others. I wish it was easier to find outside of Europe – I sure never saw anything like it in Canada when I lived there.
The eruption of Mount Pelée in 1902 completely destroyed parts of the island, and decimated its economy for years. By the time Jacques Bally (no relation, ha ha) started sniffing around for opportunities fifteen years later, Lajus was already bankrupt and in receivership, and he bought it for a fire sale price. He shifted the emphasis away from sugar and towards the production of rhums, and in a daring innovation (for that or any other time) introduced quirky bottle shapes like the triangular one of the 7 year old, or the square blocky shape of this subject. Within a few years the rhums of Bally were known over the island and were receiving good reviews worldwide.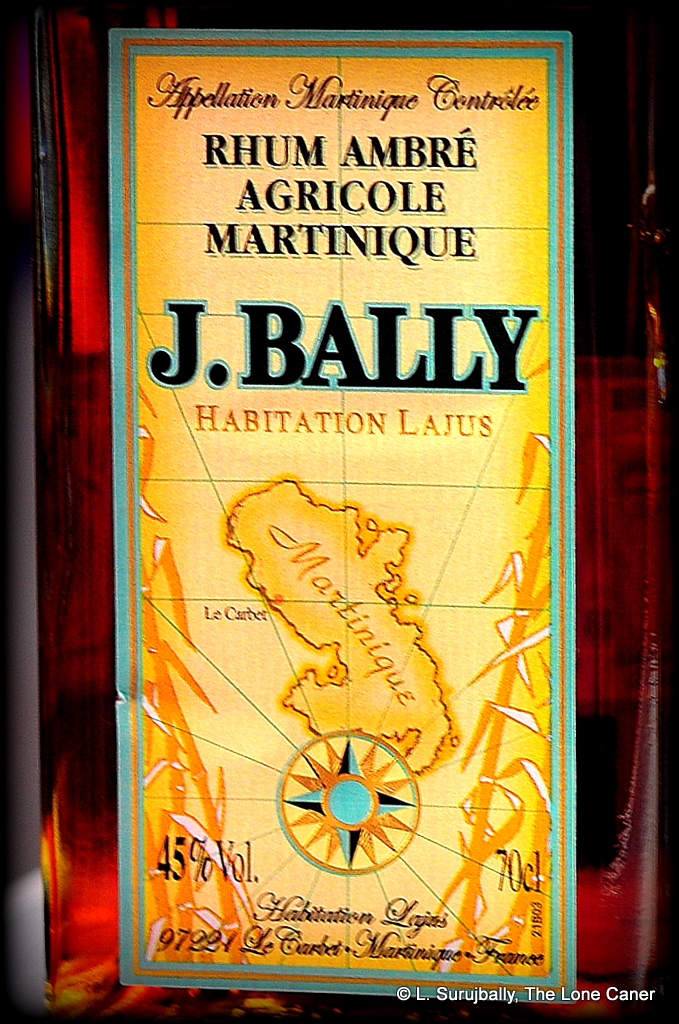 The blocky square shape of the Ambre was retained through the years to this day. I wish they had not surmounted it with a cheap-ass tin foil cap, though….consciously or unconsciously it says something about the overall value the makers place on the rhum within. Still, it had a lovely colour when sunlight beamed through it, and slow thick legs draining down the glass edge, and that gave me hope.
Nor was I disappointed: the Ambrè had what I can only call an amazing nose. Yes it was light, grassy, herbal and vegetal. I expected that. Yes, it was heated, even sharp – for a rhum aged three or four years and issued at 45% ABV, it was a given that a soft feather brush wasn't on the cards. What I really enjoyed was the depth and pungency of the aromas, and how, after a while, they gave up generous secondary scents of distinct plums, peaches and ripe yellow mangoes. I don't know if it's something about agricoles specifically, but many that I've tried seem to have this really strong intro, sharp and pungent and assertive (for good or ill), often quite complex even in the young 'uns.
Tastewise, I didn't feel it brought quite as much to the table: the Ambrè was medium heavy, with a decent textural sensation on the tongue, and the 45% gave it some heft and spiciness. Here some of the mouth puckering driness and aggro I've also noted in several agricoles was evident, as was a a funky sweet grassiness hearkening back to fresh cut cane in the field after the fires have come through. Sweet fruits like pineapple and (again) overripe mangoes were evident, which with some concentration could be further deconstructed into vanilla, some faint leather (probably deriving from the oak in which it was aged), cloves and rosemary, tightly bound into a central grassy, sap-like core. And it all faded into a peppery, dry and clear finish with those same herbal notes, that was a bit too harsh for my personal taste. I imagine that the older expressions would smoothen things out more.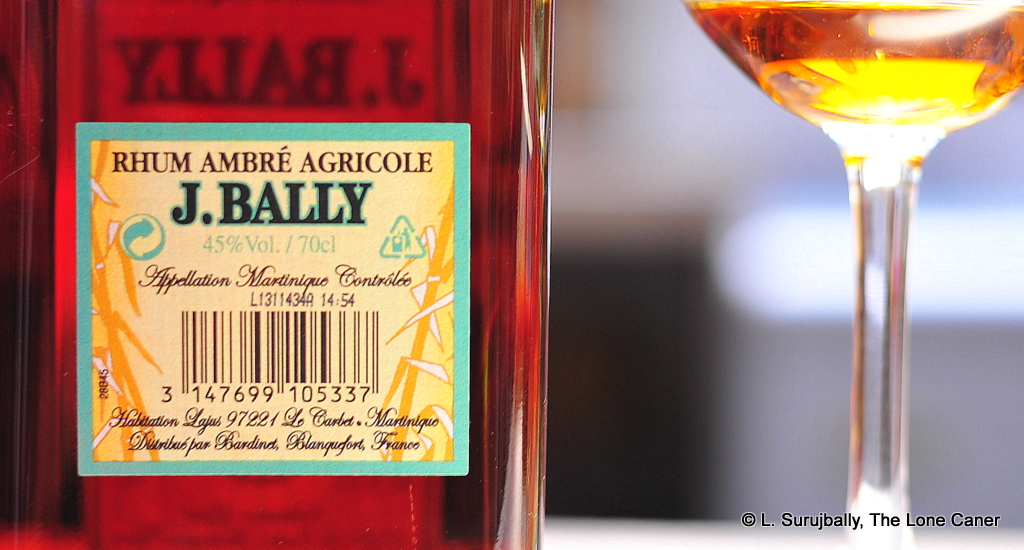 These days, J. Bally no longer exists as an independent, completely integrated entity in its own right. After being acquired by Remy Cointreau in the 1980s, the distillery operations were closed and shifted to the centralized Simon Distillery, though I gather that the original recipe for its rhums remains intact, and sugar production continues at Lajus, as does the bottling and ageing up the road at Le Carbet. As with many French island products, it retains a certain cult following, and a cachet all its own. The Ambrè may not be at the top of the line, but as a representative of unique agricole style of rhums, and AOC controlled, it hews to all the old traditions that made it so well known in past decades.
The J. Bally is as original and peculiar an agricole as I've had; it's certainly right there in the wheelhouse of other famed agricoles, and your affinity for it will depend on your willingness to surrender to its style and tone and appreciate a slightly raw smacked-on-peyote vibe. You may describe it variously as "dry", "vegetal", "sprightly" if you enjoy it, and "dry," "vegetal" and "sprightly" if you don't — the adjectives you add will show your feelings. It's all about perception and patience, I think, and while not entirely falling under its spell, I didn't begrudge the time it took sample the supple charms of this young, not-quite-tamed rum from Martinique. It was quite an enjoyable experience and I look forward to climbing up the age-value chain to see how the older expressions develop.
---
Other notes:
Unfiltered, unadulterated. Aged in oak for 3-4 years