A Spartan rum, sporting a massive codpiece, ripped eight-pack, and real attitude. Not for the lovers of softer or sweeter fare.
You just gotta shake your head with appreciation when you regard Cadenhead and their commitment to muscle-bound zen machismo in rums. They've always had a certain retro charm and a daring to go off the reservation that I grudgingly admired, and they have continued along that path here with this monster full proof.
Leaving aside the squat, glowering psycho-orange-and-yellow bottle with its cork stopper which is almost a Cadenhead signature, it should simply be noted that Cadenhead hewed to their minimalist ethos and added nothing in, and filtered nothing out. In some previous iterations they tremulously diluted to drinking strength (whatever that might mean), but not here – perhaps they wanted the TMAH to take Velier out back and beat the snot out of it. It's bottled at 66.9% – a hilariously strong drink, a growlingly full-proofed rum that wants to land on your glottis like a blacksmith's solid iron anvil.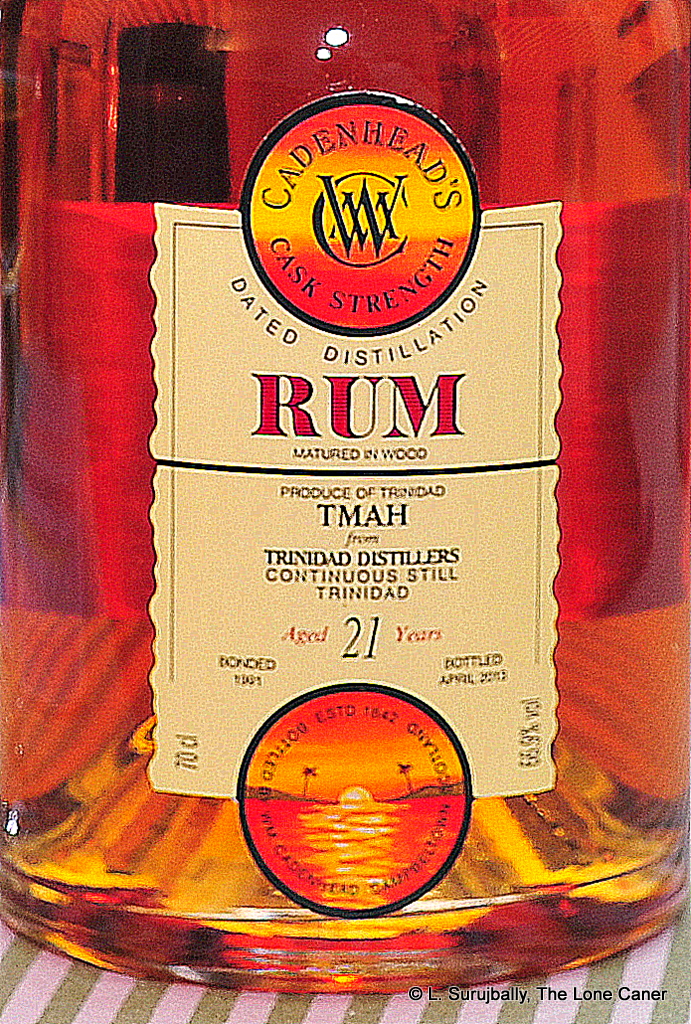 I had been softened by several forty percenters, sampled prior to cracking this one, and was consequently somewhat unprepared for the force with which the TMAH assaulted my beak (it was sharp and deep, and should absolutely be left to stand for a while before nosing). I could barely discern any molasses background at all, in between furiously swirling notes of rye bread, salt biscuits and salt butter. Not much caramel here. But patience, patience – it did get better. After opening up, it smoothened out a good bit and simply became an intense drink rather than a skewering one – and one could gradually tease out thin threads of honey and nougat, and sweeter notes of vanilla, cherries…and a little spicy note of marzipan.
That didn't soften the arrival, of course. It was a little less than medium bodied, this rum – even thin, which I didn't care for – and it detonated with a hurricane force level of taste, scattering shrapnel of sweet and salt in all directions. Dates and figs came to mind, more crackers, a sharp aged cheddar (but not as creamy). Adding water helped here: almonds, nutmeg and slivers of dried fruit emerged, but slowly, thinly, as if terrified of being bludgeoned to death by the alcohol. "Chewy" would not describe the experience exactly, but it comes close. Appropriately enough for such a full proof glass of high-test, the finish was enormously long, a sarissa of lingering flavours of nutmeg and vanilla and light sharp red fruit (pomegranates?). Cask strength, overproof, full proof or whatever – it was certainly a rum that demanded attention.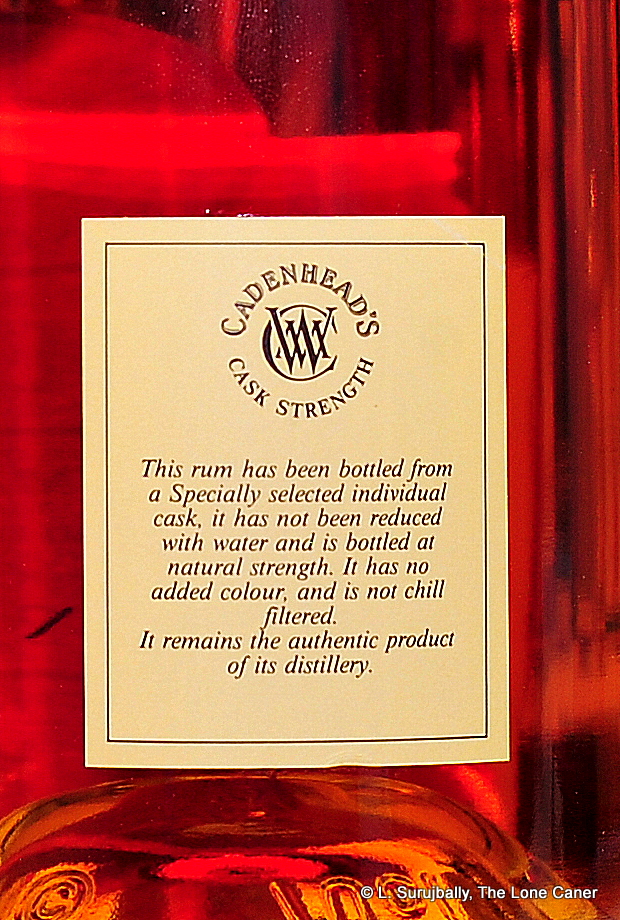 Trinidad Distillers was established by Angostura back in the 1940s – even then Angostura had been into rum production for decades, though more famous for their eponymous bitters – and began producing alcohol in bulk. At first this was primarily for rum production: as time went on, bulk exports formed a large part of its portfolio. Note however that most of the molasses they work with originates outside of Trinidad – in Guyana, Panama and the Dominican Republic. In any event, Angostura as a company has little to do with it. Cadenhead out of Campbelltown in Scotland have simply followed the craft-bottler route, bought a few barrels distilled in 1991, and then issued the rum at cask strength after it came of age in 2013, without any further mucking about
A rum like Cadenhead's 21 year old is a curious beast. Dissecting its profile and coming up with tasting notes is not like having the elements line up and present themselves one after another, like some kind of surreal audition or a debutante's ball. They arrive when and as they will, and as we sip and try and think, we understand it's not important to catch every nuance, every last flavour; sometimes all that matters is the overall tone, the commingled experience. I may not be able to give you a complete set of tasting notes here: but the encounter as a whole is quite something.
And, it must be conceded, occasionally painful
(#201. 85/100)
---
Other notes:
Aged in ex-bourbon casks

.

No information on where

,

but I think it was in Scotland

.

If you compare similar full-proofed

,

similarly aged rums from Velier to the TMAH

,

you'll see the difference tropical aging makes

.

Bottled April

2013.

I really have no clue what TMAH stands for

:

Angostura never responded to me

,

and Cadenhead's reps said they didn't know

.

An anonymous online wit on FB

–

thanks

,

Cecil

—

said it stood for "Too Much Alcohol Here." May his glass never be empty

.