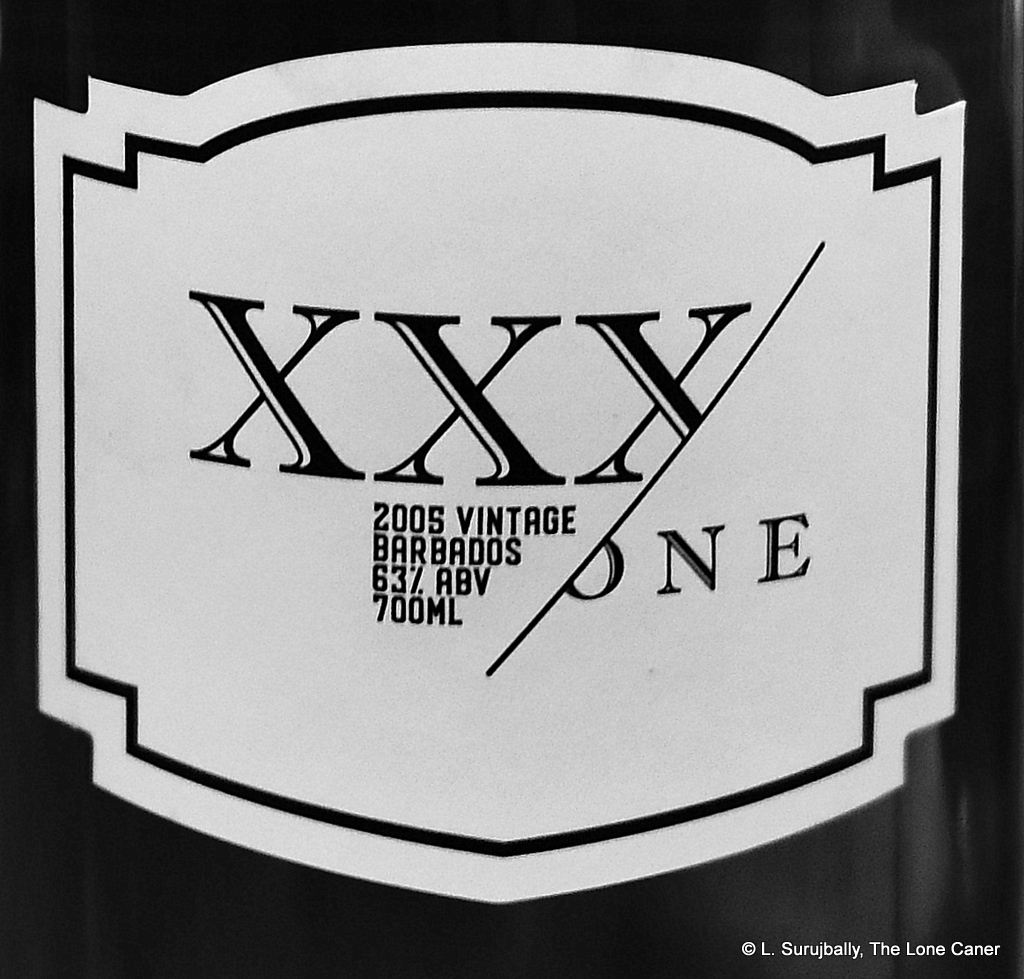 The Reddit /r/rum forum gets far too little attention and kudos for what it accomplishes. It acts as a useful backup for (and provides a deeper well of knowledge than) the fleeting one-sentence commentary on Facebook from which I have gradually withdrawn more and more. Most of the really intelligent and literary rum discussions take place here, and that's not even counting the witty short-form text-only reviews of T8ke and Tarquin_Underspoon, LIFO_Accountant and all the others who post here.
In 2018 one of the moderators suggested to the redditors that perhaps we all, as a collective, get a cask and bottle it as a "Reddit-only" edition, to be sold at a minimal markup. He would look after cask purchase, bottling and labelling and then put it up for sale on FineDrams for us – our involvement would be in the selection of which casks. Redditors were also asked to put some names in a hat to form a small tasting committee and, full disclosure, I was asked to be one of them – to my disappointment, I had to decline due to my geographical difficulties (I was pissed, let me tell you). Samples from barrels of rum from several countries (Jamaica, Barbados, Guyana) which matched the price criteria were sent around, blind, and eventually the tasting committee picked this one from Foursquare, a nice sharply chubby little 13 year old. Unsurprisingly, I sprung for a bottle (as I have for all subsequent editions — the reddit rum forum seems to have turned into a tiny indie all by itself) which was around €75 or so.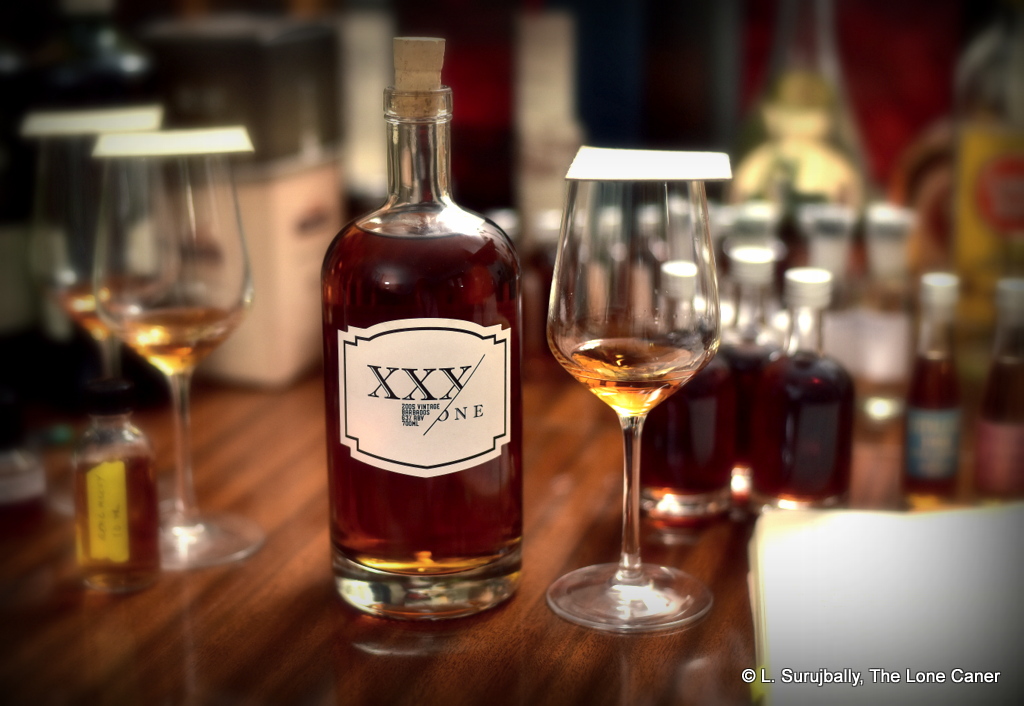 Briefly, it's a pot-column blend, continentally aged, single cask, 266 bottles, not chill-filtered, no fancy finishing as far as I'm aware, red gold, and a muscular 63% ABV. I particularly liked the label, which the designers (yet other redditors) put together with a sort of stark simplicity that clearly suggested they thought Velier was far too overdecorated with fripperies of baroque ostentation and should be shown what "minimalism" really meant. Not sure what was behind the XXX (hush, ye snickerers) but whatever, and the "One" was a neat touch, suggesting other editions to come much like the Danish indie Ekte, and it's No. 1 and No. 2 and so on. It's a cool looking bottle, unlikely to be available any longer given its small outturn — if you can find it, it's a decent addition to the canon, though it won't supplant the ECS or 4S-V Collaborations in people's affections any time soon, fans being who they are.
All right, so let's dive right in. Nose first. Musty, dark and fruity notes right off the bat, sweet and tart, very intense (no surprise, given that strength). It had a touch of brine, balanced off by vanilla, coconut shavings and a nice creamy mocha, freshly ground coffee beans, plus brie with dark peasant bread. Perhaps it was mean to be breakfast alternative, a sort of all-in-one experience: I mean, you were getting a real balanced start-your-morning diet here – fruit, toast, cheese, coffee. The aroma was very deep and intense, but also rather sharp initially, and it took time to calm down and open up the kitchen.
Tastewise, a 50-50 combo of salty elements (brine, olives, a maggi cube) and sweet ones – fruits (bananas, soft yellow mangoes, some overripe citrus), caramel, honey, fudge, plus a strong latte and bitter chocolate. More wood on the taste than had been sensed on the nose, and with the heat and sharpness carrying over, it made for a sip to have with caution, not abandon. This was one rum I would have preferred a little less powerful and indeed, with water it settled down and coughed up some raisins, dates, and pancake syrup notes. The finish was long on fruits, sweet, hot and aromatic, but added little to what had come before – mostly vanilla, chocolate, ripe sharpish bubble gum and pineapple that suggested (but did not speak loudly about) funk.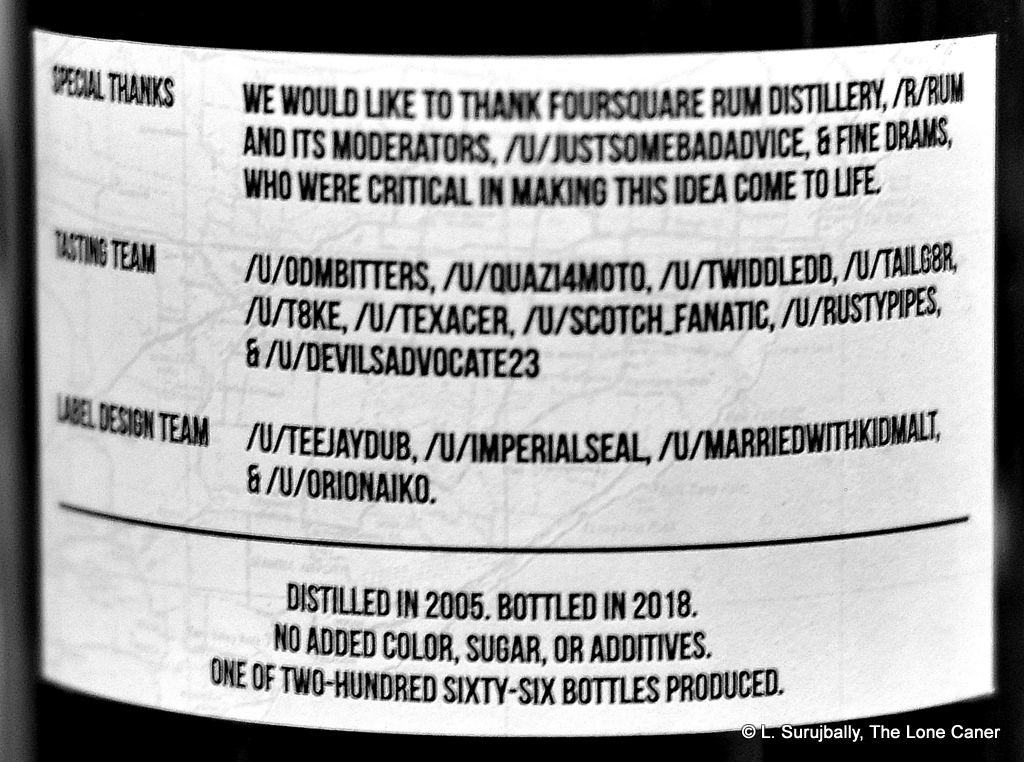 To be honest, I'm surprised it worked as well as it did. The vanilla was too dominant for me, the citrus peel note kicked in too late, and the flavours seemed somewhat uncoordinated, lacking a coherent through-line – it jumped haphazardly from one note to another in a sort of playfully chaotic jumble that somehow and pleasingly worked. In a way it reminded me of a low-rent ECS bottling (the 2004 or 2005 maybe, it shares some DNA with the former for sure), but at end, it must be judged on its own, for what it is. In that vein, not bad. It adheres to Foursquare's blending philosophy, while daring to be occasionally different, haring off on a tangent like a not-quite-housebroken puppy let off the leash once or twice, before docilely returning to the profile that makes it recognizably a product of its famed distillery of origin.
(#761)(83/100)
---
Other notes
For the avoidance of all doubt

,

I am not advocating having this rum for breakfast for any who might inadvertently misinterpret my remarks above

.

Dinner for sure

,

though

.

I would link to T8ke and Tarquin's and others

'

reddit profiles

,

but they post other stuff on other fora so that it's not really feasible

.

But trust me

.

What they write is worth it

.

After this went up

,

T8ke commented that the XXX was not meant to be salacious or speak to any kind of multiple distillation

: "

The 'XXX

'

was another exercise in stark simplicity

.

General zeitgeist and cartoons are loaded with 'moonshine

:

XXX

'

bottles to convey that

"

hey

,

this has alcohol in it

".

Same idea with XXX bottlings

.

This is rum

.

It's alcoholic

.

Here's everything you need to know and nothing you don't

.

Drink up.

"