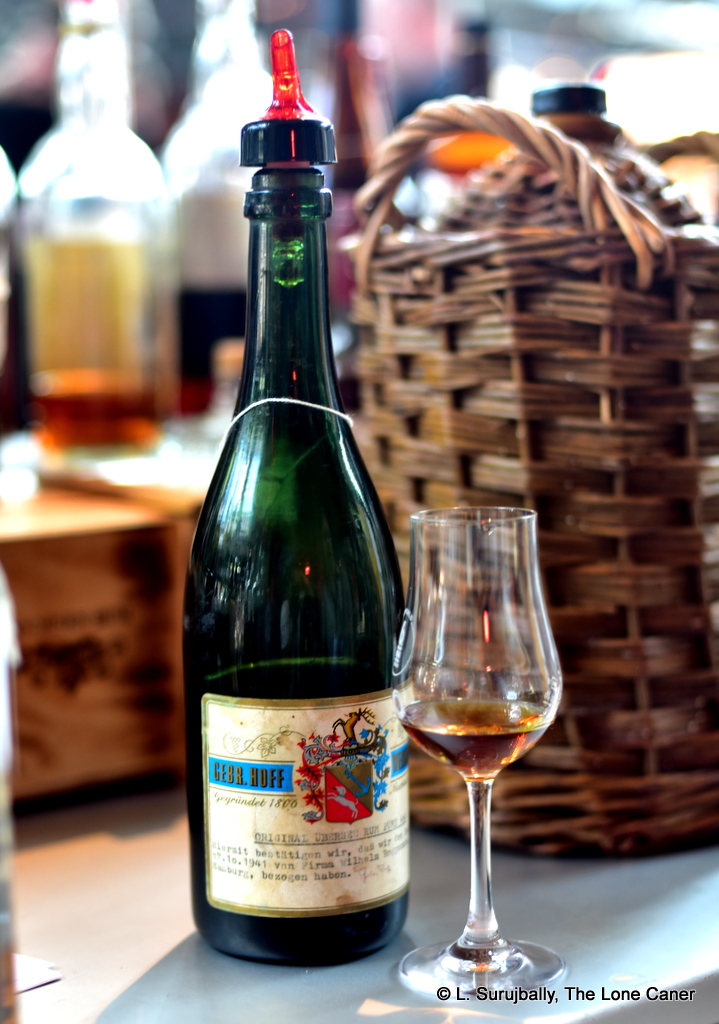 Rumaniacs Review #123 | #800
Here is a rum that defies easy tracing. It predates us all, and almost everything about it remains educated conjecture and guesswork — even the name, assuming it has one. It was bought by the German firm of Gerb. Hoff Weinkeller in 1941 from Wilhelm Roggemann in Hamburg (essentially that's what the typewritten text on the label says – WR were wine and spirits merchants, no longer extant); Rene van Hoven, in whose collection the bottle currently sits gathering yet more dust, told me that all the research he had done on tax stamps, invoices, bills of sale and assorted other paper chases, suggested it had been bottled in the pre-WW2 years at least a decade earlier. I'll take that on faith until I can find out different.
Also, it supposedly came from Jamaica, was bottled in a Burgundy wine bottle and rated 60% ABV. I was told that no, it is not a verschnitt – that is, a neutral alcohol to which a high-ester Jamaican rum was added for kick, as was the practice in Germany and Eastern Europe back then. At that strength it might have equally been an "original overseas pure rum" (as the label claims)…or not. Don't ask which distillery made it and inquiring after the age is pointless. Sorry, but sometimes, that's all we have, and we take what we can get.
Colour – Dull amber
Strength – Supposedly 60% ABV per the label
Nose – Rubber and plasticine, dusty books. In fact it reminds me of an ancient second hand or antique bookstore where the aroma of glue from the bindings, and the delicate disintegrating yellow pages of unread tomes, pervades the whole place. Lots of fruits break in after some minutes – strawberries, bubble gum, fanta, oranges, overripe peaches, and also honey, molasses and a rich lemon meringue pie. It felt hot and heavy but somehow managed to avoid real raw ethanol sharpness, for which one can only be grateful
Palate – Hot, spicy, creamy, lots of stuff going on here. Like the amazing Harewood House rum from a century and a half earlier, the taste is extraordinarily vibrant. Molasses, damp brown sugar, soursop and unsweetened yoghurt, orange peel, sweet soya sauce. And fruits, lots of fruits – yellow sweet mangoes, kiwi, pomegranates, peaches, yummy. Did I mention a dusting of cinnamon and cumin?
Finish – Medium long, quite aromatic. Gets a bit rougher here, but the fruits and spices noted above see this thing out in fine style. An additional light layer of coconut and lemon zest in there, perhaps.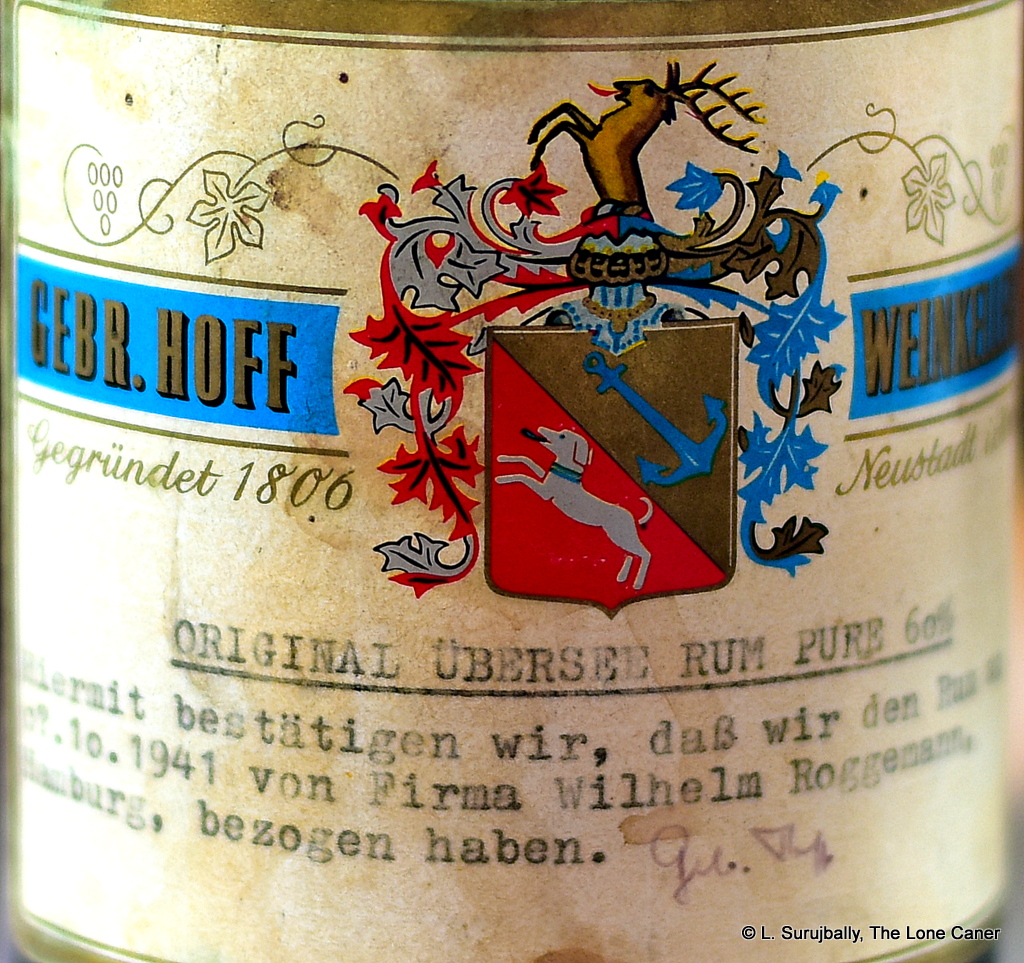 Thoughts – "It's very alive," remarked Rene to me, and I could not but agree. The storage had evidently been impeccable, because that same week I'd tried another 1930s rum (from Martinique) of which less care had been taken, and it had been a complete disaster. This rum is not so much a Jamaican — I would not pretend to you that it screamed the island's name as I tried it — as simply a very good, very sprightly rum that managed to stay awake and not fall flat. And it demonstrated that even back then in the rum dark ages, perhaps it wasn't really all that dark, and they were making some pretty good juice then too. Wish I knew more about it.
(84/100)
---
Other Notes
If you're ever at a rumfest where Rene Van Hoven is hanging his hat

,

I strongly recommend you go pay his booth a visit

.

The man has some very old rums from way back when

,

that are just fascinating to try

;

and his background research is usually spot on

.

Check out

the website

,

and his

instagram page

.