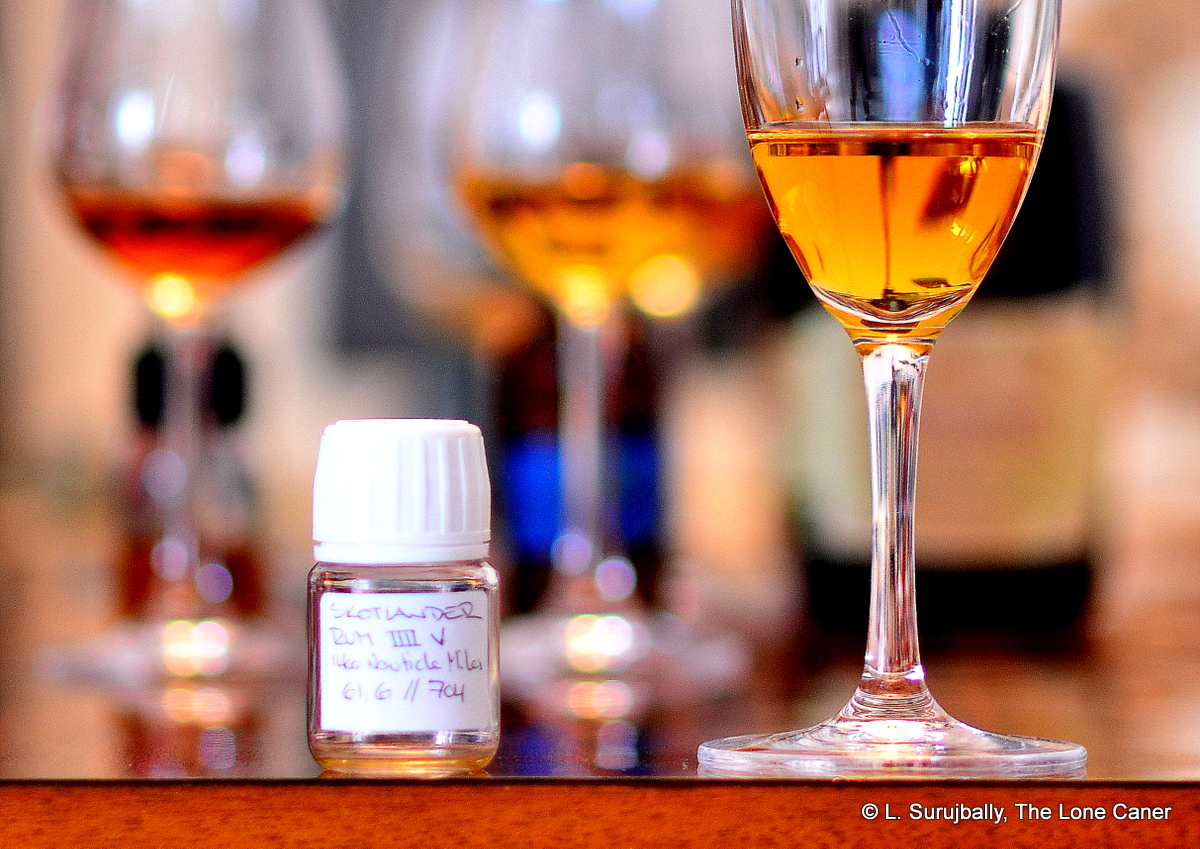 Let's start at the beginning.  Skotlander rum is not made in Scotland, but in Denmark, for the very good reason that the founder, Anders Skotlander, is a Dane with the name. Denmark has long been known (to me, at any rate) as home of some of the most rum-crazy people in Europe, and Anders decided to walk the walk by actually creating some of his own, in 2013. He purchased a Müller copper pot still, sourced sugar cane molasses and in 2014 released 1000 bottles of RUM I, a white, at 40%. It promptly won a gold medal at the Miami rum festival that year; and in 2015, where both RUM I and an infused RUM III were entered, the former won Best in Class White Rum, and the latter a gold for Premium White (alongside Plantation 3 and Nine Leaves Clear, which says something about the categorization of whites in those more loosely defined times). 
In the year since then, Anders Skotlander has pushed to stay not only relevant but original.  He has sourced molasses and cane juice from around South America, experimented with different barrels, has used unusual storage places (like a bunker, or a century old schooner) to chuck those barrels, and has expanded the range to include spiced and botanical rums, whites, aged rums, agricole rums and even high ester rums. He's up to Skotlander 10 right now (a 59.5% blend) and the website provides an enormous amount of information for each. And the labels, informative as they are, are masterpieces of Scandinavian minimalism which make some Velier labels seem like over-decorated roccoco indulgences in comparison.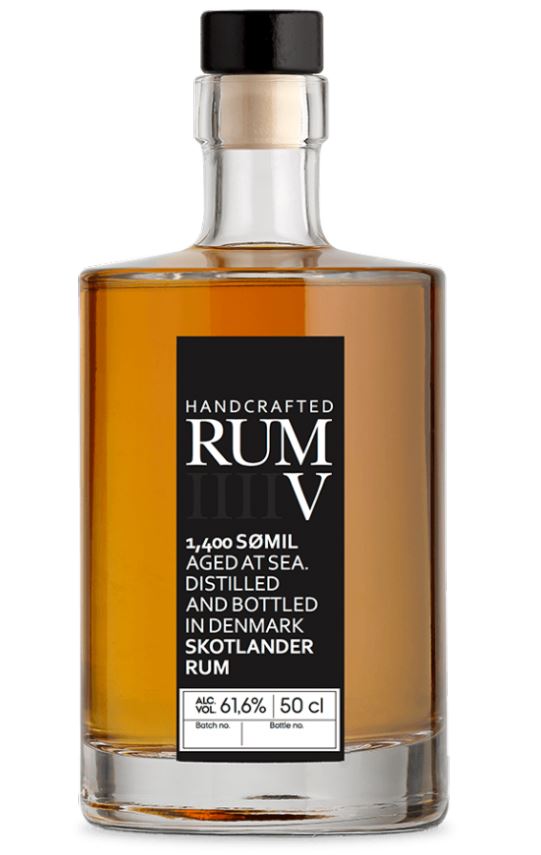 Rums made from scratch by some small new micro-distillery in a country other than the norm are often harbingers of future trends and can bring – alongside the founders' enthusiasm – some interesting tastes to the table, even different spirits (<<cough>> 'Murrica!!). But Skotlander, to their credit, didn't mess around with ten different brandies, gins, vodkas, whiskies and what have you, and then pretended they were always into rum and we are now getting the ultimate pinnacle of their artsy voyage of discovery. Nah. These boys started with rum, bam! from eight o'clock, day one. 
Which, after this long preamble, brings us to the very interesting Skotlander RUM V Batch #1 (1400 sømil), a rum made from molasses sourced in Brazil which are fermented for thirty days (in Denmark), pot still distilled (also in Denmark), aged in four PX barrels onboard the schooner "Mira" for about a year during which it sailed 1400 nautical miles (get it?) and then 704 bottles were unleashed on an unsuspecting public in 2016 a muscular 61.6% ABV. 
At that proof point you can expect, and you get, serious intensity. The nose is really hot and spicy – clearly it spend the entire voyage happily  sharpening its fangs.  It is clean and snarly, presenting a profile nothing like a Cuban, Bajan, Mudland, or Jamaican rum.  It has fruits, yes, deep, dark orange and red-purple ones: black and red grapes, apples, unripe prunes and apricots, red grapefruits, though sorting them out is a near-impossibility. It also smells of smoke, dusty hay, a touch of vanilla and brown sugar, molasses, salted caramel – if I had to guess blind I'd say it resembles a pot-still, jacked-up St. Lucian or Saint James more than anything else.
After the near-hysterical clawing of the aromas, the palate calms down somewhat.  It remains sharp – at that strength, how could it not? – and drips with the winey, sherry-influenced flavours.  Red grapes, grapefruit again, tart apples.  There is also some caramel, candied oranges and truffles (!!), with crisp cider and citrus notes dominating…but not entirely successfully. Really, I wrote with some amused bewilderment, "…this is like a barely aged seriously overproofed agricole mixing it up with a Guyanese High Wine".  It does have a lot going on — subsequent sips at the glass, with and without water, evidences stewed apples, fruit salad, watermelons, pineapples, strawberries, so a fair bit of esters in here. This is also evident on the close, which, while long and fragrant with candied oranges, salt caramel, smoke, vanilla and pineapples, lacks neat balance between the salt, sweeet, musky, crisp and tart elements.
I write a lot about "distinctiveness" and "uniqueness" in assessing both familiar and unfamiliar rum houses' offerings. This has it – to an extent. You can sense an really cool and original product coming into focus, even as it takes care not to skate too far to the edges of what is known and understood. But it does kind of mash untidily together, and the complexity it could be showcasing more successfully gets lost, even muddled as it careens heedlessly from one profile to the next.  You could taste it several times and each time your interpretation would be slightly different, which in this case is both a recommendation and a cautionary heads-up. It's a bold and interesting rum by my standards, however, and on that basis, even if I'm late to the party, I think I'll keep my eye on the company, and go find me some more to try.
(#764)(82/100)
---
Other notes:
The Rum Renaissance gold medal awarded in 2014 was second prize (platinum is first), and was won for being "Best In Class" for white rum.  At the time white rums were not stratified between aged or unaged, filtered or not, pot or column, and there are no records how many other rums were judged in that category.  Still, for a rum not even in existence a year before, that's not a bad showing given it was up against all other white rums, and not a subclass.

Skotlander V Batch #2 is slightly older, about two years, released around 2018, aged on the same schooner while it sailed for 2200 nautical miles.  The same emptied ex-sherry ex-Batch 1 barrels were reused. 

Here's a

chocolate-voiced promo video

about Skotlander

Thanks to Gregers and Henrik, the Danes who twigged me on to this company and their rums.