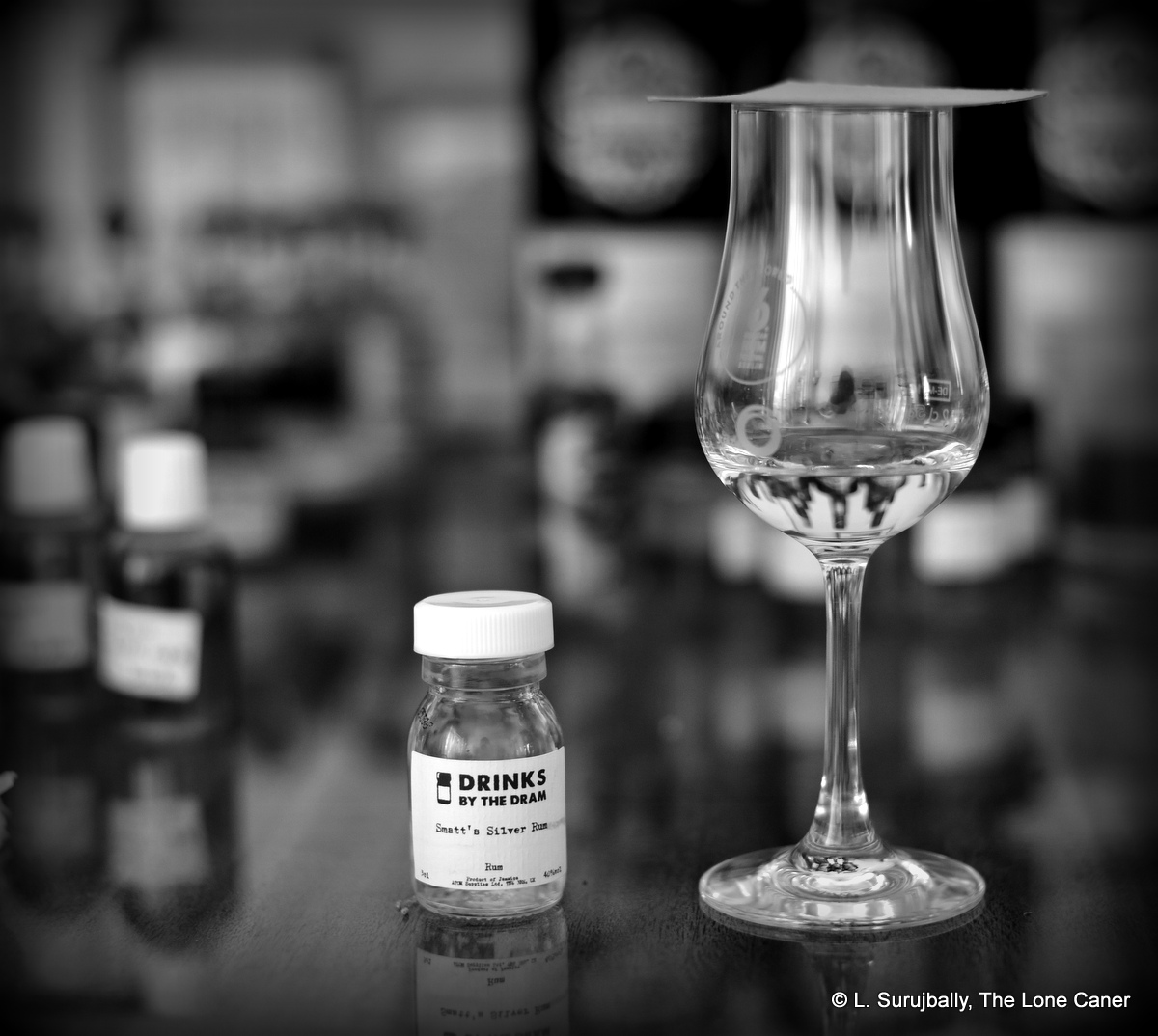 It's peculiar how little information there is on Smatt's that isn't all razzamatazz and overhyped positive posturing meant to move cases. Almost nobody has written anything of consequence about it, there's no review of credibility out there, while the product website is a cringeworthy mass of spouting verbiage long on gushing praise and short on anything we might actually want to know. When you're relegated to furtively checking out Rumratings and Difford's to at least see what drinkers are saying, well, you know you've got an issue.  
Smatt is, according to those sources I've managed to check, a small-batch, boutique, Jamaican blended rum of pot and column still distillate, launched in the early 2010s. Which distillery? Unclear and unconfirmed, though it's likely to be made by one of the companies under the NRJ banner, given the involvement of Derrick Dunn as the master blender (he started working at Innswood Distillery where he maintains an office, and is the master blender for Monymusk, the house rum of NRJ). The rum is filtered to white, released at 40% and is marketed in upscale establishments in the UK and various duty free emporia (and some online shops), which may be why it consistently maintains a low profile and is relatively unknown, as these are not places where rum geekery is in plentiful supply.

Normally, such a rum wouldn't interest me much, but with the massive reputations the New Jamaicans have been building for themselves, it made me curious so I grudgingly parted with some coin to get a sample.  That was the right decision, because this thing turned out to be less an undiscovered steal than a low-rent Jamaican wannabe for those who don't care about and can't tell one Jamaican rum from another, know Appleton and stop there.  The rum takes great care not to go beyond such vanilla illusions, since originality is not its forte and it takes inoffensive pleasing-the-sipper as its highest goal. 
Consider the aromas coming off it: there's a touch of sweet acid funkiness and herbs – sweet pickles, pineapple, strawberry bubblegum mixed in with some brine, white pepper and cereals. To some extent, you can sense bananas and oranges starting to go off, and it becomes more fruity after five minutes or so – within the limitations imposed by the filtration and that low strength – but not rich, not striking, not something you'd remember by the time you set the glass down.
The palate is, in a word, weak, and it raises the question of why it was filtered at all given that it was already quite delicate as a factor of the standard proof.  It tasted clean, very very light, and pleasantly warm, sure.  And there were pleasing, soft flavours of coconut shavings, candy, caramel, light molasses. And even some fruits, light and watery and white, like pears and ripe guavas and sugar water. Just not enough of them, or of anything else. It therefore comes as no surprise that the finish is short and sugary and sweet, a touch fruity, a little dry, and disappears in a flash
Once I drank the thing, checked my notes and assessed my opinions, I came to the conclusion that while the nose does say "Jamaican" — real quiet — it then gets completely addled and loses its way on the palate and finish and ends up as something rather anonymous. It's not as if there was that much there to begin with at 40%, and to filter it into insensibility and flatness, to tamp down the exuberance of what an island rum can be, completely misses the point of the Jamaican rum landscape. 
Smatt's modest self-praise of being one of the finest rums ever produced ("Considered by many as the world's best tasting rum") can be completely disregarded. I guess that letting it stand on its merits didn't scream "excellence!" loud enough for the marketing folks, who clearly have at best a tangential acquaintance with rum (or truth, for that matter) but a real good sense of over-the-top adjectives. But what they're doing by saying such things is purloining the trappings and cred of some serious, real Jamaican rum, stripping them down and selling for parts. Smatt's is no advertisement for the island or its traditions, and while I completely accept I come at my snark from a long background of trying whites from all points of the compass (and have come to prefer strong, growly and original) that's no excuse for Smatt's to come out with a bland and boring rum that doesn't even do us the favour of letting us know what it really is, while shamelessly bloviating about all the things it isn't. Why, it's positively Trumpian.
(#765)(78/100)
---
Other Notes
Honesty compels me to let you know that

in 2015 Forbes named this as one of eight rums

you should try. In 2020, the Caner is telling you it really isn't.

I don't care about the story of the pirate the rum was supposedly named after, and simply note it for completeness here.
Age is unknown.  I'd suggest it's a few years old but that's a guess based on taste and price.