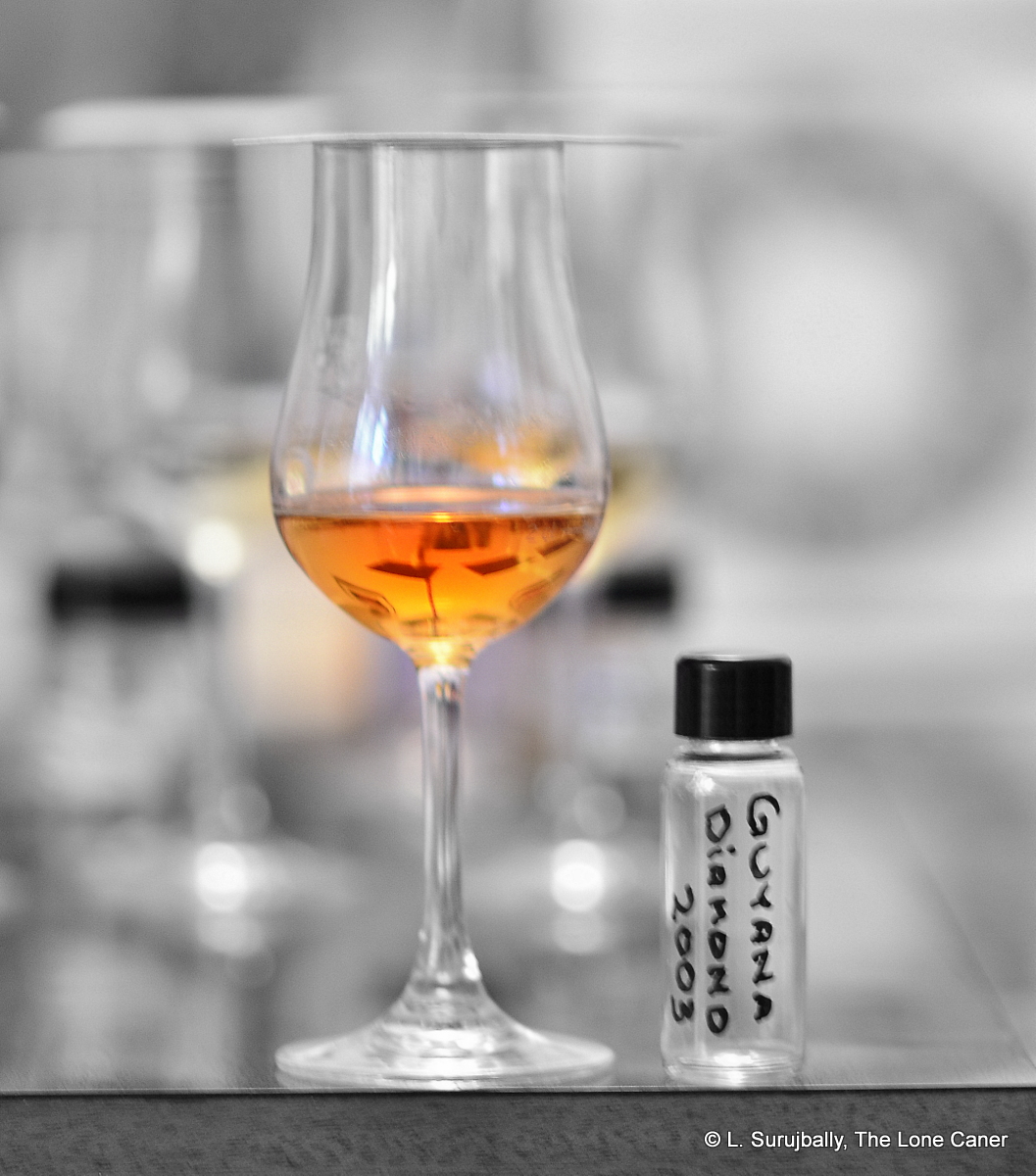 The three wooden stills now all gathered at DDL's Diamond facility are called Heritage stills, their wooden greenheart components regularly serviced and replaced, and the questions they pose about the matter of Theseus's ship are usually ignored. That's not really important, though, because they may be the three most famous stills in existence, and the taste profiles of the rums they create are known by all dedicated rumistas, who enjoy nothing more than relentlessly analyzing them for the minutest variations and then bickering about it in a never-ending cheerful squabble.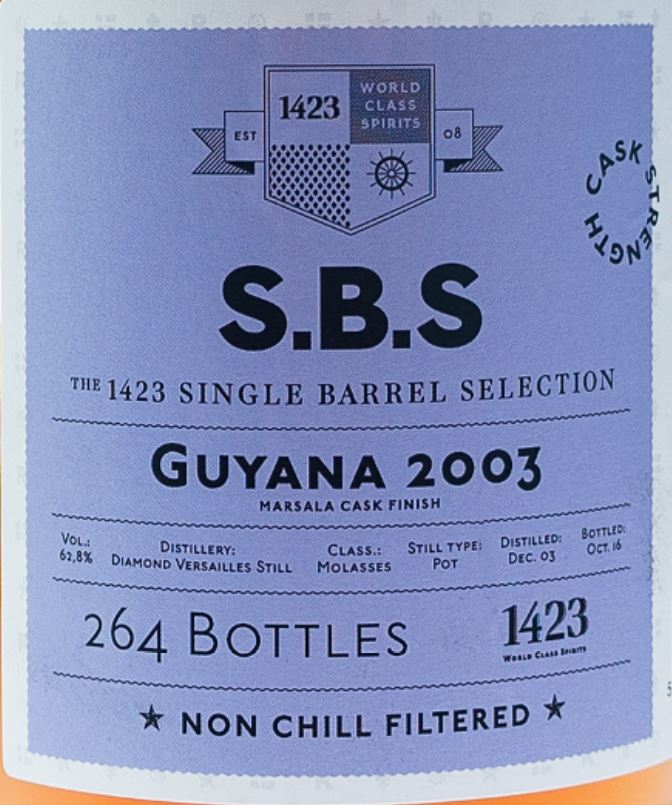 My own preference has always been for the stern elegance of the Port Mourant, and the Enmore coffey still produces rums that are complex, graceful and sophisticated when done right.  But the Versailles still is something of an ugly stepchild – you'll go far and look long to find an unqualified positive review of any rum it spits out.  I've always felt that it takes rare skill to bring the rough and raw VSG pot still profile to its full potential…none of the familiar indies has had more than occasional success with it, and even Velier never really bothered to produce much Versailles rum at the height of the Age.
This brings us to the Danish company 1423: it makes many mass-market rums for the broader supermarket shelves in Europe, but is perhaps better known worldwide for its boutique rum arm the Single Barrel Selection, which specializes in single cask, limited bottlings. These aim squarely at the connoisseurs' palates and wallets, and have gained a quiet reputation (and a following) for their quality rums and geographical range.  The Diamond 2003 is a case in point – it's 12 years old (bottled in 2015), has a finish in marsala casks, comes off the Versailles single wooden pot still and is bottled at a completely solid 62.8% with an outturn of 264 bottles. And it's quite a hoot to drink, let me tell you
"Something is rotten in the State of Diamond," I wrote cheerfully after a good deep sniff, "…and just enough to make it interesting." Which was quite true – it smelled of fruits and vegetables starting to go off, and added some deep oak tannins which thankfully did not get overbearing but receded rapidly.  To this was added almonds, peaches, prunes, anise, strawberries, some light vanilla and raisins, all tied together in a neat bow by a briny note and some zesty citrus.  
The palate was also quite good, irrespective of how much (or how little) additional taste the finish provided.  It had the creaminess of salted caramel ice cream, the dark fruitiness of raisins and prunes and black cake and overall struck me as a deceptively simple, very solidly-constructed rum. The good stuff came from around the edges – you could sense some fennel and licorice and vanilla, and perhaps some nuttiness, red wine, indian spices and cloves, all dancing around that central pillar without taking center stage themselves. The finish didn't try for anything new or exotic, but was content to sum up all that had gone before, and gave last notes of toffee, cumin, masala spice, caramel, dark fruits and brine, a nice sweet-salt amalgam, without any sharpness or bite on the exit at all.  Nice.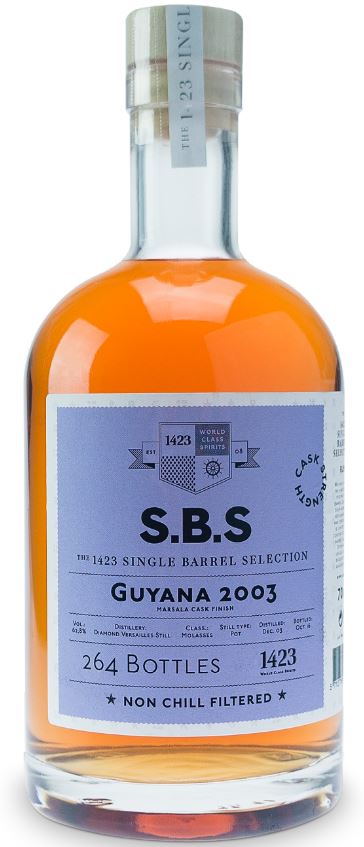 There has been occasional confusion among the stills in the past: e.g. the SBS Enmore 1988 which I am still convinced is a Versailles; but this is (in my opinion) neither a PM nor an Enmore and if there's any further confusion it may derive from the marsala cask whose influence is faint, but enough to skew one's mind away from a pure VSG kind of aroma.
And it's good, very good indeed. Even Duncan Taylor with their 27 YO 1985 couldn't better it, DDL's own Rare Release wasn't significantly better (I've heard the Mezan and Samaroli variations are excellent but have not tried them). But it seems to me that the VSG marque is really not meant to be a standalone except for purists and deep divers – it works much better as part of a blend, which is indeed what DDL uses it for in its aged releases, rarely issuing it on its own.  
Summing up then, with all those difficulties in trapping the best profile out of a notoriously temperamental still, it's completely to its credit that 1423 managed to wring as much flavour and class out of a relatively young Versailles distillate aged in Europe as they did.  Perhaps their 1988 Enmore was in fact from that still also, but this one is no slouch on its own terms, has less ambiguities about its origins to boot and is an all 'round fine drink to have on the shelf.
(#749)(85/100)
---
Other Notes
The length of finish in marsala casks is unknown, if SBS responds to the query I sent, I'll update.

Thanks to Nicolai Wachmann for the sample.