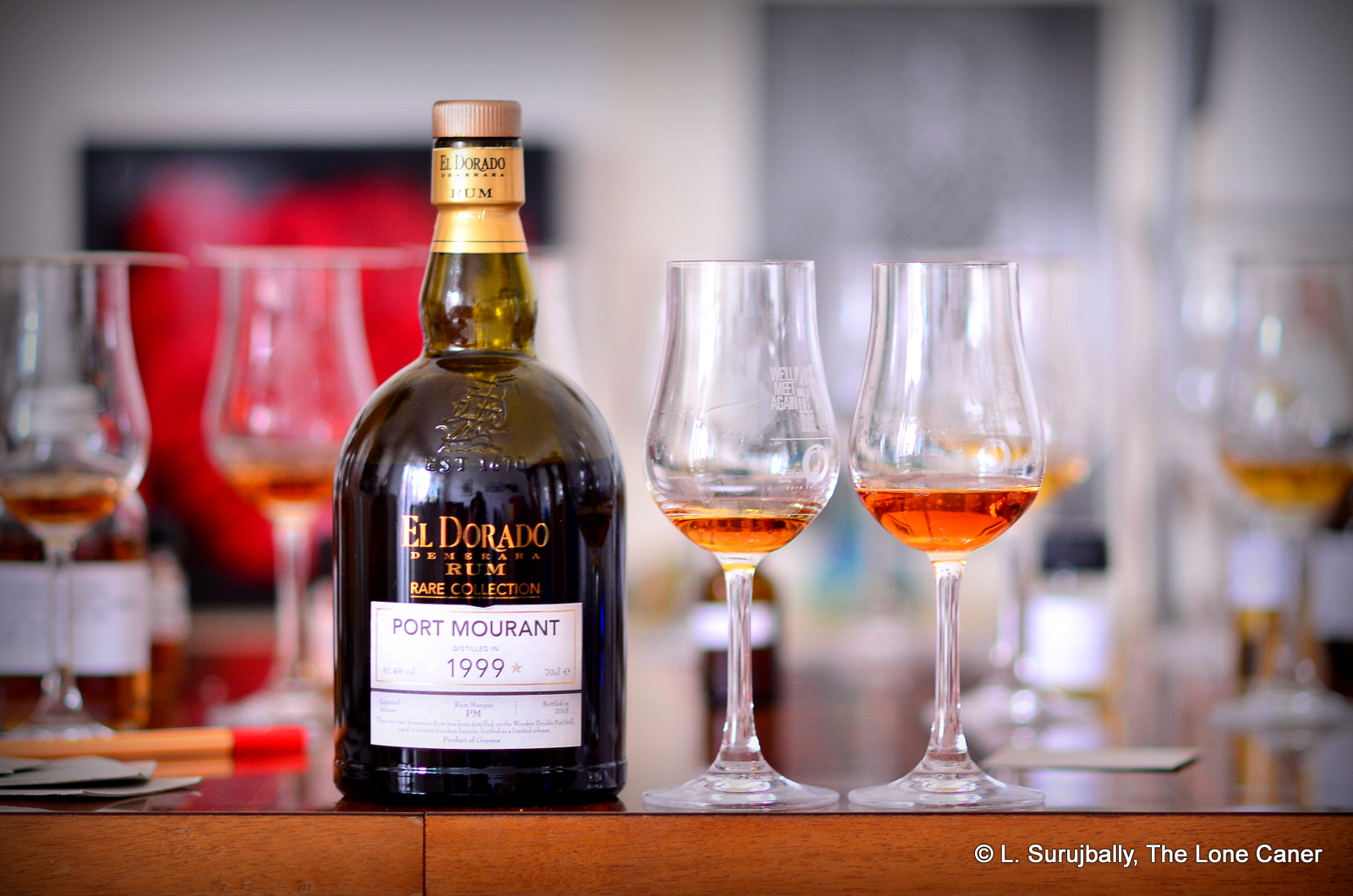 #498
By the time we get to the third Rare Collection rum issued by DDL to the market in early 2016, we have to move on from our preconceived notions of how these rums were issued: okay, so they booted Luca out and us rum junkies were pissed, but from a purely business perspective, perhaps we should have seen it coming.  And anyway, the world didn't come to an end, did it? Life continued, taxes got paid, rums got drunk, and civilization endured. Time to move on. It was surely nothing personal, just business, caro amico.  Lo capisci, vero?
Which brings us to the Port Mourant 1999, which some say is a fifteen year old and I say is sixteen (just because of the years), bottled at ferocious 61.4% ABV, and deriving from the double wooden pot still which produces (along with the Enmore wooden Coffey still) what I think are the best Guyanese rums available. You'll forgive me for mentioning that my hopes were high here. Especially since I never entirely got over my feeling that it cost too much, so for that price, I wanted it to be damned good.
For a sixteen year old (or fifteen, if others write-ups are to be taken) made from one of my favourite stills, I felt it was remarkably light and clear for a Port Mourant, and even this early in the assessment, dominated by the sharpness of tannins that had been left to go nuts by themselves for far too long. It was dry and leathery on the nose and, as for both the Enmore 1993 and particularly the Versailles 2002, my personal feeling was and remains that the oak had too much of an influence here – the rum equivalent of sucking on a lemon.  Fortunately, this calmed down after a while and allowed other aromas to be sensed: lemon peel, raisins, pears, black cherries, an olive or three, cloves, freshly sawn lumber, a little brine, and lastly those dense, solid anise and licorice notes that basically danced with the oak and took over the show from there on forwards.
The copper coloured rum was surprisingly citrus-forward when tasted, a little sweet and quite dry on the first sip.  Also musky, with leather and smoke and wooden tannins, very assertive, lots of oomph – it really needed some water to bring it back down to earth.  With that added, the fruitiness came to the fore – tart green apples, cherries, pears, red guavas, raisins, plus of course the solid notes of licorice.  It really was a bit too much though – too sharp and too tannic, and here I truly felt that it could have been toned down a shade and provided a better result.  The finish, though – long, warm, dry, redolent of licorice, hot black unsweetened tea and lighter fruity nuances – was quite good, for all of the concussive nature of what went before.
Looking at The PM 1999 in conjunction with the other two, I'd suggest this was not one of my all-time favourite expressions from the still…the ever-present oakiness was something of a downer, and the lack of real depth, that aridity and bite, kind of derailed the experience, in spite of the redeeming fruitiness and intense heat that normally would earn my favour.  I can't entirely dismiss it as a lesser effort, or even a failure, because it isn't, not really – too much still went right (the intensity gave as much as it took away). It's just that if DDL wanted to own the Demeraras, they dropped the ball with this one.  Partly that's because the Port Mourant and Enmore profiles are so well known and endlessly revisited by all and sundry, so deficiencies are more clearly (and more quickly) noted and argued over; and the real stars shine right from the get-go, and are known.  But for me it's also partly because there's better out there and in fine, I guess I just have to wait until the next releases come my way, because for its price, this is not one of the better PMs in the rumiverse. I wish it were otherwise, but it just isn't.
(83/100)
---
Summing up the First Release of the Rare Collection
Overall, I think that DDL — in this First Release — captured the spirit of the Velier Demeraras quite well without entirely ascending to their quality.  Yet for all that qualification, against the indie competition they hold up well, and if they are batting against a behemoth, well, I call that teething pains.
Keep in mind that not all the Velier's were stratospheric scorers like the UF30E, the Skeldon 1973 or the PM 1972 and PM 1974: there were variations in quality and assessment even for this company.  But perhaps more than any other currently fashionable independent bottler, or the ones that preceded it, Velier placed full proof Demeraras squarely on the map by issuing as many as they did, with many of them being singular deep dives into tiny Guyanese marques nobody else ever bothered with, like Blairmont, LBI, Albion. Which is not a niche I see DDL wanting to explore yet, to our detriment.
What this situation created for DDL was a conceptual competitor for their own single barrel or full proof rum lines like the Rares, which perhaps nobody could have lived up to right off the bat. Yet I submit that Serge's glowing review of the VSG (90 points) and the FatRumPirate's satisfaction with the Enmore (5 stars out of 5), as well as my own reviews of the three, gave DDL all the street cred it needed as an inheritor of the Demerara full proof lines. Say what you will, they're good rums.  DDL has shown they can do it. Perhaps they're lacking only the global mindshare to sell better, perhaps a more stringent quality review…and maybe for the halcyon memories of the Demeraras Velier made before to fade a little in people's fond remembrances.
Reading around, it's instructive to see how popular the El Dorado series is, with what genuine anticipation the Rares were awaited, even when prematurely announced.  People might have been miffed at DDL's strategy and the relatively high prices, but they were willing to cut DDL a huge break…and for evidence of that, think about this: when was the last time you saw so many reviewers review all three of a new rums' issue, all within months of them coming out? Aside from the current Foursquare and Velier releases, that was well-nigh unprecedented.
And if, as has been bruited about, the second release is better than the first, then while we may no longer be living in a Golden Age of full proof Demeraras, well, perhaps we're living in a highly burnished Silver one which may with luck become aurus in its own good time. We can certainly hope that this will turn out to be the case.  In which case both DDL and the buying public will be well served.
---
Lastly, for some perspectives on the PM 1999 from the other writers out there: all the big guns have written about it by now so….