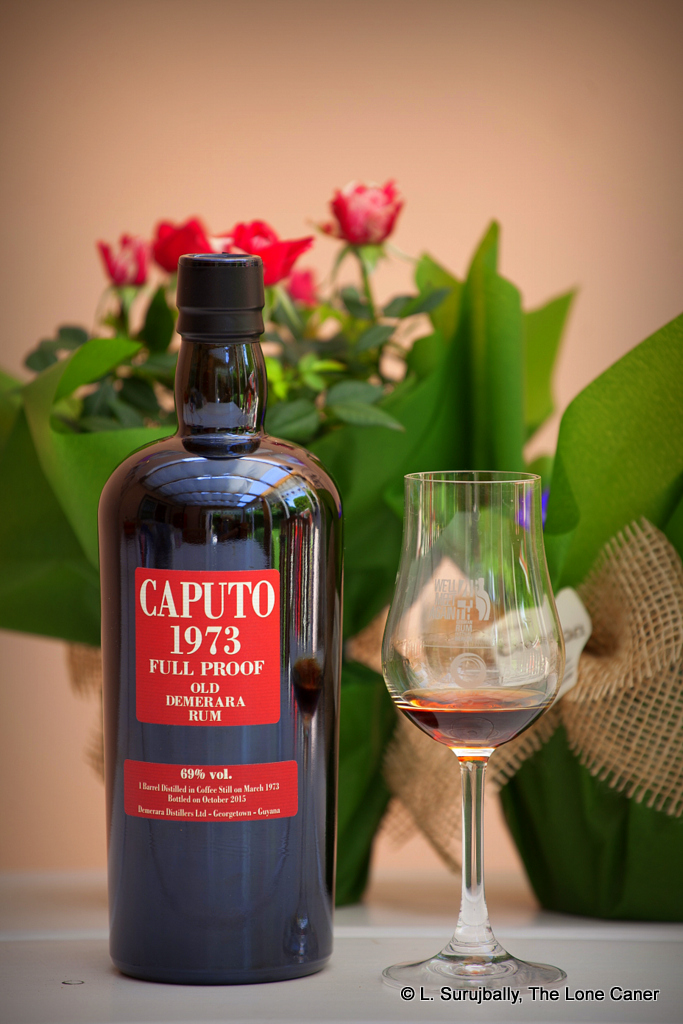 #352
After the near riot caused by the emergence of the Caputo 1973 last year, when (my distant relative) Ruminsky van Drunkenberg was mobbed in Berlin by the horde of reviewers demanding their samples (local police nearly had to declare a state of emergency), they lapsed into silence, and none of them published any review after the fact. It was only after sampling it myself that I understood the reason for their malfunction: they weren't being reticent, they weren't holding off out of some semblance of courtesy — they were recovering from the near catatonic shock of actually having tried it; and spending much of the subsequent months on bended knees in a sort of come-to-Jesus state of thankfulness at surviving. Henrik of RumCorner, after uncoiling his knotted intestines, literally had to take a sabbatical from rum reviewing, so traumatic was his encounter; my buddy the RumHowler poured his down the sink and local geologists thought a new oil sands block had been found; Sir Scrotimus was still weakly sneering that the Mount Gay XO was miles ahead of this thing as he was being wheeled into the local ER; Cyril snorted that his Port Fagnant 1972 was far better, threw his sample away, and delved hurriedly into some aged Appletons to cleanse his palate, Master Quill fled back to reviewing malt whiskies with almost indecent haste, and the Cocktail Wonk immediately booked himself on a recovery cruise (while pretending to be in Spain). Now I know why.
Parsing the above, it was clear that their opinions of the Caputo 1973 Old Demerara Rum were all negative. And after trying it myself, I can only agree: it is the vilest, nastiest, filthiest oak-infused liquid crap anyone had ever had the courage (or madness) to bottle. It makes the Kraken and the Don Papa appear to be brilliant models of premium-rum assembly in comparison. I thought Ruminsky was kidding when he related legends I took to be apocryphal – such as the barrels having Bata slippers, decomposing rats, half an old suit and a transistor radio as part of the blend – but now I honestly believe that not only was this the unvarnished truth, but he was actually understating the matter. No wonder Cadenhead and Lamb's and Gordon & MacPhail ("We need to give our rums some character – oh, this looks interesting…WTF???") never acknowledged any of this swill in their own blends.
Readers might think I'm kidding, no? "Oh yeah buddy, if that's the case how come you're still churning out overlong crap reviews week in and week out?" I can hear you say. Fair question. Maybe it's a matter of having an immune system armed with heavy weaponry developed by years of swimming in muddy rivers and trenches only marginally purer than this rum, in the backdams of three continents. Or the sheer raft of unspeakable hooch I sample and drink, the reviews for which never make it into print. That's toughened me up some, sure. Truly, however, nothing prepared me for the shudderingly awful mess that was this rum.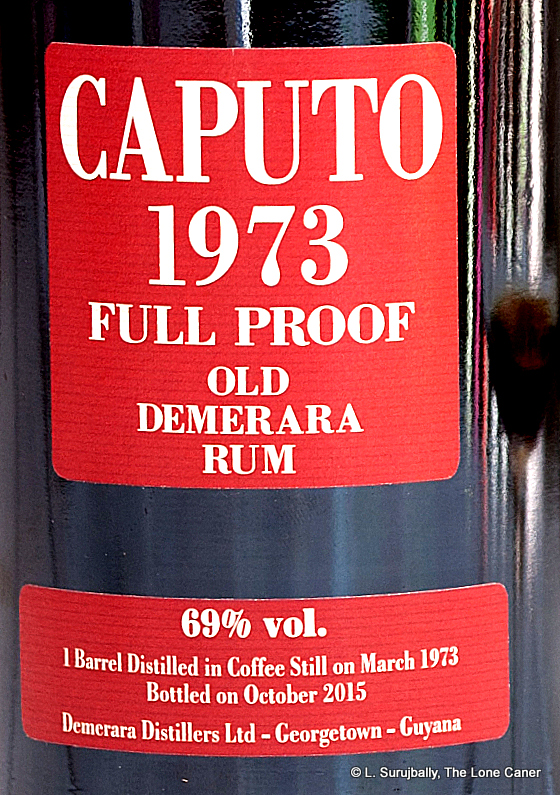 Inky and dark as the inside of a black cat in a coal mine at midnight, bottled at a massive 69%, the rum was made around 1973 and therefore had an age higher than my IQ. In a sense of utterly misguided optimism, I poured it into my glass and sniffed it without any precautions, lost all sense of time and woke up the following week in Bangkok. It landed on my defenseless nose like an oversized artillery shell, producing a hurricane-force gale of stink, all of it horrible beyond description. My first thought upon recovering my diminished mental capacity was that it smelled like vomit from a wet mutt that had just eaten rancid curry goat and rotten mangos thrown up by another wet mutt. I suppose I could tell you there was some vanilla and molasses, but I'd be lying, since all of it was overlaid with the feral stench of a stale chamberpot emptied into a dunder pit, with perhaps some pine-scented dishwashing liquid dripped in to make it palatable. And a ripe flatus.
Last eight years or so, it's been a point of pride for me to taste every rum that crosses my path so you don't have to, but after that nose, here's one time when that principle took a beating. Somehow I found the strength to keep going. Big mistake. Huge. It was molasses transmogrified into gunk, and looked like a gremlin — what's left of it – after being exposed to sunlight too long. It was thick, mean, strong, and tasted of medicine and mud with a sprinkling of molasses and spoiled gray oranges. I involuntarily farted and the apartment block had to be evacuated and the HAZMAT team called in (this interrupted my tasting for another week). Frankly, it's barely a rum at all, because it seemed to be doing triple duty as a massive ethanol (??) delivery system of unparalleled badness, as well as an all-purpose rust remover and emergency fuel for the Humvee parked outside, channeling the powerful and blunderingly pointless staggering of a stoned elephant. I would have made more notes, was just too busy trying to untangle my insides from my backbone, and therefore never got around to writing about the finish, sorry. At the end, once the sample was done, I removed tongue and glottis from my head and cleaned them in the kitchen sink with some Marienburg 90%, because nothing else on hand short of industrial-strength factory cleanser could remove that foul taste from either.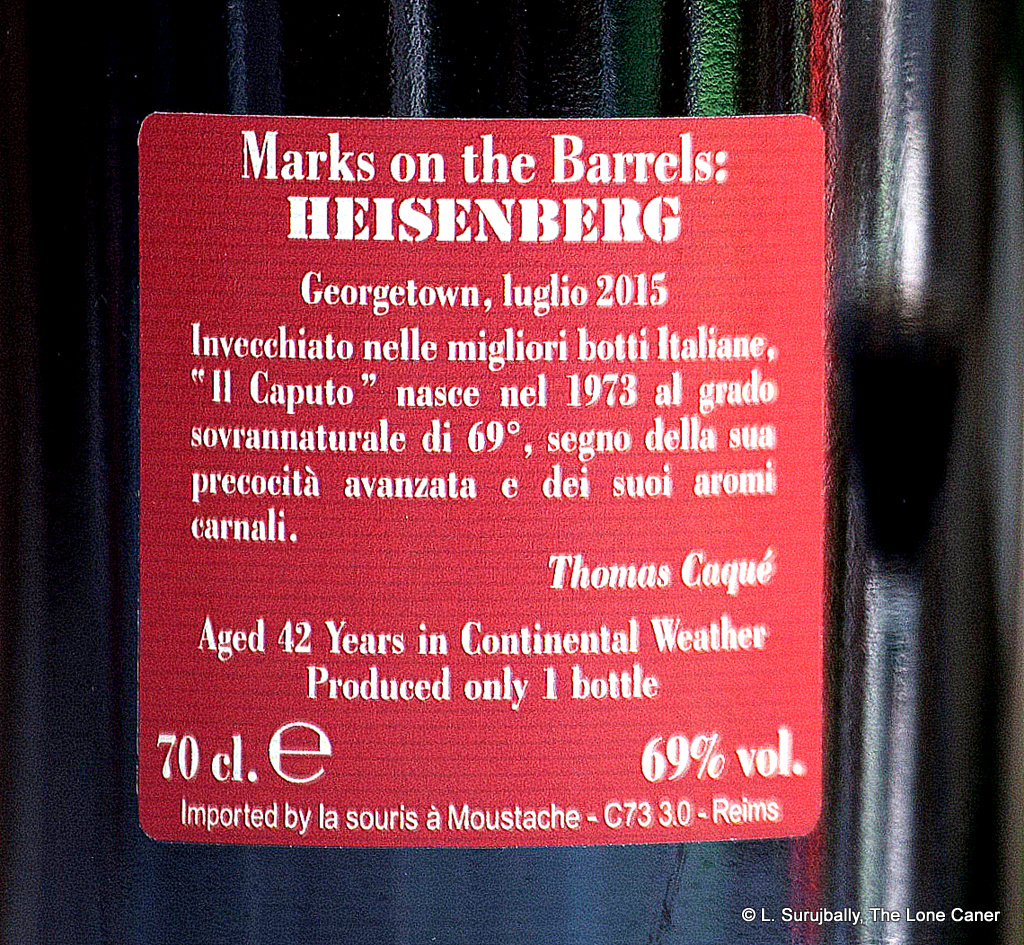 F**k – this is a ghastly rum. There are insufficient negatives even in my vocabulary to describe the black swill that nobody ever thought could ever be made. If you could find it you could not afford it, and if you could afford it, the seller would never tell you where it was, and if you could find it and afford it, you'd be begging the next guy in line to take it off your hands after the first sniff. Perhaps it was no accident that it came from a single barrel, long forgotten.
Oh yes, the background: for those unwilling to wade through a epic history of the distillery of origin, the Heisenberg estate is an abandoned Guyanese sugar plantation that went belly-up in the early 1970s and has long since returned to the jungle – it used to be located west of Enmore and east of Port Mourant, and owned by one Count Drinkel van Rumski zum Smirnoff hailing from what was once Prussia. The miniscule estate, founded in the 1800s, was so small that at best it produced a few tons of sugar cane a year, and remained so insignificant that all histories of Guyana routinely ignore it to this day — even Marco of Barrel Aged Mind missed it in his magisterial survey of all the country's plantations. An old tome my mother found many years ago called "Schomburck's Travels in Guiana" dismissed it contemptuously with one sentence: "The Heisenberg estate in Guiana provides no distillate worthy of the name – what they make is vile and tastes of horse manure and we do not deign to speak further of it."
One report about the Caputo source barrel said that once it was in DDL's warehouse being used as a table for cleaning rags, another say it was hidden in plain sight, disguised as a toilet Luca carved for himself and sat on whenever he went to Genoa, after it had made its way there. However, all sources agree that one of the Italian relatives of D.B.Cooper (the Italian corruption of the name became Caputo) purloined the massively aged cask, which, by the time it decanted, yielded just the one bottle. He in turn sold it (gratefully, I'm sure), to young Ruminsky, who pleaded with me to take it away. Please don't ask me why I bothered.
Looking back, then, this overlong review can be summarized (for all those who never tried any but wanted to), by simply saying it's bottom-of-the-barrel crap. Actually, it's so far beneath the barrel that maybe it's unfair to use the words "crap" and "barrel" in the same sentence since it has evidently gone under the barrel, hit rock bottom and started to dig. I'll never share it, and would dispose of the thing if I wasn't so afraid it might breed some kind of supercroc in the sewers where it belongs. But I'll tell you one use for it, and am willing to donate what's left to that purpose. You want to make some lowlife criminals or enemies of democracy talk, roll over on their compadres, spill their guts? Feed them a sample of this. Just a smidgen. Five minutes later, I guarantee you they'll be singing like sopranos at Carnegie Hall…which is pretty much what all us reviewers have been doing since last October.
(-50/100)