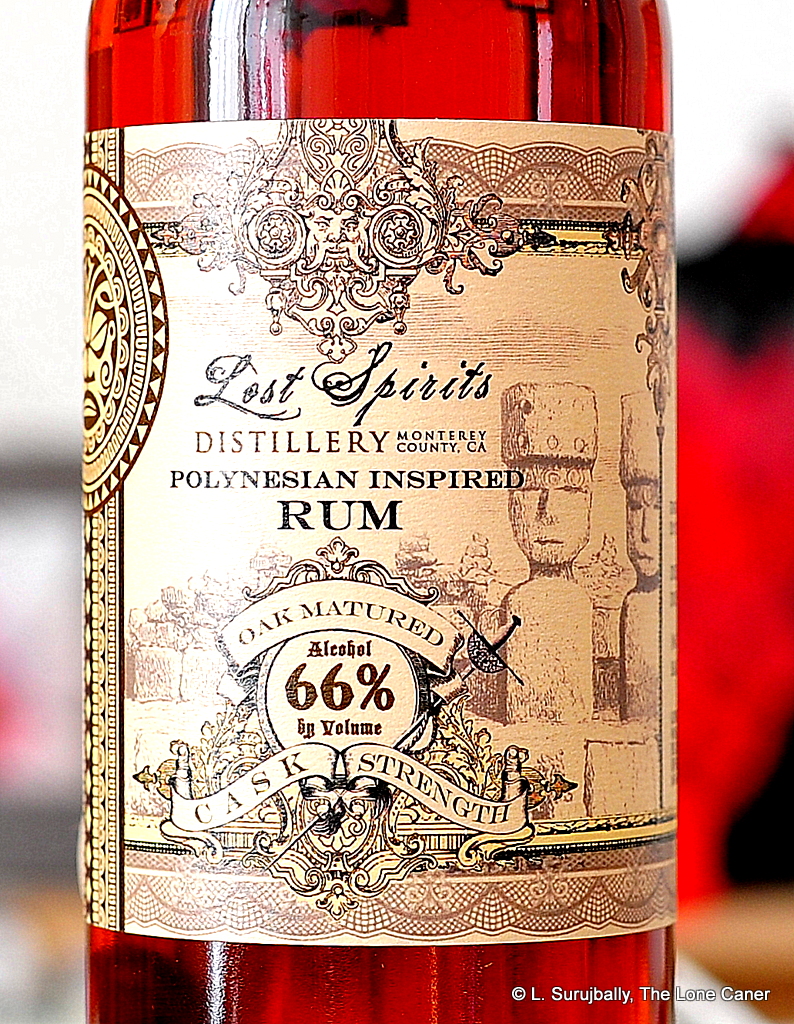 Nope, this one doesn't quite click either. Too many clashing tastes, none enhancing any other, and overall, too untamed. Still not entirely a bad product though.
Let's just wrap up the third on in the initial rums made by Lost Spirits, the Polynesian-inspired. For those who really are not into rums, have not been paying attention, or are wondering why this small company is gathering so much press, be it known that Bryan Davis out of California makes the claim that with his proprietary technology (a 'molecular reactor') he can not only emulate many years' ageing in just a few days, but any country or region's style. It's as if by processing the baking grade molasses and yeast that form the basis of their distillate, they can – one day – use that to produce a Velier-style Enmore, or a Foursquare Port Cask, a Havana Club or Longpond Jamaican….all within a week.
Such claims are unlikely to impress many, least of all the grand old distillers and master blenders and guys who have spent decades learning the craft of blending and ageing in the old way, and who disdain unverifiable self-proclaimed magical methods of artificial ageing (concepts which are almost as old as aged spirits themselves and are seen to be in good company with snake-oil sellers hawking their wares outside a travelling circus). Still, I'm fairly certain there's a sphincter or two that's puckering out there, since technological progression is geometrical, and while the first batch of Mr. Davis's rums didn't and don't come up to scratch or deliver on the promises that they were a Navy rum, or close to a Cuban, they weren't quite as poorly made as some have made out – they still beat many multi-column-still industrial mass-produced hooch that people buy so blindly, in such quantities, and there's potential in the process, if it can ever be made to work right, and consistently.
This rum is something like the Cuban-inspired in that it seeks to recreate the profile of the rums from another geographical region. I'm not sure of the point of this – it's not like the sample set from over there is large enough to have a decent baseline to begin with, and outside of Hawaii, how many Americans have ever even tasted a Polynesian rum? Background reading points out the fact that it is made to fit the profile of a high-ester pot still product, and indeed it is made on a copper pot still, though of course no age statement is as yet, or can be, applied to it. It's in all respects an unaged rum, which leads me to wonder if they didn't mess with it by adding anything, was it the reactor that created the colour?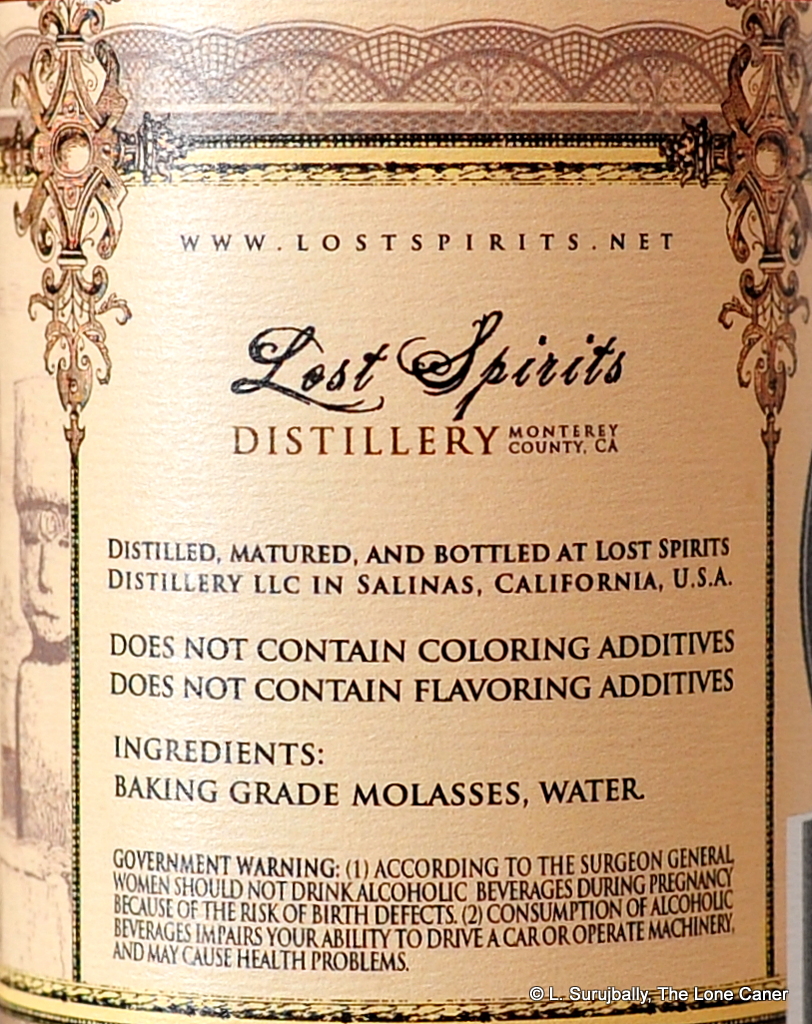 Anyway, the whole pot still origin at least conformed to the profile of the smells that hit me once I opened the 66%, dark amber rum. The action got going right away, with solid, sharp notes of wax and turpentine and acetone and shoe polish, here one second, gone the next, morphing swiftly into rotten apples, peaches left in the sun too long, and a lingering background of salty-sweet tequila oiliness that had no business being there. This is supposedly part of the process the reactor promotes, which produces a surfeit of long chained esters — these are the source of turpentine/paint thinner flavours in high concentrations, and fruity ones when dialled down, so as far as I'm concerned this one had the dial stuck too high, and I didn't care for it.
To taste it was a sharp sarissa of intense heat, just like any full proof rum. That part didn't disturb me, I just put it to one side to open up a bit and came back a few minutes later. Well now: this was like another rum entirely, remarkably different from what the nose had advertised – quite a bit more balance here, with the waxy turpentine kept way back; overripe peaches (no real citrus tartness evident), brine, black olives, that oily tequila sweet-salt note again, dates, figs and other non-sweet 'fruits'. The absence of more traditionally expected tastes was somewhat surprising, and it gave the rum a distinctiveness that may become its maker's identifying, defining signature, but the problem was that this uniqueness did not particularly translate into a quality rum that I cared for, where a central core of one flavour carried lighter and medium intensity elements of others that blended well together; the Polynesian cannot truly be termed 'traditional' by any stretch. Even the finish – long and dry, redolent of (get this) olive oil soaked bell peppers as well as more dates and soya – didn't really work well together. I like crazy for the most part, I enjoy originality and reaching for the brass ring, but there has to be a bedrock of underlying quality, of texture and taste and aromas that gels somehow: Mr. Davis is still working on that part.
So. Good things are strength and heft and an original taste. Bad things are those very same tastes and the way they do not come together to form a cohesive, enjoyable whole, plus a nose of too many uncontained, uncontrolled esters which allow the wrong ones to dominate. It's also more than a little jagged to try, and little real smoothness in the mouthfeel. It's a mixer for sure, for the moment, and that's how most will try it and drink it.
Matt Pietrek, commenting in the post on the Lost Spirits Cuban inspired rum, advised me that all three of the rums I've written about were from the initial reactor outputs, which have since been tweaked to various settings and routines in a specified order, which we can call Version 2.0. (my bottle with was bought back in early 2015, just when the process was gathering some steam). So there are new products – even whiskies, now — coming out from Lost Spirits, and the technology is beginning to spread to other companies who see either potential to bypass the Caribbean nations, or to make a fast buck, or really produce some cool rums of their own (or all at once). Based on these three rums, it'll still be many years before any of the old rum houses, or the European cognoscenti, need to worry that their favourite tipple will be replaced by technology that promises much, but so far, has not delivered.
(#286 / 81/100)
---
Other notes
Just because I don't (thus far) endorse or highly praise this line of rums, doesn't mean others don't. North Americans are quite positive in their assessments, while European writers remain silent for now (perhaps due to availability). So some references for your research, should you be curious: