A love note to the concept of kaizen
It's an old joke of mine that Nine Leaves' staff consists of a master blender, office assistant, purchasing agent, bottler, General Manager, brand ambassador and sales office, and still only has one employee. This was and remains Mr. Yoshiharu Takeuchi, who single-handedly runs his company in the Shiga Prefecture of Japan, and basically issues some very young rums (none are older than six months) on to the world market. The unaged whites in particular are getting all sorts of acclaim, and I have one to write about in the near future.
Back in December 2014 I wrote about the six-month-aged 2014 French Oak, which I thought intriguing and pleasant to drink, though still a bit raw and having some issues in the way the flavours blended together. Running into Mr. Takeuchi again a year later, I made it a point to try that year's production, the The American Oak "Spring 2015" and this "Autumn 2015" … and can happily report that Nine Leaves, in its slow, patient, incremental way, is getting better all the time (and as a probably unintended side-effect, has made me buy a few more Japanese rums from other companies just to see how they stack up).
Just a brief recap: the rum was distilled in a Forsythe copper pot still, double distilled, using sugar cane juice from cane grown in Okinawa, so the rum is an agricole in all but name. Mr. Takeuchi himself decides when and how to make the cuts so that the heart component is exactly what he wants it to be. The rums are then aged for six months in the noted barrels, which are all new, and lightly toasted, according to a note Mr. Takeuchi sent me..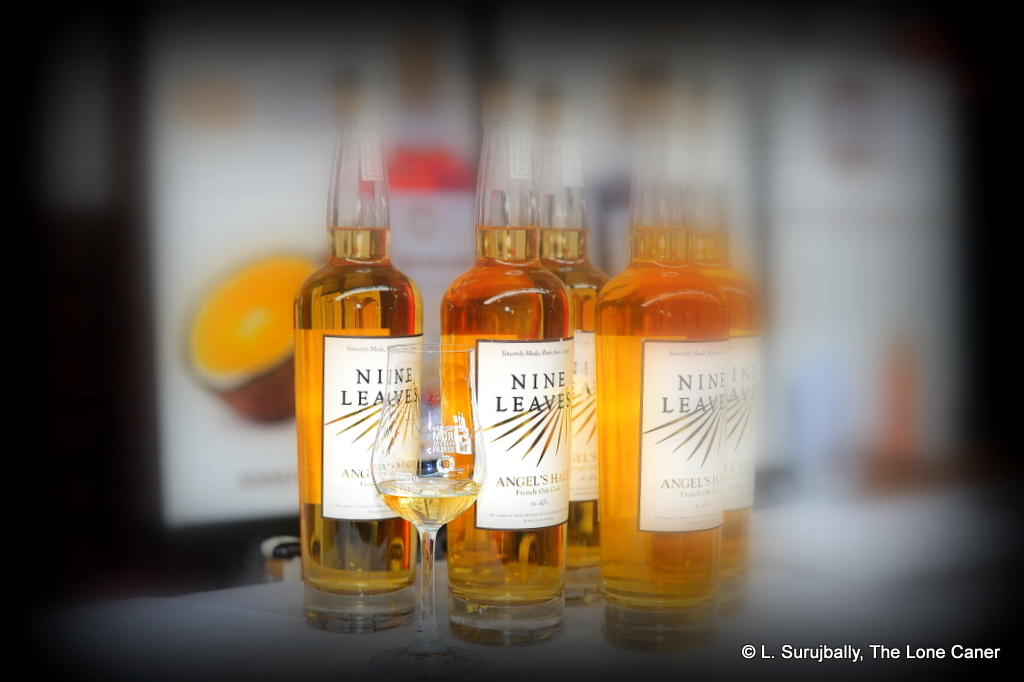 The French Oak "Autumn 2015" rum was a bit lighter in hue than the American Oak version I tried alongside it, and also a little easier on the nose…and smoother, even rounder to smell, in spite of its 48% strength. There was a subtly increased overall depth here that impressed – though admittedly you kinda have to try these side by side to see where I'm coming from. Aromas of fanta, orange, cinnamon, vanilla were clear and distinct, as clean and clear as freshly chiselled engravings, and after a while, sly herbal and grassy notes began to emerge…but so little that one could be forgiven for forgetting this was an agricole at all. This was something I have enjoyed about Nine Leaves's rums, that sense of simultaneous delicacy and heft, and the coy flirtation between molasses and agricole profiles, while tacking unobtrusively to the latter.
The profile on the palate continued on with that subtle dichotomy – it was slightly sweet and quite crisp, beginning with some wax and floor polish background, well controlled. Sugary, grassy tastes of cane juice, swank, vanilla, some oak, dill and incense led off, and while it displayed somewhat more sharpness and a little less body than the roundness of the nose had initially suggested, further softer notes of watermelon, cucumbers and pears helped make the experience a bearable one. As with the American, there was a chirpy sort of medium-long finish, as the rum exited with dry, bright, clean flavours of citrus, breakfast spices, some cinnamon and maybe a touch more of vanilla. It was clearly a young rum, a little rambunctious, a little playful, but overall, extremely well behaved. I sure can't tell you which agricole is exactly like it – Nine Leaves inhabits a space in the rum world uniquely its own, while never losing sight of its rummy antecedents. That's always been a part of its charm, and remains a core company competence.
Clearly Nine Leaves is slowly, patiently improving on its stable of offerings. I spent a few hours checking for news that the company intends to issue progressively more aged rums without result – it seems that the current idea is to continue with gradually improving the young rums that area their bread and butter (though I know that Yoshi has a few barrels of the good stuff squirrelled away in his warehouse someplace that he isn't telling us about, and will issue a two year old American oak rum as a limited edition at some point). I can't fault the concept, and if a new distiller can make rums this decent, and improve a little bit every year, you can just imagine what they'll be putting out the door within the decade. Until then, we could do a lot worse than try one of these lovely seasonal issues Nine Leaves makes.
Kampei!
(#274 / 84.5/100)
---
Other notes
Because of some obscure tax regulations in Japan regarding spirits three years old

,

Nine Leaves is unlikely to issue really aged rums for the foreseeable future

The French Oak cask rums are now no longer being produced

.