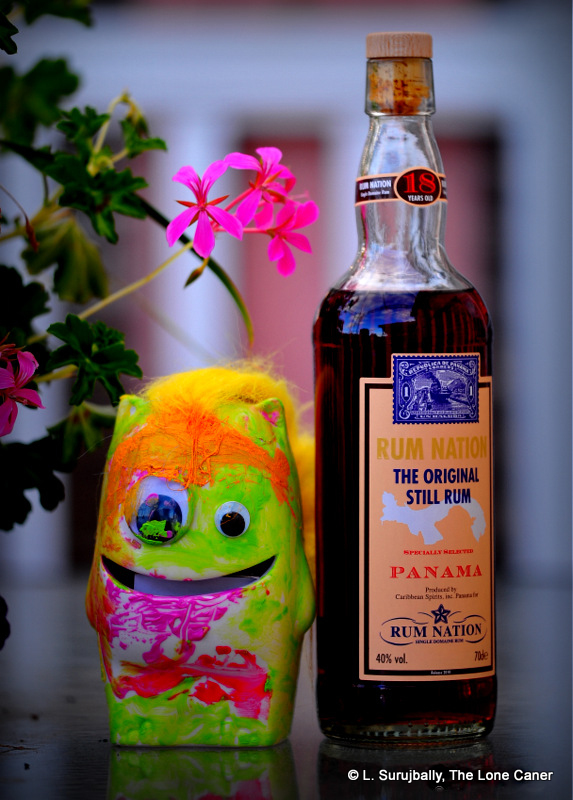 A more rambunctious, slightly less cultured younger brother of the same company's 21 year old rum – complex, hearty, smooth and a full-out tonsil-pleaser.
If the Rum Nation Panama 18 year old had been released on its own without further statement, as it first was in 2000 (I got the 2010 release), it would have been a success by any yardstick, and indeed I make no bones about this – it's damned good. It does not fail next to its older sibling…it's simply a shade different. And though the 21 year old is better (yes it is), this should not diminish the achievement of Rum Nation in making the 18 at all.
As if in counterpoint to the faux-silver-lined box of the 21, the 18 comes in a standard cardboard enclosure with a peephole, much like a three dimensional equivalent of the buff envelope containing your gas bill, though undoubtedly more pleasant to receive. The bottle was a straightforward barroom style one, with a plastic cork saying nothing in a particular. Presentation, therefore, was kept minimal, which, for an eighteen year old product, I found surprising – any other maker would have trotted out the dancing girls and razamatazz, but perhaps Fabio felt he had more and even better stuff in the pipeline, and so took even this excellent product and kept things stripped-down.
And that might make you believe it's the red haired bastard stepchild, perhaps lacking something (maybe legitimacy?). Nope, no such thing. Red gold in the glass, those faint sulphury notes that seem to be the defining characteristic of Rum Nation's products I've tried wafted up at me, slightly heated, and pungent, mixed in with mellow notes of soft sweet peaches and just a mischievously sharp hint of oaky zest to tweak your schnozz. A shade more, oh…assertive. What a nice nose you have granny.
The arrival of the medium bodied rum came with a tantaraa of trumpets: dark chocolate, tobacco, well-cured leather. It was more tart than the 21, a shade briny, with a soft hint of the ocean, and as dry as a Brit expat's sense of humour. An odd combination, and in no way offensive. Perhaps a better word would be distinctive. The oaky background of the pungent nose remained, and united with the aforementioned tastes that were tempered with honey and licorice notes. I loved this rum at first taste nearly a year ago, and still think it's quite the bees knees. Maybe it was because it was aged in ex-bourbon and ex-sherry casks – I've noticed that such multiple cask ageings tend to impart slightly more complex notes (not good in every case, but here, yes).
Finish was softly heated and gently assertive, like a father's hug, bringing in the last fumes of aromatic leather and dark chocolate. I believed then as I do now, that the 21's finish is better, but let no-one kid you about the 18 – it's very very good, and since it costs around a third less than that admirable product, you could do worse than splurge on it. Fortunately, neither is so expensive that you have to pawn your kidneys to get one.
Varela in Panama makes this rum for Rum Nation, and here I should make a couple of notes for those who are interested in such things: 1. something like six to eight thousand bottles are made annually, and there's a run for each year, noted on the bottle 2. Caramel is added at the beginning of the ageing process to the barrels, said caramel made fresh on site, from the same sugar cane as the rum itself and at the same time (does this qualify as an additive? seems a bit of a gray area) 3. All ageing is done in Panama; and 4. This was one of Rum Nation's first products (the company was formed in 1999 and the first issue of this rum was in 2000), and I think that on the basis of its innovation and quality, it helped establish the company as one to watch.
So here is a rum that in the opinion of this writer, will one day be seen as rightfully taking its place with El Dorado, Juan Santos, Mount Gay, Appleton and others. Rum Nation's Panama 18 is a sunshine rum that perpetrates a brilliant, splendid and useful shell game on us as drinkers: it is a not quite ultra-premium rum that's an absolute riot to drink. Mix it if you want to, but come on, why would you? When that kind of Aphrodite-like body beckons to you alone, well my friends, it might almost be a sin not to dance.
(#113. 83/100)