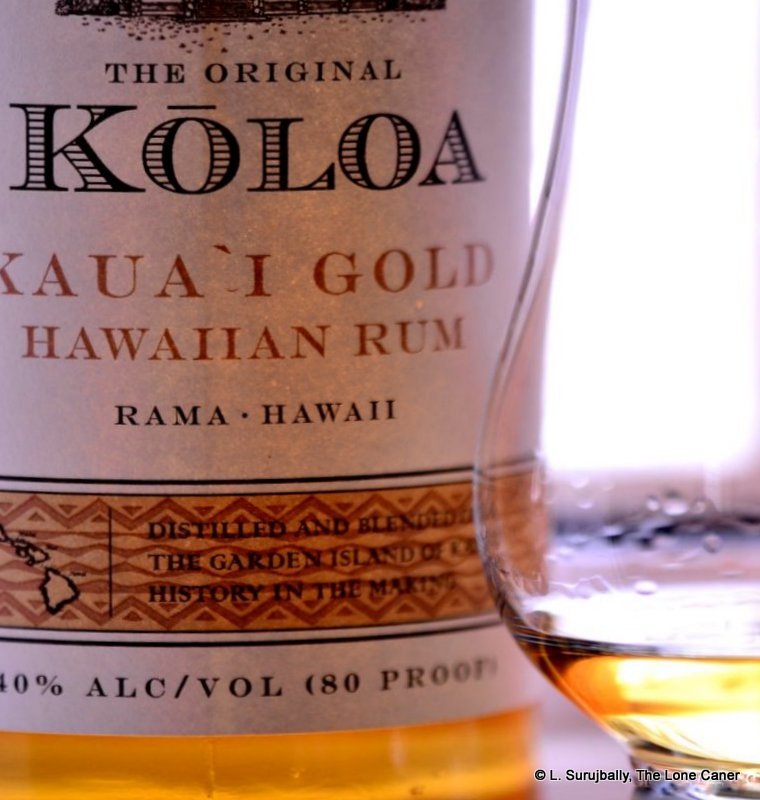 Impressive sipping-quality light rum from a region you'd almost expect to have many more darker variations. If your tastes run into the stronger and more distinct profiles, this may be a bit too subtle, being more more shy in its release than most. But it is well worth it.
First posted 29 January 2012 on Liquorature
---
Most of us drink rum originating from the West Indies that are aged in oak barrels, and so we make certain assumptions about our taste profiles: this is why, when we come across a rum from India (Old Port deluxe), Australia (Bundaberg), the Phillipines (Tanduay) or elsewhere, we can immediately sense, without putting it in so many words, that there's something different about it. There's a subtlety of otherness in the mouthfeel, the aroma, the taste (especially the Bundie, but never mind) which immediately perks up our beaks. My own theory is that this relates to the different climates and soils in which the source sugar cane is grown or maybe even different barrels. Who knows?
The rums of a relative newcomer to the rum world stage, Kōloa, seem to possess some of this characteristic. Made on the Hawaiian island of Kaua'i by the Kōloa Rum Company, they utilise crystallized sugar derived from cane grown in the west of the island in the shadow of Kauai's Mt. Wai`ale`ale, in what may be the wettest place on earth (for the rumgeeks among us, the yeast strain used in fermentation supposedly hails from Guadeloupe). The distillation itself takes place in a 1210-gallon, 1947-made copper still (much better for imparting subtle tastes to the end product than a modern stainless steel variation) which was trained, trucked and shipped all the way from Pennsylvania – it is composed of a pot still combined with a seven-plate column still and condenser, and the company makes small batch, twice distilled rums using it.
All these elements come together in a very impressive product which, while not being quite as crazy as the Ozzy-inspired bat-shredding Bundaberg, is easily discernible from the regular Caribbean or Central American products I see more regularly.
Bought on a whim (I buy a lot on whims, largely because Calgary being what it is, if I don't get it now, I may not get it tomorrow), I was more than pleased with the result. The rum itself was pale gold – nearly straw-coloured – with a light-medium body, and initially I almost confused it with an agricole (trust me – an agricole this was definitely not). The bottle was topped by a plastic screw-top, was fully transparent, and the label was plain white and relatively simple, though not minimalist.
The scent immediately hinted at a rum determinedly taking its own course in life: soft, a shade delicate, subtle. I swear that at the beginning I had zero clue what the thing actually was, there was so little normal nose on the liquid. Gradually, on opening up, certain elements began to make their prescence felt: white flowers, cherries, a vague herbal and grassy background mixed up with creamy caramel. But very little darkness from molasses, oddly enough.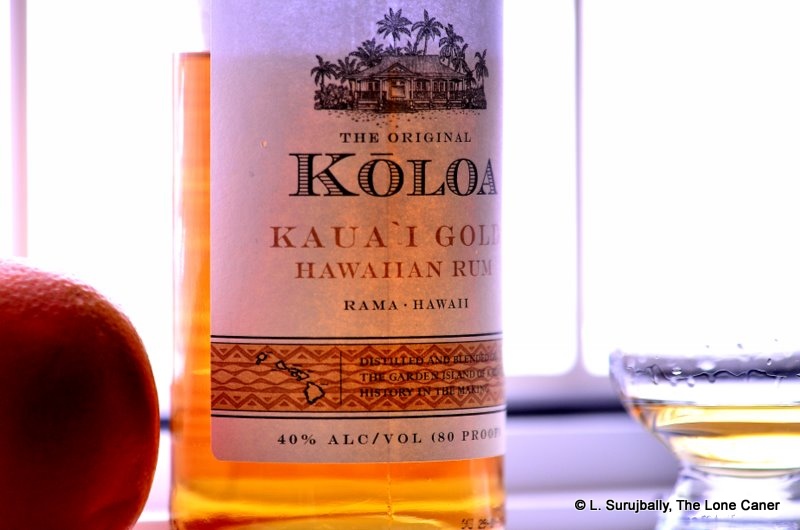 It's the palate that made this rum an excellent buy. There was some spice to it, and a bit of medicinal background; thankfully these were minor detours from an overall extraordinary arrival: a creamy soft butteriness on the tongue, merging into vanilla, nuts, honey and delicate caramel, chocolate and perhaps bananas. The thing seemed to have no real "rum taste" to it at all, by which I mean the usual burnt sugar / caramel / molasses combo – and it worked wonderfully. Smooth and easy and different. Wow. I liked this taste so much I didn't even bother to try mixing it, just took one glass, another, then asked myself why the bottle was half empty. The fade was, admittedly, somewhat more anticlimatic – it was medium long, with an exit of faint citrus and fleshy pineapple notes, some honey and rained-on new-mown hay drying in the sun. Gentle and easy all round. Not excellent, but pretty damned good.
What makes Kōloa Hawaiian rum so intriguing is that the rum I describe above was not aged at all. This meant that the flavour profile had no elements deriving from oak barrels (maybe that was why I got no "rum taste"?), and relied wholly and solely on its own ingredients, its own strengths and the skills of Kōloa's blenders. That skill must be quite something given what I tasted.
Kōloa is one of those distilleries about which I have more information than I know what to do with – the opposite is usually true. Let me wrap it up this way: given the Hawaiian islands' long involvement with sugar and the sea, it's no surprise that rum has been part of the maritime culture for a very long time. What is surprising is that this brand of rums is the first legally distilled popskull ever made on Kaua'i. The company was incorporated in 2001 and it took years for them to jump through all required bureaucratic hoops to get up and running in 2009. In their very first year of operations they won a Gold Medal at the 2010 Rum Renaissance in Miami for their Dark Rum (and again in 2011), and then another medal for this one in the 2010 Polished Palate Rum Festival awards. The word started filtering out that there was a new distillery to watch for, out of Hawaii. On the basis of this one, I'd say that word is entirely justified.
(#091. 82/100)
---
Other Notes
Although I did not ask it at the time

,

it seems reasonable to assume that if the rum is unaged

,

then the colour derives from a caramel E105 additive

,

as rum is colourless as it comes off the still

.