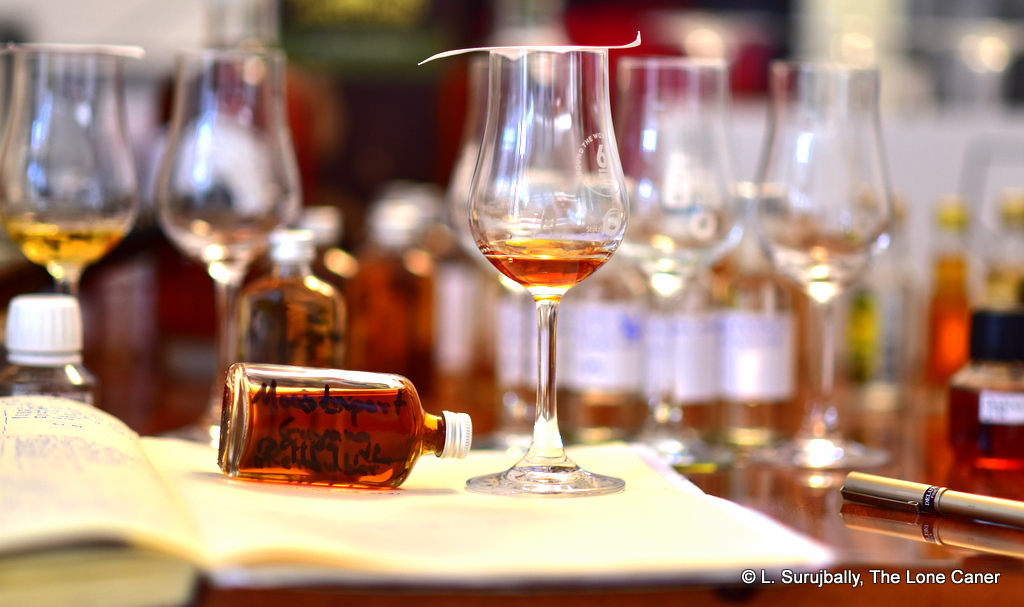 When I looked at Moon Import's middling Jamaica rum there was no background information as to which one of the several Jamaican distilleries made it – but here, since Guyana only has the one, we can move on and start complaining about a separate issue unique to the country, namely, which still does it come from? One can only sigh and acknowledge that a reviewer's job is never done.
The "Remember" series was begun in 2015 by Moon Imports, an Italian independent bottler formed in 1980 by the Genoese Pepi Mongiardino, a sometime disciple of that grand old man, Sylvano Samaroli, whose business he took over in 2008 when Mr. Samaroli found no-one in his own family to continue the enterprise.  The two brands continue to be clearly separated, oddly enough. Like several other Italian distributors, Mongiardino began with whiskies and occasionally branched out into other spirits – cognac, gin, wine, and of course, rums.  Nothing I've read suggests that rum is a major thing with Moon — and while they have been releasing rums since 1990 in various ranges, most of them from Guyana, they tend to be rather hit and miss. The 1974-2004 30 YO Demerara Sherrywood rum was amazingly fine, for example, but a 23 YO Versailles released a year later was nowhere near that good and thus far I've been unimpressed by the "Remember" series, older or newer.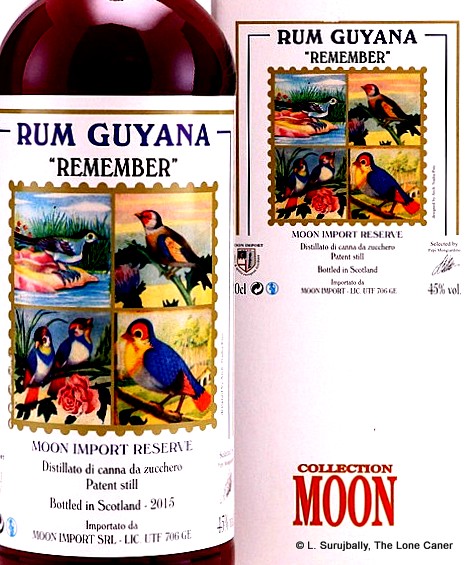 In 2015, when this rum was bottled as one of the four inaugural "Remember" rums, Moon imports had still had not caught the wave of popular fan enthusiasm (as attended Velier, say, or Samaroli). Smelling this column ("patent") still Demerara rum illustrated some of the issues: it was too weak, and altogether too unremarkable – dusty and fruity, dark prunes, blackberries and pomegranates, plus overripe strawberries, watery pears and a few slightly pungent off notes, about which the best that could be said was at least you remembered them. There was a faint lushness to the aromas, just gone too quickly to develop properly and make a serious impression.
The palate started well, it must be conceded. 45% was and is not that strong or rambunctious, just firm, and the rum presented smoothly enough, dry, with tobacco, wet hay and sherry notes. With a touch of water (added more out of curiosity than necessity) some dates, caramel and ginger were noticeable, and a bit of well-oiled leather, anise and brown sugar. Then, it just kind of faded away into a completely indeterminate weak finish that reminded me of a porto infused cigarillo, and vanished like a dream in the sunlight of morning.
The rum was curiously indeterminate and lacked that sense of purpose and clarity that would make it stand out in a crowd, make a drinker sit up and take serious notice, perhaps pour another glass to check. That it was a rum was the best that could be said. There was fair bit of something there, just nothing much of anything, and that was surprising, because as a general rule, independent bottlers of any stripe tend to be rather good at such releases. But here I could barely be bothered to remember a rum so perfectly serviceable which was at the same time so utterly forgettable. Which makes the title kind of unfortunate.
(#833)(80/100)
---
Other Notes
Thanks and a hat tip to Sascha Junkert for both of the Moon Import "Remember" samples.

Though not stated, I think the rum comes from the French Savalle still – a "patent" still (as noted on the label) is continuous, but the Enmore wooden coffey still seems a stretch for what I tasted

Age is unknown…I'd suggest it's ten years or so.