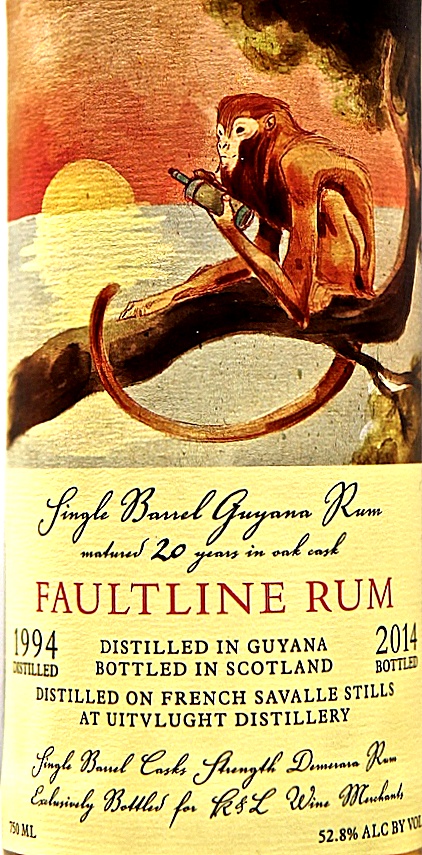 When we think of independent bottlers, all the usual suspects out of Europe usually come to mind — Velier, Rum Nation, L'Esprit, the Compagnie, the whisky boys up north who indulge themselves in the odd single cask expression from time to time, SMWS, Bristol Spirits, and the list goes on.
These well-known names obscure the fact that smaller operations — stores and even individuals — can and do in fact issue single barrel offerings as well.  For example, Kensington Wine Market in Calgary does it with whiskies quite often; a bunch of redditors recently got together and bought a cask of a 2005 Foursquare rum; and in the case of the rum under review today, K&L Wines out of California bought a single cask of Uitvlugt Savalle-still juice from an independent warehouse in Scotland, and issued it in the States.
It excites equal parts curiosity and admiration, and not just because of the retro-cool label – although that's quite attractive. I mean, it's not as if the US is known for independent bottlings – they're much more into going the whole hog and creating entire new distilleries (however small). The rum is twenty years old (1994-2014), a robust 52.8% and for once seems not to have been sourced from Scheer.  The name "Faultline" is what K&L uses for its own bottlings, and I gather that The Two Davids of K&L happened to be in Scotland in early 2014 and found two Demeraras (Enmore, Uitvlugt) and a Jamaican Hampden mouldering away, and manned up and bought the lot to issue as was – not a trivial exercise for them, since (as they put it), these casks were "much more expensive than single malt whiskies despite the fact that they're half as desirable."
Half as desirable?  Oh please. To American audiences maybe, but I submit that were they to try this thing and go further afield in their polling, the scales would be rather more evenly adjusted.  The nose of an Uitvlugt rum, deriving as it does from a Savalle column still, is a great counterpoint to the woodsy Enmore and PM and Versailles rums (the UF30E remains one of the best Guyanese rums ever made, in my own estimation) — here it delivered quite well. It began with a nose of old leather shoes, well polished and long broken in. It provided smoke, a faint rubber background, and after opening up, the light florals of a fabric softener and freshly sun-dried laundry.  There were more traditional aromas of caramel, vanilla, molasses, cumin, tea leaves and aromatic tobacco, with rich deep fruits (peaches, apples, apricots) dancing around these smells, but never overwhelming them.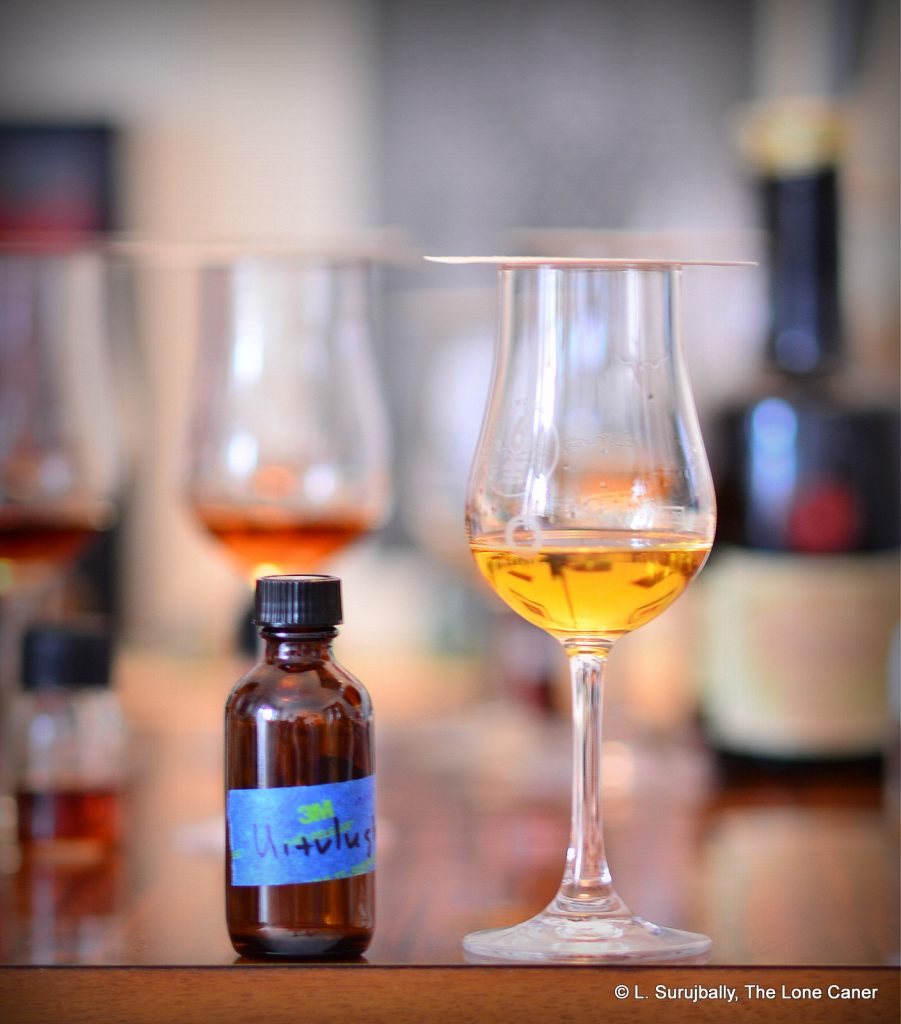 The palate was also very approachable and tasty. Soft and warm, tasting of brine and red Moroccan olives (they're slightly sweeter than the green ones); leather and wooden floors, old and well worn and well polished, so to speak. Fruitiness is again generally light – green grapes, peaches, some lemon zest, raisins – resting well on a bed of salty caramel, butter and cinnamon.  Overall, not too concentrated or overwhelming, and the strength is just about perfect for what it does. It teases and doles out delicate, clear notes in a sort of delicate assembly that invites further sipping, and the finish goes in yet other directions: dry and somewhat tannic, hinting at strong black unsweetened tea, oakiness, some raisins and stewed apples, toffee, toblerone and coffee grounds. Plus a last whiff of those fruity hints to round things out.
There's not really a true periodic stable of such rum releases by K&L who are more into an "as and when" approach, and therefore such bottlings are, I submit, more like personalized number plates lending street cred to the issuer…something like vanity rums. Fun to get, fun to drink, interesting to have, great to taste, cool to point to — but not really meant to build a brand or a rum-issuing company: K&L is after all a liquor emporium, not an outfit specializing in indie bottlings. So a rum like this serves to draw attention to the store that sells them, providing a sort of exclusive cachet that you can only get if you shop there.  Well, that's fair, I don't rain on capitalism – but it does make that kind of release something of a one-off. It doesn't support a wider array of brands or draw attention to other rums released by the same company, since there aren't that many to be going on with.
That doesn't invalidate the Uitvlugt 1994 though.  It's lovely. It exists, smells the way it smells, tastes as it does, and is a real nice piece of work. I think what it points to is something often ignored by the larger American rum tippling public and the press —  that they have the same potential to issue good single-barrel, limited-edition, cask-strength rums as anyone else…and come up with something pretty nifty at the back-end when they try. This rum, limited as it is and even with its price tag, is really quite good…and single barrel or not, I'm sure the Davids weren't disappointed with what they got.  I know that I wasn't.
(#579)(85/100)
---
Big thank you to Quazi4Moto for the sample. It's taken a while, but I got to it at last.