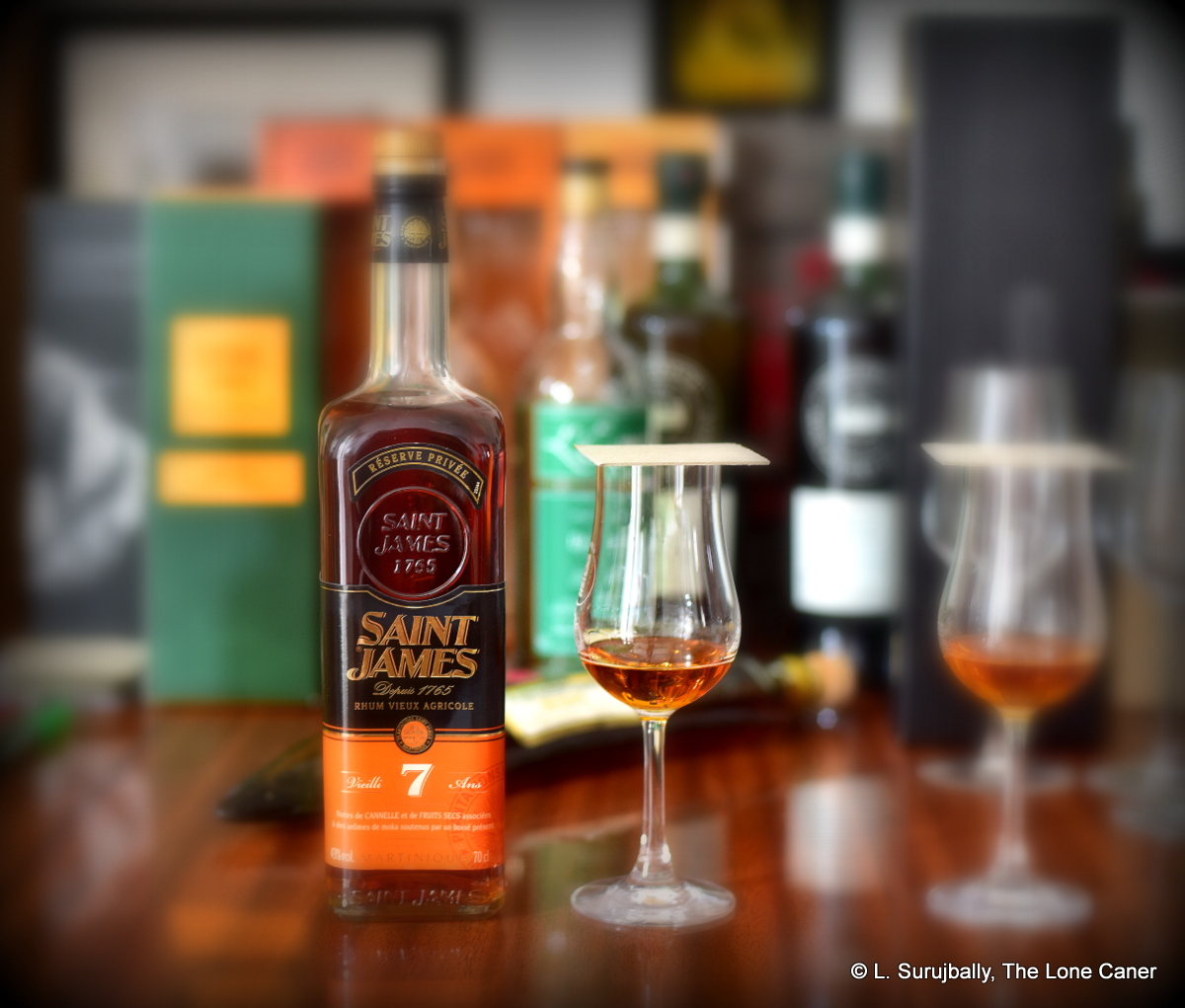 Recently we've looked at rums from Jamaica, Guyana, the Dominican Republic, Japan, India, Australia, Guadeloupe, Haiti and Mauritius (and that's just since the year began) which goes a far way to showcasing the incredible variety of the spirit.  Today we'll try something from Martinique – and when one considers the fame of Saint James, home of the near legendary 1885 Rhum (one of oldest rhums I've ever tried) and from which I've tasted several old editions from the past, well, it's a wonder I haven't come here more often to try their current offerings.
At this time, the Saint James lineup consists of five blanc rhums (Imperial, Royal, the 55º, Fleur de Canne and the really quite amazing pot-still Coeur de Chauffe), two basic mixers (Rhum Paille Agricole, Rhum Ambré Agricole), nine more "tasting rhums" which are the aged variants of the 3, Vieux, XO, 7, 12, 15, Cuvee 1765, Cuvee d'excellence and Brut de Fut 2003…and lastly, five "exceptional rhums" (their phrase, not mine), which are special editions, millesimes and so on. 
Today I won't aim for the stratosphere with some ultra-expensive halo rum from the top end which none but the 1% can afford, but just speak to the mid-range 7 Year Old. All the usual stats apply for a Saint James rhum – AOC certified, cane juice origin, creole still, 43% strength, and nicely tropically-aged in small ex-bourbon casks.  
What's interesting about Saint James is not only the distinctiveness of their rhum here, but its divergence from what is almost seen as the sine-qua-non of rhum agricole – the grassy, herbal lightness of a cane juice distillate. Nowhere in the initial nose do I detect herbs and green grass and that light crispness – instead, what I smell is  luscious, sweet, and spicy, almost but not quite heavy with fruits. There's preaches in syrup, pineapple, light anise, unsweetened yoghurt, coffee grounds, honey and vanilla, and later, also some cinnamon. I think you have to admit, for a 7 year old to have all that is really quite remarkable.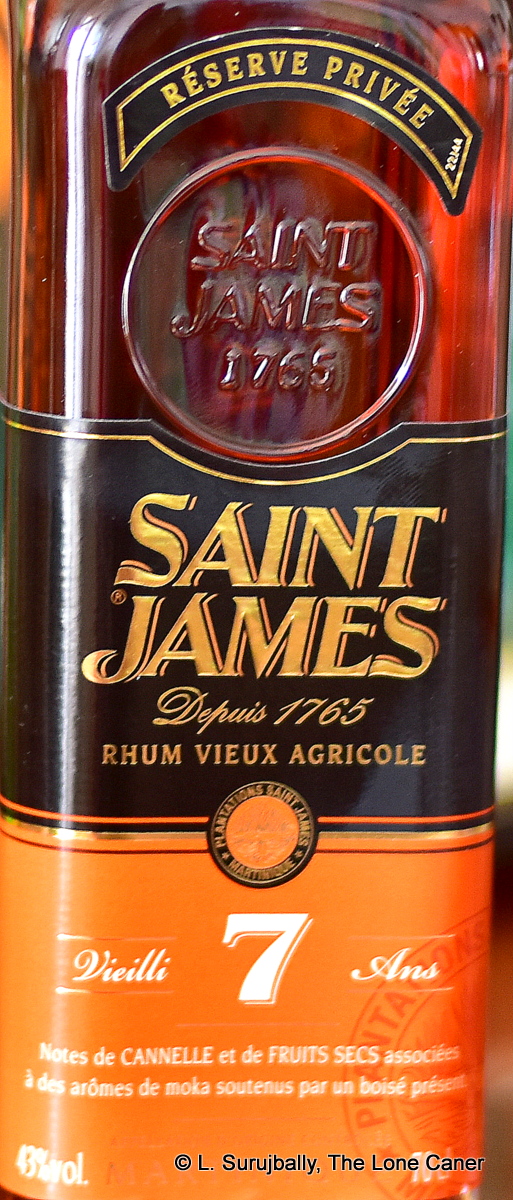 Ah but when sipped, all that changes, and the clodhoppers go away and it dons a pair of ballet slippers.  It's stunningly fragrant, not quite delicate – that ballerina does have an extra pound or two – very firm and robust in flavour profile.  Just on the first sip you can taste flowers, pears, papaya, honey, vanilla, raisins, grapes, all pulled together with a delectable light and salty note. There are nice citrus hints, a tease from the oak, ginger and cinnamon, and overall, it sips as nicely as it mixes.  The finish is well handled, though content to play it safe – things are beginning to quieten down here, and it fades quietly without stomping on you – and certainly nothing new or original comes into being; the rhum is content to follow where the nose and palate led – fruits, pineapple, spices, ginger, vanilla – without breaking any new ground.
So all in all, a really vibrant piece of tropically aged work, deserving many of its plaudits. I've noticed on many a social media post that people throw around the words "gateway rum" and apply it consistently to the oversweetened bestsellers like the Zacapas or some of the traditional Demeraras from DDL.  Here's one rum where the term really does apply, and what makes it so apropos is that there's no messing around with the 7 YO Vieux, no enticement or blandishment with additives or fancy maturation or finishing (or those tiresome old made-up backstories).  It's simply a very good mid range rhum, drinkable, mixable, flexible, and its great quality might just be that it makes you want to go up the ladder to the older rums immediately, just to see what magic Mark Sassier has done with those. Now that's a gateway that means business, and completely earns the title.
(#704)(83/100)
---
Other notes
The Fat Rum Pirate noted the odd lack of agricole-ness on the nose as well, in his

2018 4.5 star review

.

It's completely irrelevant, but Luca Gargano started his rum career working for Saint James as a brand ambassador in the 1970s, before buying Velier.