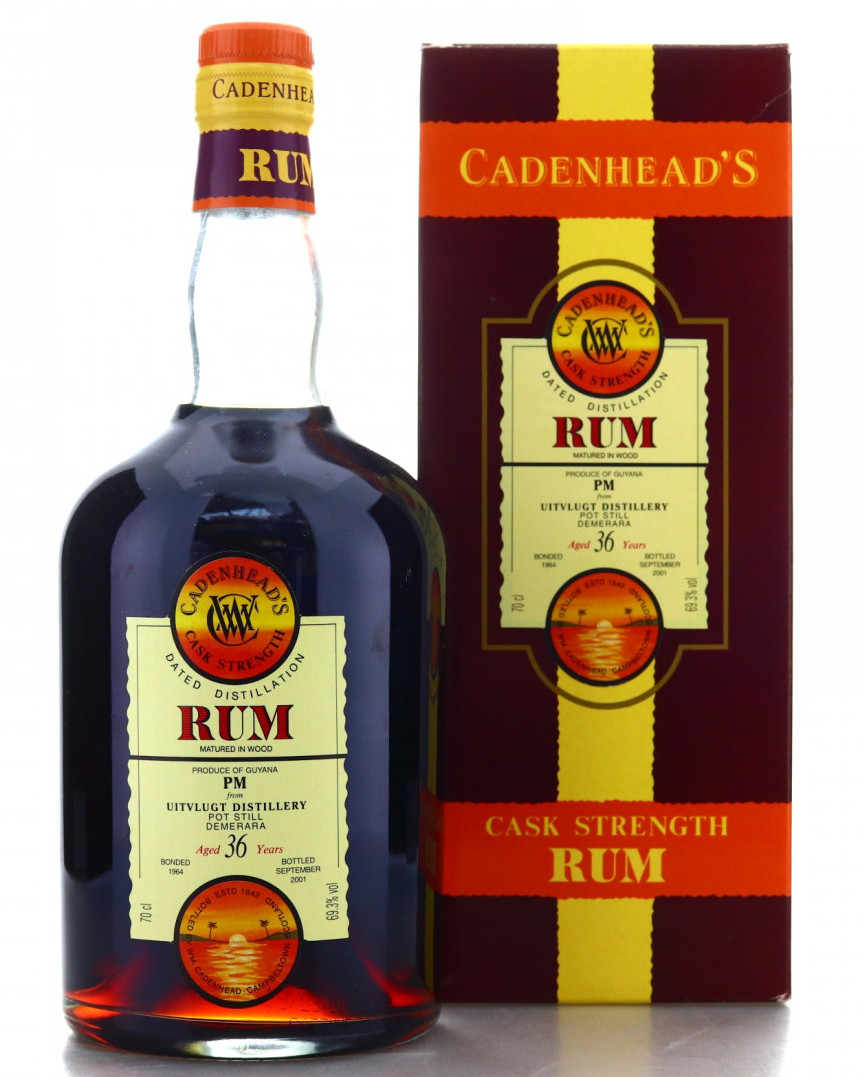 The Cadenhead 1964 Port Mourant is one of the great unicorns of our time, a rum whose 36 years of ageing sail majestically across the senses, impervious and indifferent to the up-and-coming claimants for the crown of "oldest" and "strongest' and "bestest" and "mostest".  Not since the Age of Velier have we seen anything like this and in some ways it supersedes even those behemoths we had all ignored back in the day, because they were "too expensive."
And expensive this is: in June 2020 a variant bottle of this thing (bottled in 2000, 70% ABV) was bid up past all reason on Rum Auctioneer until it went under the hammer for a cool £3,000, which makes it pricier than rums from the 1930s and 1940s sporting amazing pedigrees of their own (though still less than a Velier Skeldon 1978). There's another one now available in the August 2020 auction (the one I'm writing about here, bottled in 2001). Such prices dissuade all but the most foolhardy, the deep-pocketed or those who "clan-up" — and rightfully so, for surely no rum is worth that kind of coin, and who in this day and age has it anyway? 
And those stats, whew! 36 years old, pre-independence 1964 distillation (this, when finding anything from as recently the 1980s is already a problem fraught with the potential susurration of rapidly emptying wallets), Port Mourant distillate at a time when it was still at Uitvlugt, 69.3% of turbo-charged thrust – these things suggest an extraordinary rum, which usually fills me with dread as a reviewer: for, how could any rum live up to that kind of hype? Yet somehow, against my fears,  Cadenhead has indeed released something exceptional.  
Consider the nose: I loved it. It smelled like it was reared in an ultramodern Swiss lab and fed a diet of woodchips from DDLs stills and given only liquid molasses runoff to drink to dilute the raw caramel. It was a smoothly powerful rush of wood, well-polished old leather, smoke, licorice peas, stewed apples, prunes, and oak tannins. No rubber, no acetone, no paint stripper, just controlled thick ferocity. Some salted caramel, and molasses, flowers and as I stayed with it the subtler aromas of fennel, rosemary, masala and cumin and a twist of lemon zest all emerged. 
Clearly unsatisfied with just that, it toughened up something serious when tasted.  It showcased less a sense of shuddering sharpness aiming only to inflict careless pain, than the surefooted solidity of a Mack truck piloted high high speed by a really good stuntman.  It's creamy, hot, redolent of caramel, sweet bon bons and molasses.  Anise.  Whipped cream in a fruit salad of raisins, prunes and caramelized apples.  Just a flirt of salt, and also some pine-sol mixing it up with soft flowers, coffee grounds and macadamia chocolate cookies. None of the ageing was wasted, and it did exactly what it meant to, no more, no less, with grace and power and the sense of complete control at all times. Even the finish demonstrated this: it was enormously long lasting, coming together at the last with a sort of burly, brutal rhythm of toffee, toblerone, almonds, coffee and citrus that shouldn't work, but somehow manages to salvage real elegance from all that rough stuff and full, firm tastes.  It's a great conclusion to a seriously well aged rum.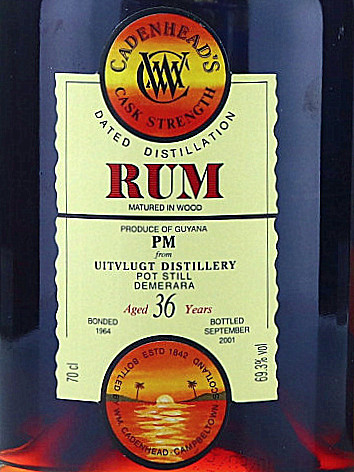 The Cadenhead Uitvlugt 1964 followed all the traditional ways an indie has of producing a rum, except then it proceeded to dial it up to 11, added steroids, horse tranqs and industrial strength factory cleanser, and released it to just about zero acclaim (I mean, have you ever herd of it?).  It's excellence lay in how it came together over time, I think – it started at a low idle, then gained force as it moved along. The early tasting notes and impressions could come from any one of a dozen rums, but as it developed we see a great original product coming into focus, something we have perhaps tried before, and which remains buried in the recesses of our tasting memories, but which we rarely recall being done this well.
So, circling back to the original point, is it worth the money?  If you have it, yes, of course.  If you don't, maybe you can dream, as I did, of scoring a sample. "To me this is the Holy Grail" remarked Gregers Nielsen when we were discussing the bottle, and now, having tried it, I can completely understand his unrequited love (or should that be lust?) for it.  Maybe, if I could, I'd pawn the family silver to get it as well — but in the meantime, for now, I was simply happy to have received the generosity of Alex Van Der Veer, and toasted him happily as I drank this really quite superlative piece of rum history.
(#750)(91/100)
---
Other notes
It goes without saying this is continentally aged,  The outturn is unknown.