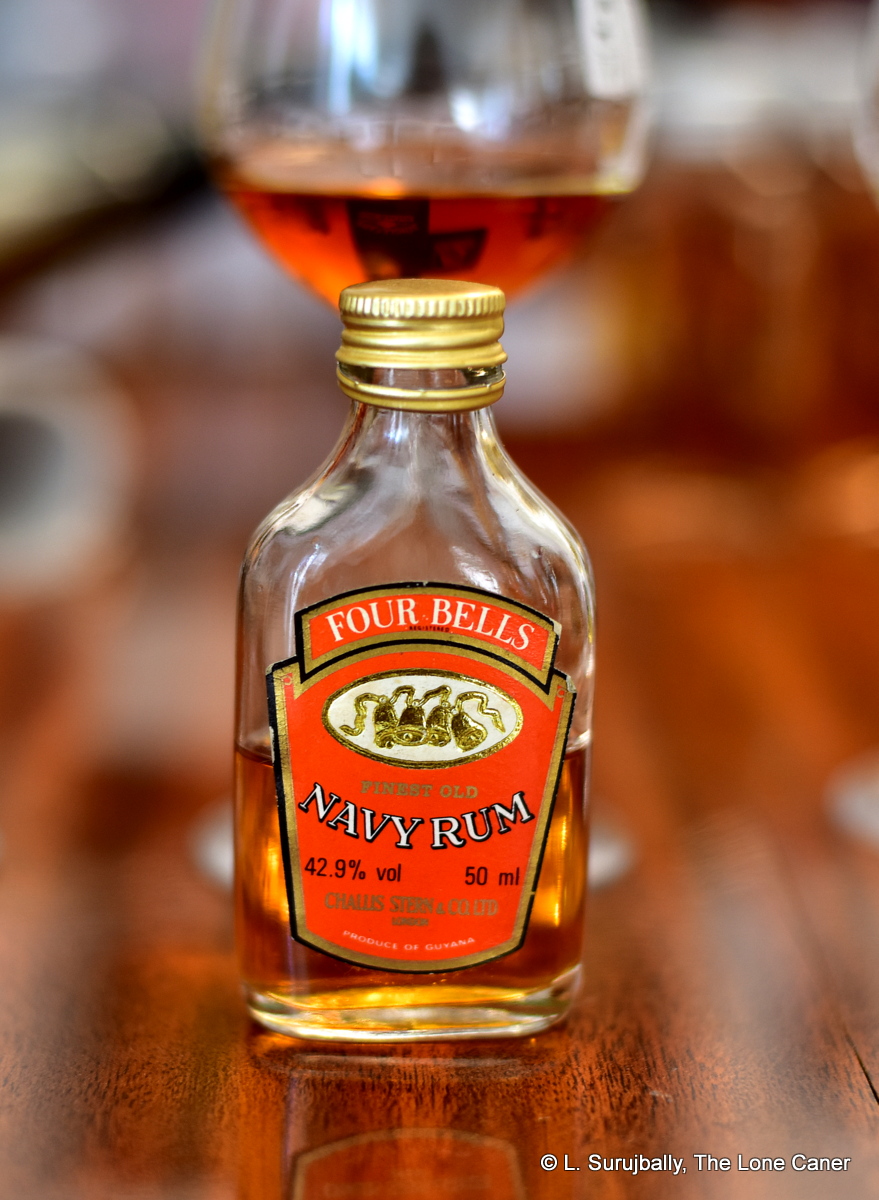 Rumaniacs Review #109 | 0696
It may be called a Navy rum but the label is quite clear that it's a "Product of Guyana" so perhaps what they were doing is channelling the Pussers rums from forty years later, which also and similarly restricted themselves to one component of the navy rum recipe. The British maritime moniker has always been a rather plastic concept – as an example, I recall reading that they also sourced rums from Australia for their blend at one point – so perhaps, as long as it was sold and served to the Navy, it was allowed the title. Or maybe it's just canny marketing of an un-trademarked title, which is meant to describe a style of rum as it was commonly understood back then.
It's unclear when this particular rum was first introduced, as references are (unsurprisingly) scarce. It was certainly available during the 1970s, which is the earliest to which I've managed to date this specific bottle based on label inclusions. One gentleman commented on the FRP's review "This was the Rum issued to all ships up until the demise of the Merchant Navy (British Merchant Marine) in 1987. We didn't receive a tot of rum like the Royal Navy, instead we had our own-run bars (officers' bar, crew bar). The label with the bells was changed sometime in the early/mid 80's to a brown coloured label with a sailing ship." Based on some auction listings I've seen, there are several different variations of the label, but I think it is safe to say that this red one dates back from the late 1970s, early 1980s at the latest.
Challis, Stern & Co. was a spirits wholesaler out of London that was incorporated back in 1924 –  like many other small companies we have met in these reviews, they dabbled in occasional bottlings of rum to round out their wholsesaling business, and were making Four Bells rum since the 1960s at least (I saw a label on Pete's Rum Pages with "product of British Guiana" on the label, as well as a white from post-independence times), and in all cases they used exclusively Guyanese stock. There are glancing references to an evolution of the rum in the 1980s primarily based on how the labels looked and the auctioneers' info listings – but it seems clear that by then it was in trouble as it ceased trading in 1989 and were taken over in 1991 by the Jackson family who run wine dealers Jackson Nugent Vintners, and they then wrapped it up without fuss or fanfare in 2006 (Challis had been classified as "dormant" for their entire tenure). It remains unclear why they bothered acquiring it unless it was to gain control of some tangible or intangible asset in which they were interested (I have an email to them to check).
Colour – Amber
Strength – 42.9% (75 proof old-style)
Nose – Quite definitely a Guyanese rum, though with odd bits here and there. Caramel, salt, butter, rye or sourdough bread with a touch of molasses and anise and flowers and fruits, none of which is very dominant. Prunes, dates, overripe cherries and the musky softness of fried bananas.  Also pencil shavings and sawdust at the back end.
Palate – Dry, with a most peculiar aroma of sweet rubber.  I know how that sounds, but I like it anyway, because there was a certain richness to the whole experience.  Sweet red wine notes, backed up with caramel, dark chocolate, nougat and nuts. Quite a solid texture on the tongue, slightly sweet and rounded and without any bitterness of oak (the age is unknown).
Finish – Short and dry, but enjoyable.  Mostly caramel, toffee, sawdust and pencil shavings,
If I had to guess, I'd say this was an Enmore or the French Savalle still.  Be that as it may, it goes up well against modern standard-strength DDL rums because it presents as very restrained and toned down, without every losing sight of the fact that it's a rum.  Nowadays of course, you can only get a bottle from old salts, old cellars, grandfathers or auctions, but if you find one, it's not a bad buy.
(81/100)
---
Other Notes
Taken literally, the "four bells" name is an interesting one. In British Navy tradition, the strikes of a ship's bell were not aligned with the hour. Instead, there were eight bells, one for each half-hour of a four-hour watch – four bells is therefore halfway through any one of the Middle, Morning, Forenoon, Afternoon, Dog or First watches (good that someone knew this, because eight bells would have been an unfortunate term to use for a rum, being used as it was to denote

end of watch"

or a funeral). All that said, the design of the four bells on the label could equally be representative of four founders, or be something more festive, so maybe this whole paragraph is an aside that indulges my love of historical background.

Proof and ABV – In 1969 the UK government created the Metrication Board to promote and establish metrification in Britain, generally on a voluntary basis. In 1978 government policy shifted, and they made it mandatory in certain sectors. In 1980 that policy flip-flopped again to revert to a voluntary basis, and the Board was abolished, though by this date just about all rum labels had ABV and the proof system fell into disuse – and essentially, this allows dating of UK labels to be done within some broad ranges.