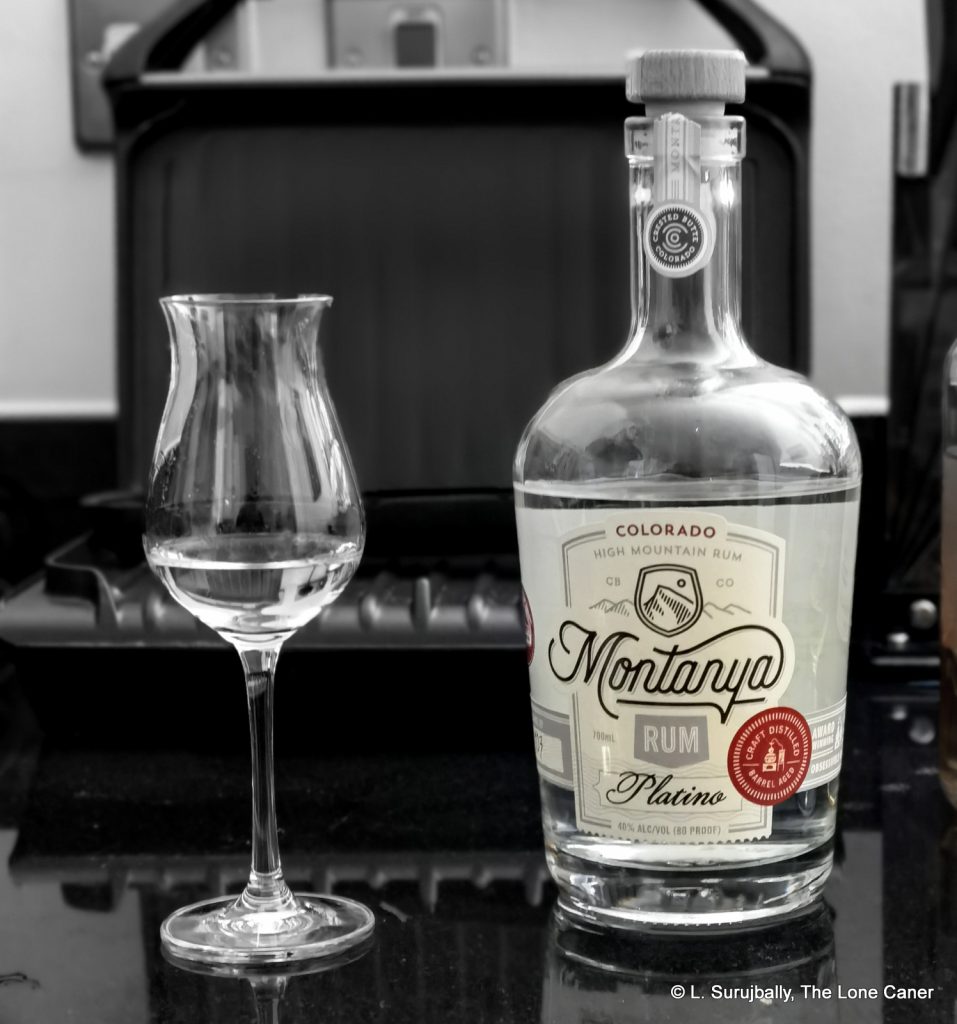 "[In the US] there are a small number of rum distilleries, and a large number of distilleries making rum," observed Will Hoekinga in our 2021 Rumcast interview, indirectly pointing to the paucity of quality American rum making. A corresponding remark I have made myself is that if the random picking of American rums to review results in just a minute percentage being really worth seeking out then the characteristics of the part can be extrapolated to the whole – and both together suggest that of the 600+ distilleries in the United states, only a handful are currently worthy of attention. 
This is not a random pronouncement made without facts in evidence either, because after trying half a hundred rums with US branding, it's clear that the best rums sold there are either imports from elsewhere by local indies (Holmes Cay, Stolen Overproof, Hamilton, Two James, K&L) or smaller distillers like Richland, Pritchard's, Balcones, Privateer, Maggie's Farm, or Montanya. For sure none of the big guns like Bacardi, Captain Morgan and Cruzan really go for the brass ring, being much happier to avail themselves of millions of subsidised dollars to make low cost rum of no serious distinction. And other rum makers like Kirk and Sweeney, One-Eyed Spirits, or Florida Caribbean Distillers contract out their blends and rums to other distilleries and can hardly be said to have a single world-shattering product in their lineup.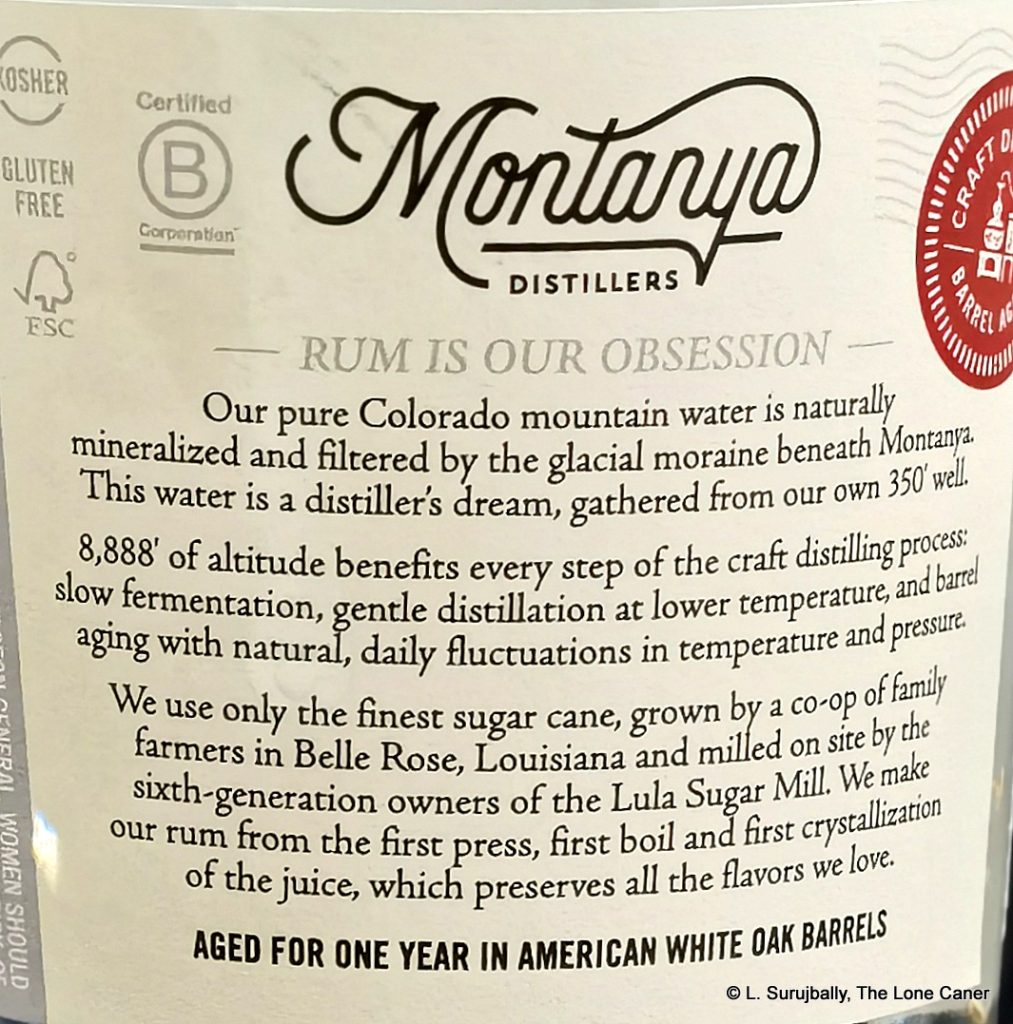 One of the best-regarded distilleries carrying the rum flag without mixing it up with other spirits (and getting loads of press for this and other more social aspects of the job) must surely be the small Colorado-based outfit of Montanya, which was established in 2008 and whose founder, Karen Hoskin, may be one of the most interviewed rum makers in the world after Richard Seale, Joy Spence and Maggie Campbell. Without even checking too hard I found articles here, here, here, here and here, dating back a decade or more, all of them displaying the same down to earth common sense, practicality and dedication to her craft that one sees too rarely in a land where too often the coin of the realm is visibility, not expertise (or, heaven forbid, a good rum). 
Ms. Hoskin, who has loved rum for decades (the first rum she became enamoured with was in India in 1999 – I think she was visiting Goa), decided to begin her own distillery business at a time when her day job of graphic and web design was no longer of much interest. She and her husband set up the distillery in Crested Butte in 2008 with a 400-litre direct-fire Portuguese-made copper pot still1, and immediately began producing two rums — a Platino Light white and a lightly aged Oro dark; these two staples have been joined in the intervening year by the a limited edition Exclusiva, a 4YO Valentia, and a special 10th Anniversary edition. By 2018 their rums were available in just about every US state and they had started on a program of international distribution, especially in the UK and Europe.
The Platino which we are looking at today, is a lightly-aged, filtered, pot still white rum, released at an inoffensive 40%, without any additives or messing around, and it is based on a wash made from raw unprocessed sugar from Louisiana (i.e., unrefined…but not the "sugar cane" that some external sources speak of). Initially the rum also had a touch of caramelised cane juice honey added to it (which was always disclosed), but as of 2021 the practise has been discontinued. 
For a company so otherwise forward-looking, I find this oddly conservative. For example, although there is an emergent strain elsewhere in the world, of making (if not showing off) white rums that are pure and unaged, it has yet to become a thing in America, where most white rums follow the Bacardi model of "filtration to white" after a short period of ageing. The rationale is that this gives the best of both worlds: some taste from the wash source, and some from the barrel, with none so stark as to overpower the cocktail for which it is made. This glosses over the fact that with industrial stills producing very high ABV distillate, the former is very unlikely, on top of which filtration also removes some of the very flavour elements distillers claim to be after.  In Montanya's case with the Platino, they have gotten around this by using pot stills so that more flavour is preserved at the other end, and a pine-based lenticular filter which removes most (but not all) of the colour, and yet not quite so much of the taste.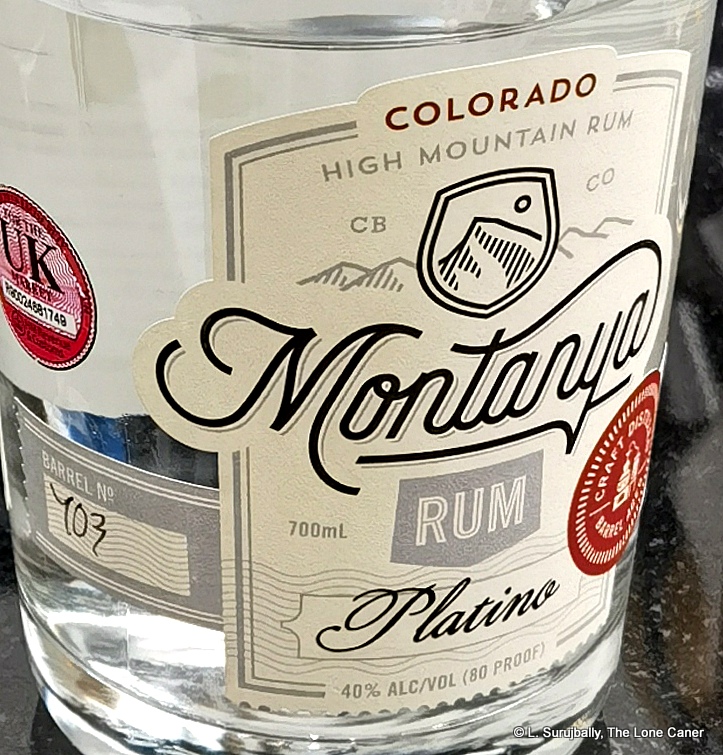 What taste does remain and gets carried forward on the nose, is, in a single word, intriguing.  Though the rum is made from unrefined sugar, little of any kind of agricole style sap-profile comes through – instead, what we get is a papery cardboard aroma of old and tattered textbooks…at least, at the inception. This is followed by quite a bit of funky sharp pineapples and sour fruit – half ripe mangoes, strawberries going off, some overripe oranges, that kind of thing. It gradually turns into a more solid smell that channels some cinnamon, vanilla and cardamom in a pretty good combination.
The palate just wants to keep the offbeat party going, and starts with an odd sort of minerally note — like a licking a penny, or tonic water searching for a lime — mixed up with the ashy charcoal of dying embers on a cold night (I know, right?). Once more the fruits ride to the rescue: mangoes, soursop, pineapples (again), plus pears, watermelon and papaya.  There's a touch of vanilla, figs and melons, and the whole is sparkly and light, with a more pronounced (but not overbearing) agricole-ness to the experience than the nose had suggested there would be.  It all leads to a short finish, light and fruity with just a hint of brine and sweet buns hot out of the oven
My overall feeling, having had it on the go for the best part of an hour, remains one of real interest – I'd like to try more of these; since all of Montanya's production is small batch, the variation of the Platino over time would be fascinating to experience. This is not some cheap, easygoing, hot-weather cruise-ship staple, indifferently made and lazily redolent of the Caribbean's standard profile of caramel, fleshy fruit and vanilla. We've had that a thousand times before and they're too often all but interchangeable.  
No, what we're seeing here is traces of real originality. The Platino marries a sort of bizarre agricole-wannabe vibe with minerally notes, cereals and cardboard — then mixes them all up with sharp and funky fruits, as if it was playing its own obscure tasting game of rock-paper-scissors. In my reviews, a high score does not normally attend a light, white, living-room-strength, filtered rum — one where a higher proof could emphasise its points more forcefully — but I confess to being somewhat seduced with this one. It's really worth checking out, and if there ever comes an unaged version, now that would be something I'd buy sight unseen..
(#933)(84/100) ⭐⭐⭐½
---
Other notes
The website is admirably stuffed with

production details

, of which I have only taken a few bits and pieces. Some additional details provided by a very helpful Ms. Hoskin on short notice:

Montanya does not use fresh cane juice, as it is too difficult to transport from Lula in Louisiana. It is milled on site in Belle Rose and the fresh juice is processed there. Montanya receives 100% of what was in the cane plant in two separate forms which are subsequently recombined: raw unrefined molasses (12%) and raw unrefined granulated cane sugar (88%). The major difference is that these cane products never go to the refinery, so no processing with flocculants or other chemicals. It's as raw, unadulterated and flavorful as you can get (and is akin to the panela of Mexico, or the unrefined sugar in kokuto shochu in Japan). It would be illegal to sell it in that form in a grocery store in the US.
Fermentation is open, water cooled, and lasts 6-7 days. The fermented wash goes into the still at about 17% ABV
Distillate comes off the still at about 74% ABV. Ms. Hoskin remarked in her email to me, "People say that can't be done with alembics, but I am here to say it absolutely can."
Barrelling is at still strength, no reduction. "[This]…is somewhat unusual. Many of my colleagues water their distillate down before it goes into the barrel at about 54 to 58% alcohol. I started doing it my way because I just didn't have a big enough rack house, but now that I do, I can't see any reason to change."

My appreciation to the Skylark gents of Indy and Jazz Singh — the distributors of Montanya in the UK and the EU —  at whose residence I tried this rum (and quite a few others) in a small but epic Rum Show afterparty. I paid for my plunder with some rum loot of my own, and a special gift for them both from Mrs. Caner.
Footnotes
This original still was sold in December 2021, and replaced with a custom designed 500-litre, steam jacketed, 100% copper kettle still with a lentil and double reflux, from a Portland-based company called Bridgetown Brewing and Distilling Systems. It dramatically increases Montanya's production capacity. However, as of August 2022 nothing from the new still has yet been bottled, so the Platino reviewed here was from the original still