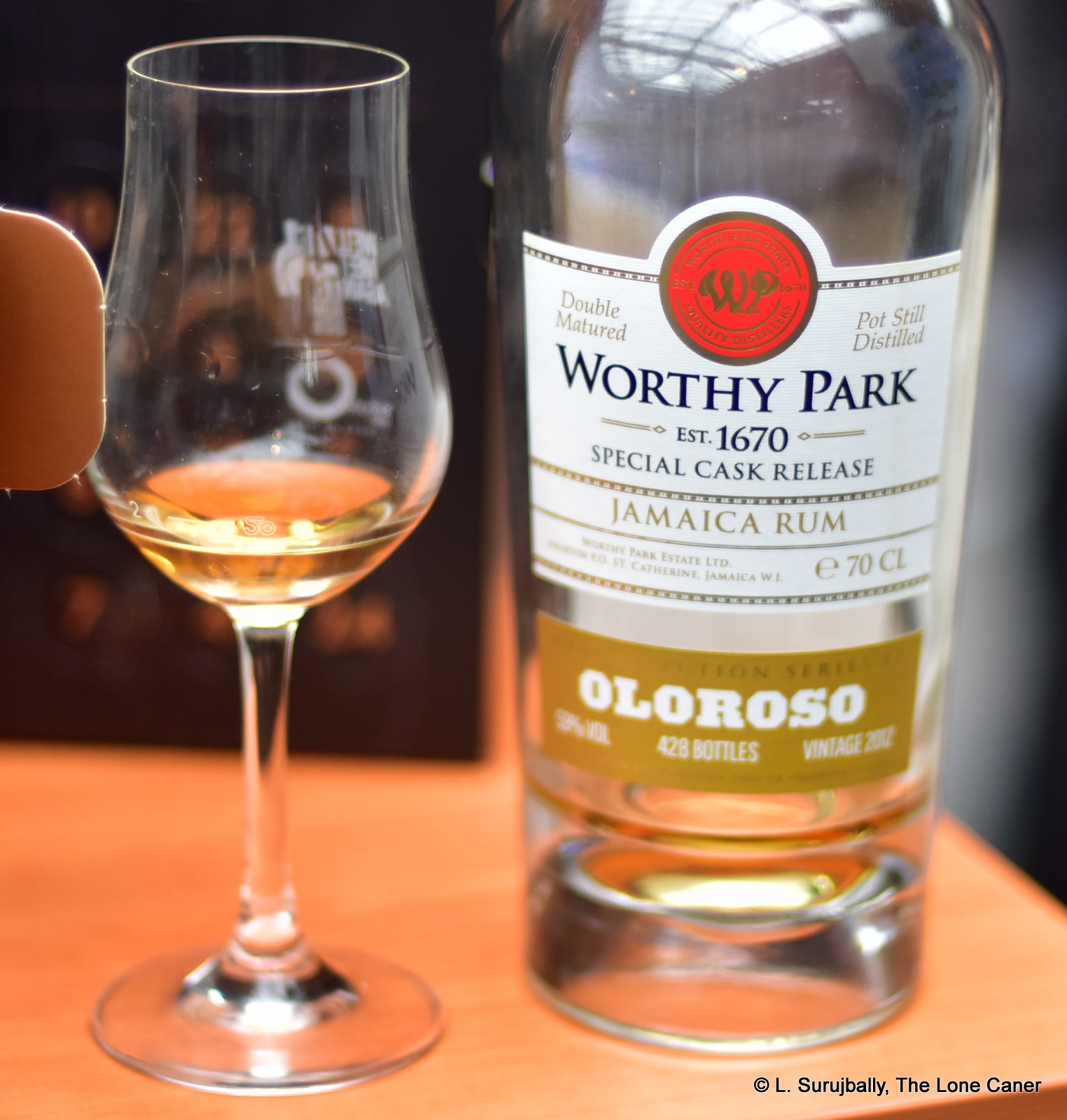 Depending on who you talk to, it's a toss up whether Hampden or Worthy Park is the best of the New Jamaican distilleries. Appleton / J. Wray is the market leader (in both sales and recognition); Longpond, Monymusk, New Yarmouth and Clarendon have some brand awareness from Jamaican rum cultists and indie bottlers – though of course your average Joe could care less, let alone distinguish among them –  but when it comes to artisanal pot still rums, it's all down to those two.
Hampden has a distribution arrangement with Velier (you can see Velier's design ethos in all their labels), uses dunder in distillation, has its own aged rums and is repped by the charming,  dynamic and vivacious Christelle Harris. Worthy Park does not use dunder, has deliberately elected not to partner up with anyone (unless it's 1423, the Danish outfit who helps them market their rums around Europe) and has their own not-so-secret weapon, the approachable and cheerful King of Cool, Mr. Zan Kong as their export manager.  Both sell "house brands" of their own (the Rumbar line for WP, the Velier-associated Pure Single Rums "46" and "60" for Hampden), sell to third parties which produce brands like RumFire, Stolen Overproof, Hamilton or Doctor Bird, or sell bulk for the use of European indies.
The key to their rise and recognition and all the accolades is less these points, however, than the fact that both have wedded their futures to pot still artisanal rums which have, since their introduction, taken the rumworld by storm. Worthy Park in particular is one of the best of its kind, and been confident enough in their sales to expand the admittedly rather entry-level (though still very good) Rumbar rums into a series of older and more limited expressions called the "Special Cask" series, which are further aged, issued at higher proof, and are simply amazing in every way.
This edition began to be released around 2017, and the bottle under discussion today is based on stocks laid down in 2012 — it's a 59% ABV limited edition of 428 bottles, though I am unclear whether it came from a single cask or a few (I suspect a few).  It has the peculiarity of being double aged: four years in Jamaica, and another one in Denmark by 1423, which is why initially, at the various rumfests where it was introduced, it was found at that company's booth.  That European year was in ex-Oloroso casks, so not only different casks but different climates impacted the final rum. Interesting…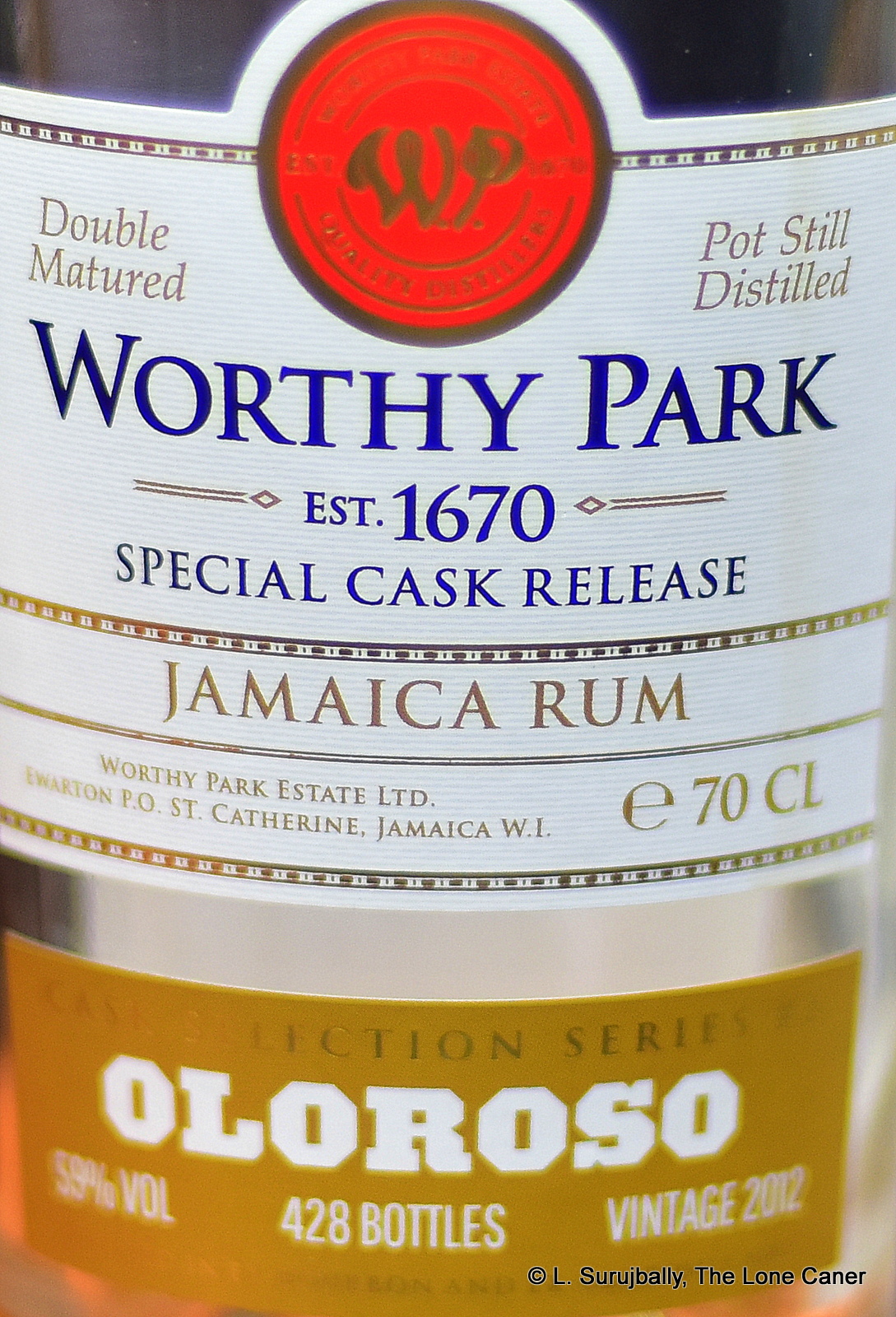 The results of that bifurcated ageing regimen and the pot still origin speak for themselves, and personally, wholly on my own account, I can only say the rum is kind of a quiet stunner. The nose startled the hell out of me, I must admit – "…a smoky barbeque with sweetly musky HP sauce?" went the opening words of my handwritten notes — really!  It was redolent of the ashes of a dying fire over which a well-marinated shashlik had been grilling and sizzling.  Which did not stay long, admittedly: the real rumminess came after – caramel, burnt sugar, bags of fruit.  For a while there it even nosed like a pot still white, with slight turpentine, brine, olives and varnishy notes.  Red wine, grapes, plums, very ripe apples, bananas, coconut shavings, the smells kept billowing out and all I could think was somebody had somehow managed to stuff the olfactory equivalent of a grocery's entire fresh produce section in here.
The taste was similarly excellent, a low-rent masterpiece of execution in precision mixed up with a raucous yard party where de music blarin' out o' big-ass speaker size' like young fridge. It was all-out funky Jamaican goodness, sweet and crisp and very very controlled, with the balance among all the competing elements really quite well handled. Strawberries, pineapples, bubble gum and orange zest started the party; that was then followed by raisins, dark fruits, plums, vinegar, pimento and vinegar dumped with olive oil into a oversalted salad (and I mean that in a good way). Even the finish – sporting a limbo of nuts, paprika, tobacco leaves and more of those oversweet-yet-tart spoiling fruits – added a solid conclusion to the festivities.
No blended rum or column still ever came up with a rum like this. Steve James of the Rum Diaries Blog wrote the first serious review of the series and was enamoured of the entire line, and The Fat Rum Pirate followed suit soon after with a four star review (it's both amusing and instructive that one thought the sherry influence was too much, the other too little) and Rum Shop Boy weighed in with a positive experience of his own. 
But oddly, in spite of the accolades, the rum never really scaled the heights of consumer desire to the extent that it became a must-have, and if a measure of any rum's popularity is the amount of times it gets mentioned on social media with gleeful boasts of "I got it!!" then this seems to be considered a bit of a smaller rum.  Personally, I disagree: Worthy Park's double aged "Oloroso" rum was and remains a seriously constructed piece of complex oomph that any distiller would have been proud to release. "Though she be but little, she is fierce," wrote Shakespeare of the diminutive Hermia in A Midsummer Night's Dream, and I think that applies equally to this rum. In people's minds it may be small, easily overlooked – but in reality, it's Goddamned huge. 
(#840)(88/100)