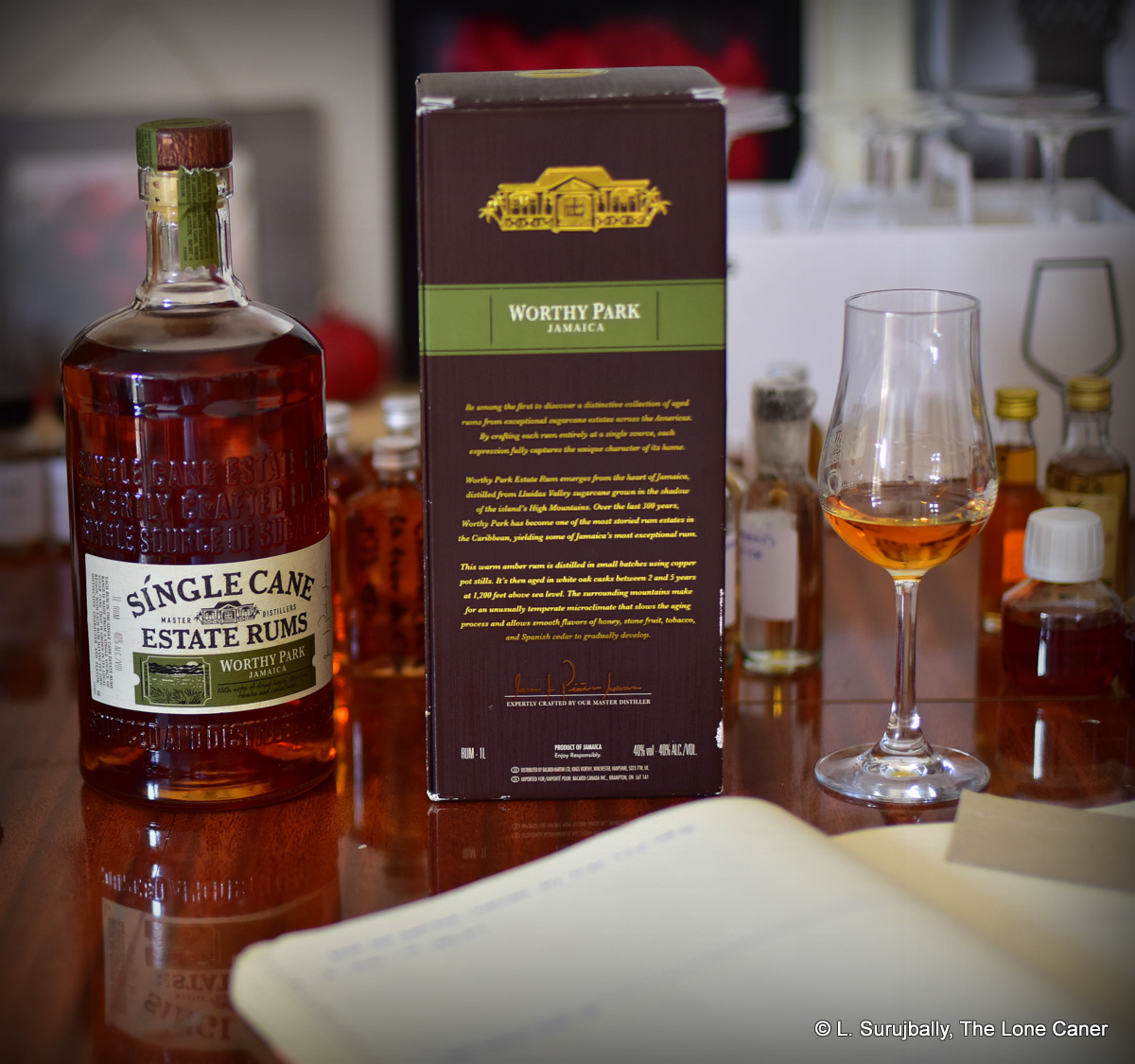 There's so many peculiar things going on with this rum it's tough to find a convenient starting place, so let's begin with what facts lie behind the rum itself and then go from there.  The rum is a Jamaican Worthy Park distillate from about 2010 or so, aged three to five years in american white oak casks, with an unknown (said to be limited but….) outturn dribbled into our glasses at a milquetoast 40%.
Since WP have a very recognizable branding scheme of their own, who released the rum? It's found on the label, and it's Bacardi, who evidently felt there was a market opportunity to go upscale and use their massive distribution network and marketing clout to steal a march on the independent bottlers who have pioneered limited bottlings in the last decade. I say "evidently", because clearly they simply saw margins and profits, grandly called the new line a "breakthrough, contemporary innovation in the rum category" — but learned nothing about what actually made such rums special: things like serious barrel selection, serious ageing, serious strength, limited outturn, combined with a real and patiently garnered reputation for quality at the top end of the rum ladder. Just because you slap a Jamaican distillery name on a label does not mean you instantly have a great juice, as they have belatedly realized by the way this rum sank pretty much without a trace.
Which in 2019, four years after its release, I thought was odd…but only initially.  I say that because at first I quite liked the way it nosed. It was very much a WP rum, dry, fruity, rich, salty, with some olives bouncing around. Sweeter, fruitier notes emerged with time, fanta and coca cola and orange peel, and there was some background of smoke and leather as well. I jotted down that it was nicely pungent for a 40% rum. Understated but recognizable. So, thus far, not bad at all.
Trying it physically, I can only assume that whoever put the final blend together must have been scared witless and sh*tless by the sheer crisp uniqueness of Worthy Park's pot still distillate, so much at odds with the gentle ease of Cuban-style rons – and decided, therefore, it could not possibly be allowed to stand on its own but be added to to make it more…well, palatable, I guess. Better for Bacardi drinkers. And therefore added caramel or sugar or whatever, to the tune of 15 g/L.  And you could sense that when tasting it – it was, first of all, much fainter than one might expect from such a good nose. The dryness went AWOL, and instead of leading off with crisp citrus and brine, what we got was a sort of muted fruitiness, damped-down acetones, sour tobacco and polish, and a more soft and smooth and creamy taste. This was not unpleasant, but it did deviate from what we want — and hope we're buying — in a Worthy Park rum. Moreover, though a half hour later I could sense apples, grapes, and unripe peaches, it was too muffled, and unbalanced at the back end, presenting both a kind of spiteful sharpness as well as a muddled mishmash of tastes confused and roiled by the additives, leading to a finish that was short and sharp — a kinda dreary and near-tasteless alcohol.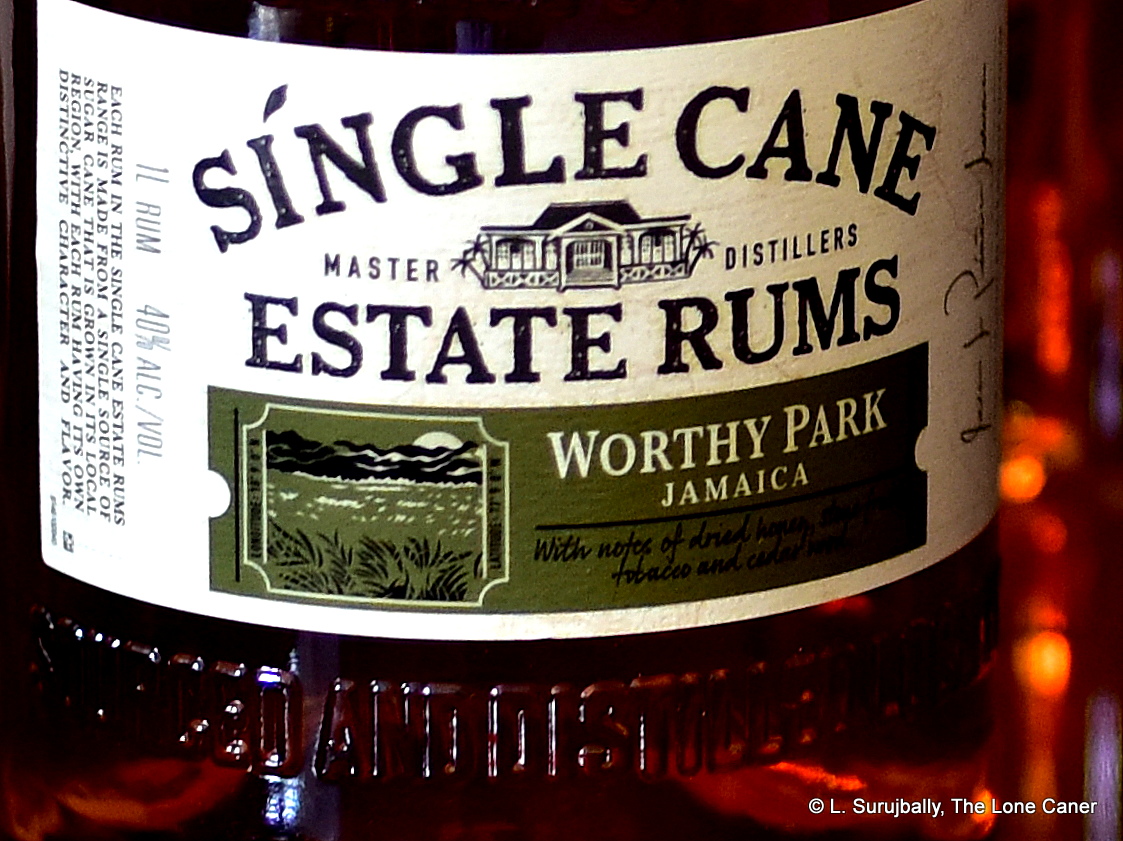 Overall, it's unclear what Bacardi thought they were doing, acting as an independent bottler when they've always been primary producers who have their own ideas on how to make rums; with expertise in light rons, the clear-cut singularity of single (or a few) barrel selection from Jamaica does not seem to be their forte.  I've been passing Single Cane rums in many airports of the world for years but the 40% always put me off until finally I got one, this one…and kinda wished I hadn't bothered.  It's not a particularly good rum, a barely average product released at a strength that does little to showcase or capitalize on the unique heritage of its estate of origin. As a beginner's rum it works to introduce Worthy Park, but my advice is to move beyond it to the real stuff from Jamaica as fast as possible, without wasting further time on the false promises of such an adulterated siren that treats its audience with contempt and cynically trades on a name without providing anything of its quality.
(#662)(78/100)
---
Other notes
Bacardi bought bulk rum directly from Worthy Park, and it was aged at WP. but they did their own blending.
The 15g/L additives number comes from the Fat Rum Pirate's equally dismissive review of the same rum