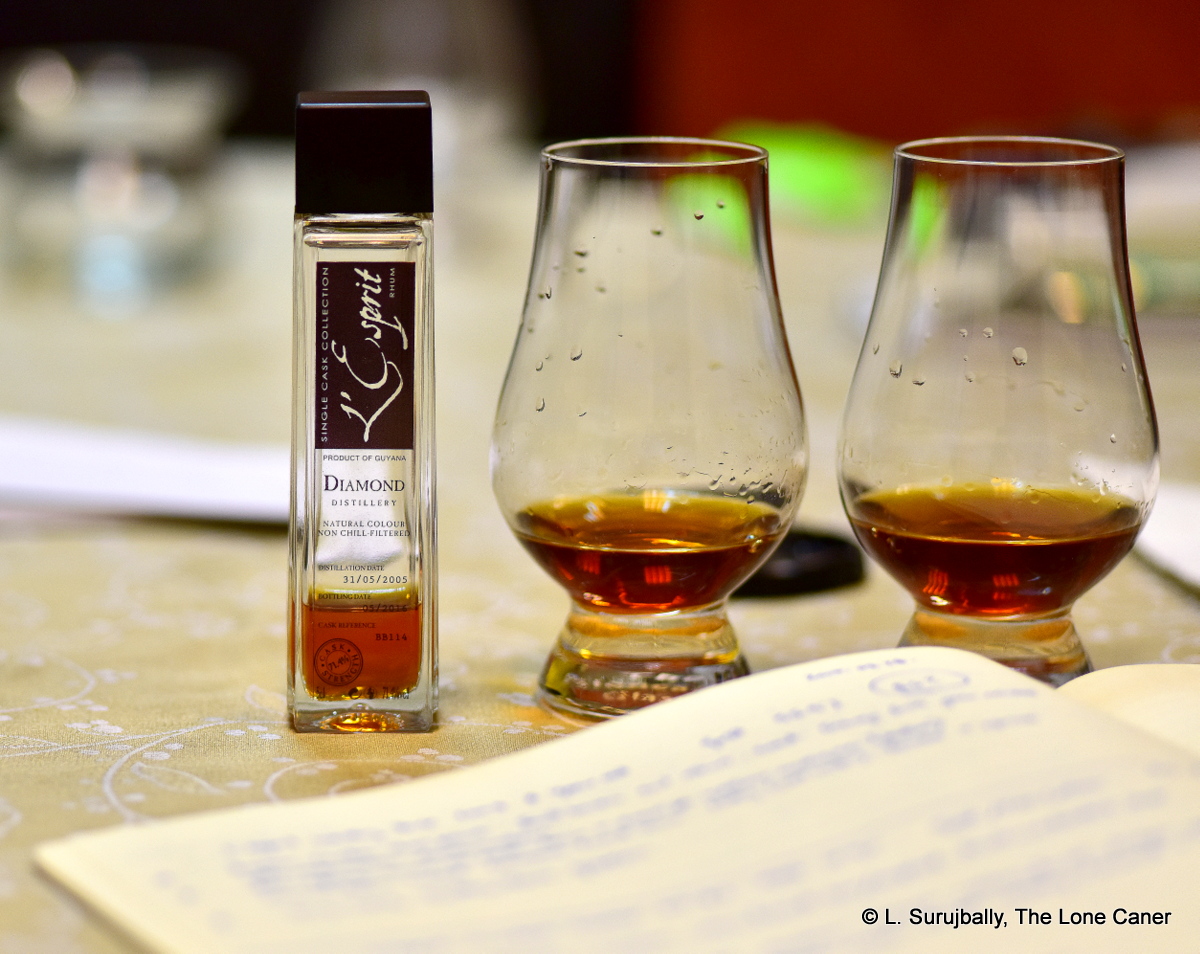 Damn but this rum is strong. Standard strength among the cognoscenti has been drifting up from 40% to nearly 50% (give or take), with the low sixties selling well, and the high sixties occasionally spotted running in the wild.  But over 70% ABV, and we're entering more rarefied territory. When people see one of these, they cross themselves like Supes when he sees green kryptonite. A sip of one, and you know what it's like to be t-boned by a fully-armoured SUV carrying a banana-republic dictator. And all his no-neck bodyguards.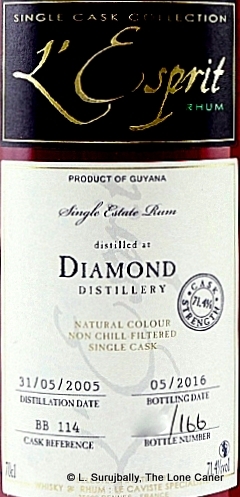 What's all the more astounding about L'Esprit's Guyanese Diamond 11 year old which was released at 71.4% ABV and hit the shelves about three years ago (and sank without a ripple) is how really, surprisingly, forehead-smackingly good it is. It's the sort of rum that makes me want to rush straight over to your table, babbling and drooling, waving my hands wildly in the air and suggesting — nay, demanding — that you take a sip, just to see if I was out to lunch, or telling you the God's honest.
Think I jest?  Well, maybe a bit.  Still…just crack the bottle and give it a smell, if you please.  Release the halitotic pachyderm. What you immediately get from this is a thick bellowing snort of licorice, wood sap, chocolate and coffee, varnish, freshly baked bread liberally coated with salt butter, vanilla and molasses, all the thick and musky notes Guyana is famous for.  It's just huge, solid as a sledge and as hard-hitting, and that's before the sweet marshmallows and dark fruits kick in – dates, raisins, peaches, plums, black cake. Oh yeah, and in the background there's some glue, paint, varnish, turpentine, all lurking behind like toughs in an alleyway, knuckle dusters at the ready.
As for the taste, well: that was suitably shattering, and humorous metaphors and masochism aside, the truth is that taking it neat is kind of fun. It's thick and heavy and intense – of course it is – but by no means undrinkable, and one can spend a whole hour separating out the tasting notes: what I got was caramel ice cream, molasses, Danish butter cookies and maple syrup, followed by chocolate, coffee grounds, vanilla, licorice, freshly ground black pepper, a little brine, and with water these emerge much more forcefully.  The strength mutes the vague sweetness a bit, and the overall balance is excellent, with complex interlocking elements that I really enjoyed. When I got to the finish, I was almost sorry the experience was over: it was long and hot but not viciously sharp, exhaling chocolate, caramel, cocoa, raisins, and a vein of sweet dark sugar running through the whole experience like a blade.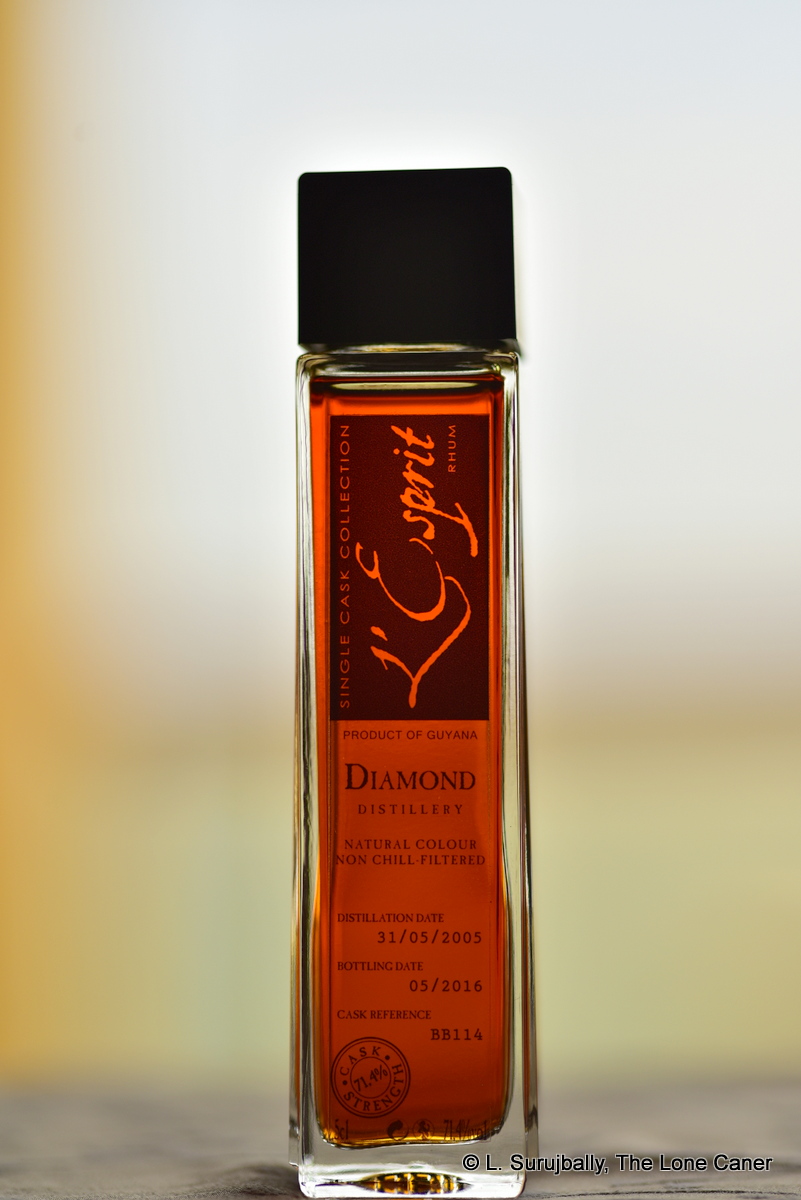 Based on how it initially nosed, I started out believing this was a wooden still — by the end, I was no longer so sure. The profile actually reminded me more of the Uitvlught 1996, or even DDL's new 2018 Skeldon and Albion Rares (and, perhaps in a stretch, the old ones). After all, although the rum is labelled "Diamond", all the stills are located at the estate of the same name these days, so it could mean anything.  In the end Tristan did confirm that the rum was pure Diamond-column-still hooch, and given the flexibility of what can come off that thing, I can only assume that they dialled in the settings to "Uitvlught", set it to "11" and pulled the trigger.  
DDL ceased exports of bulk rum from the wooden stills a year or two back, and the word has seeped out to the Rumiverse that we'd better get existing wooden still indie rums from Guyana quick time, because one day they'll run out.  Yet if rums of such quality as L'Esprit has found here can come off the other still, and continue to be exported for independents to bottle and rum lovers to enjoy, then I think we need have no fear that one day we'll be without pure, cask strength, unique rums from Guyana.  L'Esprit has almost never disappointed me with their selections, and this rum, if you can still find it with its limited outturn of 166 bottles, and take a risk with its power, is really damned good and worth seeking out, even if you do flatten a city block or two after you try it.
(#651)(89/100)
---
Other Notes
Distilled 31 May 2005, bottled May 2016. Confirmed as being column still. Red brown colour.
Ageing in Europe, not tropical
I think that L'Esprit's sample bottles are really quite superlative, but that's just me