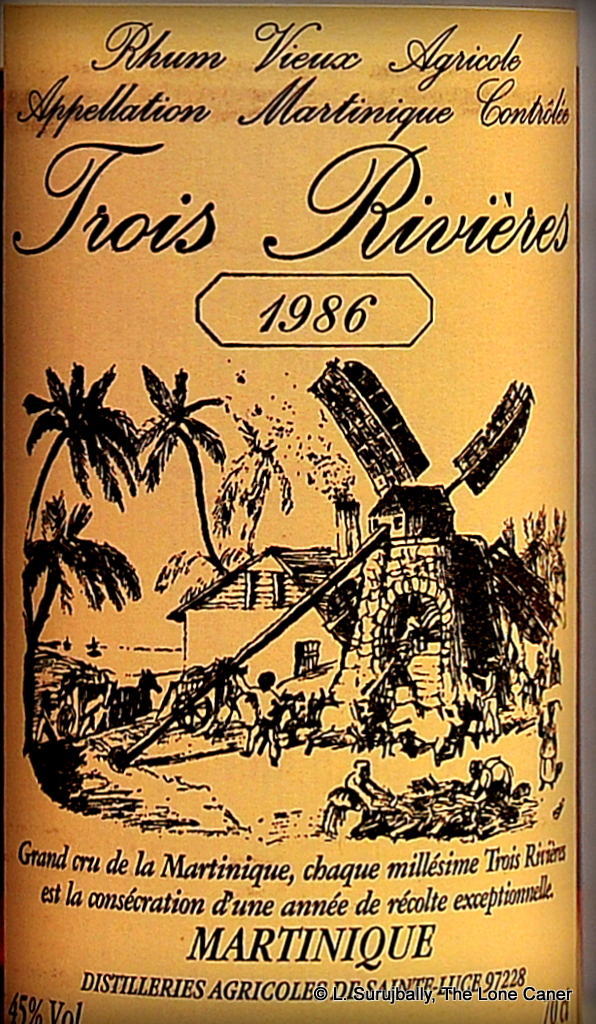 Like a kilt, this ten year old rhum proves that less can often be more.
The Japanese art of ikebana is that of flower arranging, and if you think its principles lack applicability to rum, well, give that some thought. Sorting a big bunch of flowers into a vase is not what it's really about (one could say the same thing about the chanoyu).  The true art is about selecting just a few elements, and finding the perfect way to arrange them so that they rest together in harmony.  Trois Rivières is unlikely to have studied the matter…but this rum displays all the fundamentals of both art and simplicity, in a way that elevates the whole to a work of sublime grace.
Trois Rivières issues specific years' output, perhaps more than any other rhum maker in Martinique (except maybe Neisson) – there are millèsimes from 1953, 1964, 1969, 1970, 1974, 1975, 1977, 1980, 1982, and so on. Rarely, if ever, is it stated how old these are, aside from the "vieux" notation, meaning a minimum of three years ageing.  But to my mind, a rhum this good (sorry for the spoiler, but you already know the score) is a poster child for why we need the guys pushing great hooch out the door to stop messing about and tell us poor lambs what we need to know right up front – in this case, how old the thing is.  Because speaking purely for myself, I want to know whether age is the primary factor in the excellence of the 1986 millèsime over the 1975, or some other factor.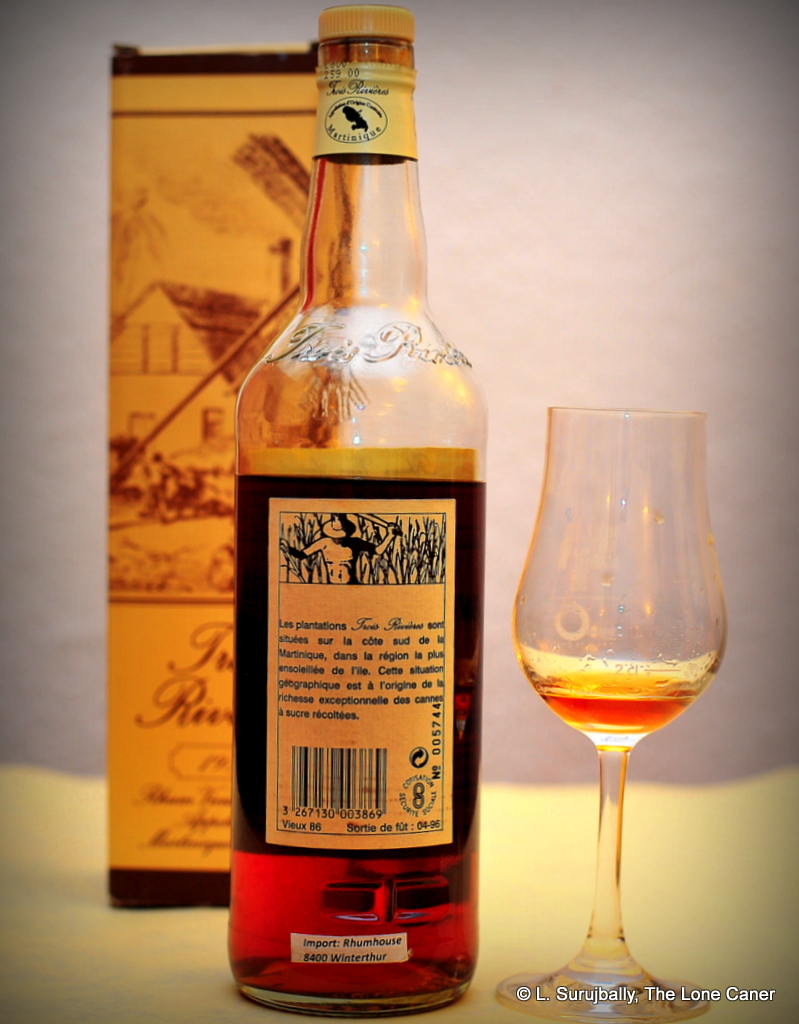 Still, I soldier on under the burden of my anguish, since there's nothing to be done about it right now. Presentation was that consistent yellow box (I've seen several millèsimes with the same one) with that famous windmill, the year 1986 enclosing a slim bottle with the same info on the label…and surmounted with that same annoying tinfoil cap that somehow makes my expensive purchase seem…well, cheapish.  Ah well…
I can tell you though, that my small disappointments and whinges from above were forgotten the instant the bottle was opened up and poured it into the glass. Because with a nose like the one it presented, I could swoon like a maiden from Walter Scott.  It was so sweetly wonderfully rich that I almost went running for my thesaurus. It opened with juicy pears and white guavas, fennel and the faint lemony twist of a good cumin.  Scents of treacle and honey followed on, very rich and smooth and almost perfect at 45%.  Even after half an hour it kept giving out some extras – vanilla and well-controlled tannins, almonds, very light smoke and leather.  The 1986 blew past the 1975 millèsime from the same company as if it was standing still, which was why I wrote about the latter the way I did.
It was similarly good to taste, and again showed up some of the shortcomings of the 1975.  Warm and smooth, the 45% strength didn't hurt it at all.  Medium bodied and dry (but in a good way), providing first tastes of peaches, plums, more guavas, black grapes.  I was actually a little startled at the fruitiness of it, because it was an AOC designated rhum, but where were the light, clear notes one could expect? The grassy vegetals? Luscious notes of licorice and vanillas and even molasses backed up the zesty citrus notes that gradually came to the forefront, and again there were these delicate hints of cumin and lemon zest I had observed on the aromas.  And this was not all, because tart (not sweet) red fruit – strawberries, red currants and raspberries also made themselves known…I kept asking myself, how old was this thing?  Even on the medium long finish, which was a bit dry, warm and breathy and easy-going, some of those fruits retained their ability to amp up the enjoyment – prunes, licorice and vanilla for the most part, and always that citrus component which coiled behind the primaries to lend a unique kind of counterpoint to the main melody.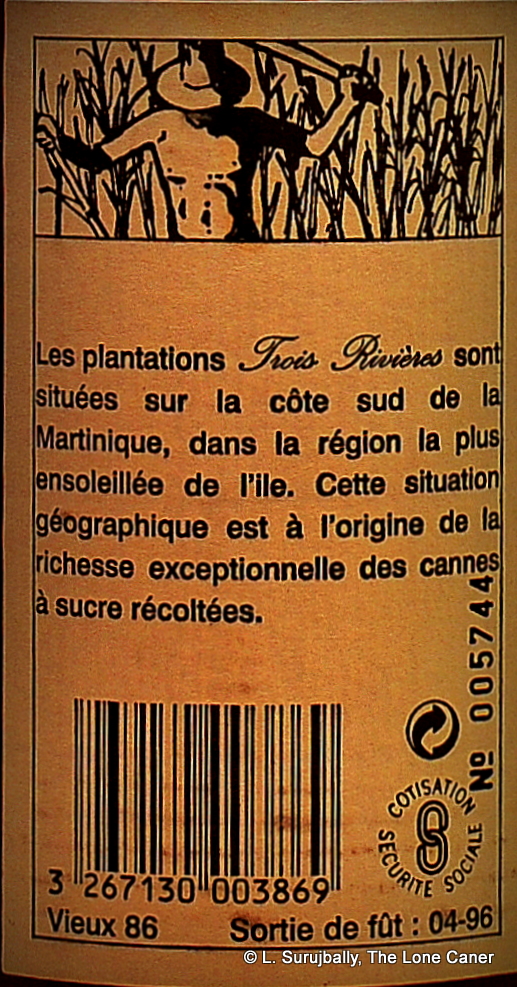 The question I asked of the 1975 (which I was using as a control alongside the Rhum Rhum Liberation Integrale, the Velier Basseterre 1995 and two Neissons) was how old it was, and the labelling on that one was at best inconclusive.  With the 1986 things seemed a bit more clear: the box had a notation "Vieux 86" and next to that "Sortie de fût: 04-96" which I take to mean it was distilled in 1986 and released from the barrel for bottling in April of 1996…a ten year old rhum, then, if the numbers mean what I say they do. TR never did get back to me on my inquiries, so if anyone has better knowledge of the age of this rhum, feel free to share.  I'm going to go on record as believing it's ten.
And what a rhum indeed, at any age. It is an amalgam of opposites that gel and flow together with all the harmoniousness of a slow moving stream, gentle and assertive, thick and clear, with wonderful depth married to controlled intensity.  We sometimes get sidetracked with fancy finishes, family recipes, strange numbers on a bottle and all sorts of other marketing folderol, not the least of which is the conception that the older the year-stamp on a
bottle is, the better the rhum inside must be (and the more we can expect to pay for it). The Trois Rivières 1986 shows the fallacy of such uncritical thinking.  Like the Chantal Comte 1980 it demonstrates that great rums can be made in any year, at any age…and that beauty and quality and zen are not merely the province of those who fix motorbikes, pour tea, or arrange flowers.
(#250. 89/100)